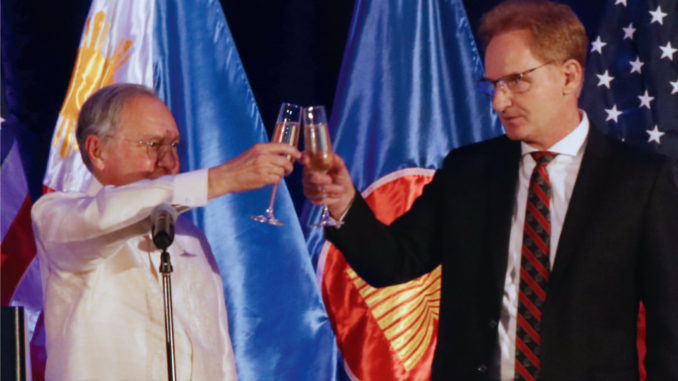 The Honorable Undersecretary Thomas Modly, Excellencies, Distinguished guests [Acting Assistant Secretary of State Susan Thornton], Friends of the Philippines,
Good evening.
First and foremost, I wish to congratulate our ally, the United States, for a successful summit in Singapore with North Korea. The Philippines supports all efforts to achieve denuclearization of the Korean Peninsula and this historic summit underscores the importance of dialogue and diplomacy in resolving outstanding issues among all concerned parties. I hope that the precedent set today will augur well for lasting peace, stability, and security in the region.
A century and two decades ago, General Emilio Aguinaldo declared the independence of the Philippines from Spanish colonial rule, giving us the distinction of being the first republic in Asia.
From an estimated population of 7.8 million in 1898, the number of Filipinos has now reached about 110 million, with close to four million Filipinos living in the United States.
Over the decades, we have gone through ups and downs, and highs and lows – with our history – and story as a nation – punctuated by many challenging and difficult times.
Through it all, our indomitable spirit, determination and resilience as a people have always pulled us through, our resolve strengthened by the remembrance of the blood and sacrifices of our forebears to give us the sovereignty, freedom and independence that we enjoy today.
Self-reliant
I have always believed, however, that true independence is not simply the ability of citizens to exercise freedom of speech, assert their political beliefs and opinions, and enjoy the other fruits of freedom and democracy – but for a nation to be self-reliant, for the people to benefit from economic progress and development, and be liberated from the shackles of poverty.
The Philippines of today can be described as a country undergoing tremendous changes. This transformation is powered by tectonic shifts in the political, economic, and social landscape.
"Name brand" politics is no longer the norm, with the true will of the people manifested by the election of Davao City Mayor Rodrigo Roa Duterte as President of the Republic of the Philippines by an overwhelming majority. Filipinos no longer wanted the old practice of "politics as usual" that failed to bring about real reform.
Meaningful change
This aspiration for meaningful change is embodied by this year's theme for the Independence Day celebrations – "Pagbabagong Ipinaglaban, Alay sa Masaganang Kinabukasan," or "Change that we fought for to safeguard a prosperous future."
This is reflected in the President's program of government which is focused, results-driven, and zeroes in on what matters to each and every Filipino.
It is about ensuring that the Philippine government provides its citizens access to basic needs. This priority is reflected in this year's national budget, which prioritizes free education in state universities and colleges, universal healthcare, and infrastructure development.
It is about ridding the country of social ills which have hampered the Philippines' sustained development and progress. At the top of the Duterte Administration's agenda is enhancing government transparency, improving public service, and eliminating corruption and all forms of criminality, paving the way for institutions that inspire trust and confidence.
It is about modernizing and building the capacity of the country's law enforcement and defense agencies to ensure that the Philippines is a fertile ground for law and order, rather than transnational threats such as terrorism, human and drug trafficking, and cyber-crime.
Among fastest-growing
It is about developing an economy that encourages broad-based growth. The Philippines continues to be one of the fastest growing economies in Asia having posted 6.7% growth last year. For the first quarter of 2018, GDP hit 6.8% and we are optimistic about hitting our growth target of 7% to 8% for 2018.
The centerpiece of the Duterte Administration's economic agenda is the infrastructure investment plan aptly titled "Build, Build, Build," as it is one of the boldest and most ambitious infrastructure programs ever in the Philippines. The goal is to invest $160 billion in the country's infrastructure development program with 75 high-impact, flagship projects aimed at generating jobs and stimulating economic growth.
Tax reform
An equally ambitious and complementary program is the Comprehensive Tax Reform Program, which aims to simplify the tax system and correct its deficiencies to make it more fair and efficient.
Another key driver of economic expansion is foreign direct investment. The Philippines has been designated as the "Best Country to Invest in for 2018" by the US News and World Report which serves as a clarion call to US companies to increase their presence in the Philippines. I encourage our American businessmen to be our partner in the Philippines- it makes business sense.
The Philippine flag stands proudly behind me and bears the red, white, and blue colors of the US flag. The 1898 Declaration of Independence crafted by our forefathers makes reference to the history of our flag.
Conceived by General Aguinaldo, the Philippine flag adopted the colors of the US flag as an expression of gratitude for America's support as the Philippines sought independence from the Spanish empire.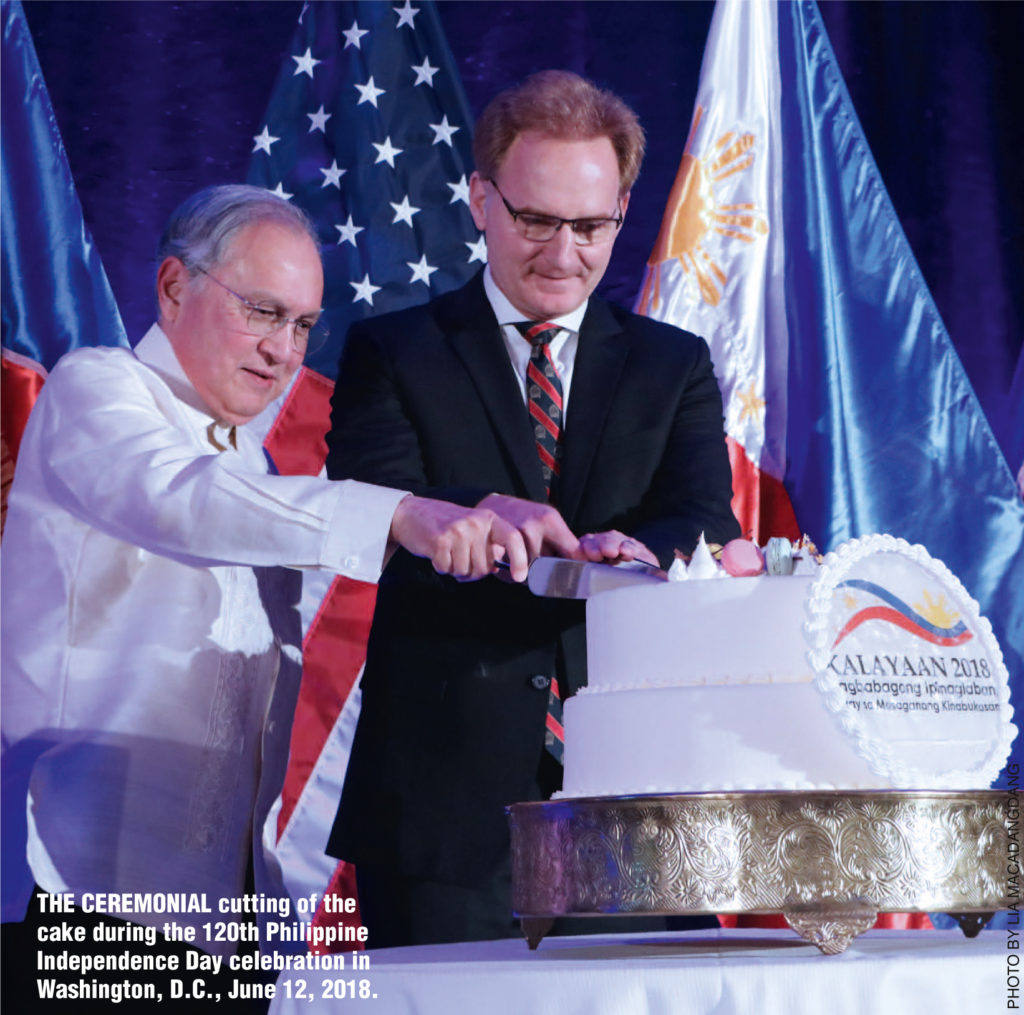 PH-US tapestry
This speaks volumes about the intricate tapestry of Philippines-US relations spanning over 70 years. Our strong and deep relations are as extensive as they are multifaceted, and have evolved through the years into one that is pro-active, reliable, and focused.
Throughout the years, our country has stood by many of its friends and allies. During World War II, President Manuel Quezon offered sanctuary to 1,300 Jews who fled from the holocaust. The Philippines welcomed Jewish refugees at a time when other nations closed their doors on them.
Israel – also one of our close allies today – never forgot the kind gesture and to this very day, Israelis are forever grateful for such a generous act by the Philippines.
In the aftermath of the Vietnam War, the Philippines offered Vietnamese refugees sanctuary in Morong, Bataan. One of those refugees is here tonight – Mr. Sean Lam – a successful business executive of IM Systems Group with offices in Washington and Hanoi.
Top US diplomats assigned in Manila
Let me also acknowledge the presence of some of the US Ambassadors who served in our country with distinction and remained our close friends –
Ambassador John Negroponte, Ambassador Harry Thomas, Ambassador Tom Hubbard.
Our Honorary Consul from Florida, a close friend of the Philippines and big supporter is here tonight – Mr. Henry Howard.
The obvious rapport and fraternity between President Duterte and President Trump have contributed positively to our relations and the task of taking the relations forward rests on our shoulders.
Satellite to no one
When President Trump visited Manila last November for the US-ASEAN commemorative summit, he exhorted America's partners in the Indo-Pacific region "to be strong, independent and prosperous, in control of their own destinies, and satellites to no one."
Clearly, the words of President Trump are manifest in President Duterte's new independent foreign policy that aims for a Philippines that has the strength and the wherewithal to address its own issues and take care of its own problems.
This new independent foreign policy also means diversifying relationships and alliances as the Philippines desires to be "a friend to all and enemy to none," especially at this time when nations have to work together on issues of mutual concern such as security and the economy.
However, this pursuit of new friendships will not be at the expense of our relationship with traditional allies such as the United States. The friendship between our two nations is strong and extensive, enduring and stable, able to withstand the bumps and challenges that have come along the way.
For while it is true that the only permanent thing in this world is change, I truly believe that the one thing that will remain constant is the special relationship between the Philippines and the United States, rooted in our shared history and the deep people-to-people relations that have only grown stronger over the years.
Deepening relations
Before I left the Philippines to take up my posting here in Washington, D.C., US Ambassador to the Philippines Sung Kim and I made a pact – to do our part in deepening our two countries' relations.
I trust that through our joint effort, or should I say the "Joint Special Forces of Sung and Babe," and with all your assistance and wise counsel, we will be able to contribute to the progress of the Philippines and obtain the transformation necessary for our shared prosperity.
Our relationship's best asset is our people-to-people ties. The US is home to the largest number of Filipinos overseas representing the third largest Asian American community in the US.
The kinship between Filipinos and Americans is apparent, and I am always gratified to hear comments of appreciation from US Senators and Congressmen for the skills and contributions of the Filipino-American community in their respective areas.
Mabuhay po kayo.
This year's celebration is very special and meaningful to me as it is the first Independence Day celebration I am celebrating in Washington, D.C. as Philippine Ambassador to the United States.
Our celebration tonight is just one of a series of events we have planned to commemorate the 120th year of our independence. Last Sunday, we had a public service-themed celebration.
We also hosted a high-level cultural delegation in the persons of National Commission for Culture and the Arts chairman and National Artist for Literature Virgilio Almario and National Museum Director Jeremy Barns, who will be conducting several cultural diplomacy initiatives around Washington, D.C.
We are also proud to showcase our rich culinary heritage through the dishes we have prepared for tonight's celebration, among them the award-winning pork sisig by our Embassy Chef Abie who bagged the top awards for both the People's Choice and Judges' Choice in the recently held DC Embassy Chef Challenge.
Culinary heritage
We have also prepared a special cocktail drink infused with Tanduay Rum – a Filipino rum produced by Tanduay Distillery, one of the oldest companies that was originally owned by the Elizalde family whose scion, Joaquin Elizalde, was our first Philippine Ambassador to the United States after 1946.
In closing, allow me to express my sincere thanks to our close friends from the Philippine business community, whose generous support made this evening's celebration possible.
These businesses represent some of the best firms in the Philippines, employing hundreds of thousands of Filipinos.
And to all of you present here tonight, thank you for joining us in celebrating our 120th year of independence.
Maraming salamat at mabuhay tayong lahat!­