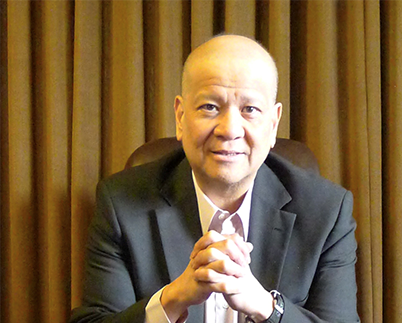 We cannot lockdown forever because people need to work to pay for their bills. I think no country in the world can afford to lockdown today but we have to strike a balance like we want people to start working.
We need to test them. We need to do mass testing. And also prepare a quarantine area for them. If there are positive, asymptomatic, or positive and sick we need space for them.
We cannot test them and then send them back to their home and then infect everybody else. So, if we want the economy to start rolling again what's most important is testing.
We are currently facing a very challenging time in our lives. What has changed in the way you do business in San Miguel Corp.? 
Still, we make sure in San Miguel that we won't get our employees infected with COVID. So, what do we do? We tested everyone before allowing them to come to the office, No. 1. No. 2, we put acrylic dividers (that plastic and glass) so when you come into work you're practically safe that nobody can spread the disease in the office.
And we are very strict in making sure that we have oximeter, it's not the temperature sensor that is more important but the oximeter.
If you test a guy with an oximeter you will see if he is infected or not immediately. So, we have all these safety precautions for our employees.
That's why today, we have about maybe 50% of our employees are back working. And they can take turns, most of them worked two or three days a week. So, everybody is working, our company is functioning very well now.
In fact, we are in full speed in all our expansion from food and beverages, power generation, oil, refinery, petrochemical, and our infrastructure business are in full blast, our infrastructure construction are in full blast.
But Mr. Ang, the big question is why are you so aggressive with your investment projects when other companies have been holding back on their expansion. These are challenging and unsettling times Mr. Ang. Shouldn't you be slowing down, because the COVID-19 health crisis is still ongoing and we still haven't found the vaccine?
You separate the men and the boys. In a crisis, there's always an opportunity. Like this, when everybody is staying home, we are out working.
We make sure all our projects are in full speed. When they wake up and finally report to work, we are already done.
So, all the opportunities we have practically harnessed, and also the most important of these things is we want to keep the jobs and we want to create more jobs, opportunities for our country and our people.
But Mr. Ang, which particular business of San Miguel are you very optimistic about and will recover quicker than the others. 
The only business that affected us really is the oil refinery business or Petron. Our power business is good.
Our infrastructure business—tollway, port, they are okay. And our food and beverage business is very, very good. And our manufacturing businesses just like our cement business, are very, very good.
So, in short, we are not affected at all. The business that is most affected are hotels, cruise liner, airline, casino, real estate.
We are not in those kinds of business. The business we are into are not really that much affected.
What is your timeline for this New Manila International Airport in Bulacan? If you be groundbreaking in two months, when do you expect it to be finished?
Originally, we said in the fifth year, we will deliver the airport with two parallel runways with a distance of 2 kilometers. One year after, in the sixth year, it will be four runways.
But today, because the work may not be as fast, let's say instead of five, it will become six years. And by then Rico, again, there will be heavy traffic, congestion on all the runways in the world.
Looking at the overall economy Mr. Ang, when do you expect the Philippines to recover from this health crisis which has impacted so many people in the country? 
First, if we want the confidence of the people to start doing business. You must have mass testing. As of today, I think there are figures that say we have tested one million people.
Of that one million tested, 70-80% are rapid test. 20-30% is the PCR test. We are 110 million population or in Metro Manila, we are 10-20 million people in Metro Manila. Ten million at night, 20 million daytime. We should at least test 10 million people.
So, what is most important Rico is we should convince all the Filipino businessman to invest and start investing, start working.
Because if they are going to hide in their home—the investor or the financiers we're all be okay but their employees will lose jobs.
And then, later on, those employees—what will happen to their family?