By Ivy Lopez
A Google software engineer can earn a starting salary of $124,000 a year. That's 43.5% more than the average salary of a software engineer in Florida and 15 times more than one in the Philippines. It seems like so much money so recruits often accept the position even if it means relocating.
So the Google recruit, let's call him Newb, moves with his family to Silicon Valley, or the Bay Area region in Northern California that is home to the world's largest technology companies like Apple, Facebook, Nvidia, Oracle, and Netflix.
The first thing Newb looks for is a house for a family of four in a good school district because he wants his kids to have the best education. There's a one-bedroom one-bath apartment in Mountain View that is within walking distance from Google for a monthly rent of $2,995 (P149,750). But his family cannot fit in only 705 sq ft (65 sq m). That's almost as big as a three-car garage.
Newb then chooses a two-bedroom, two-bath townhouse with 1,009 sq ft (93.7 sq m) for $3,600 (P180,000) a month. His monthly bills for necessities like utilities, cable/internet, cellphones, food, grocery, clothing, insurance, and school total $6,080.
Since Newb walks to work, he buys a used Toyota Corolla for his wife and kids which cost $555 a month. This includes insurance, monthly payments, and gas at $3.89 a gallon which is about .8 0 cents higher than the rest of the US. A car is necessary in the Bay Area because mass transit is not accessible in pricey neighborhoods.
After taxes and government deductions, Newb's take-home pay is about $8,500 a month. But his basic monthly expenses total $6,535 which leaves him with $1,965 disposable income. He hasn't bought any houseware or appliances yet. Neither has he saved for retirement or an emergency fund.
No wonder three counties in the San Francisco Bay Area consider a yearly income of $117,400 for a family of four as low income. While an individual is considered low-income if his yearly salary is $82,200.
San Francisco is home to AirBnB, Glassdoor, Salesforce, Uber, Lyft, Yelp, and Cisco. San Mateo county is home to Oracle, Genentech, Electronic Arts, and Facebook. Santa Clara is home to Apple, Adobe, eBay, Facebook, Cisco, Fujitsu, Google, HCL, Intel, Nvidia, and SAP.
Inclusion in the low-income bracket can qualify a household for housing aid, but only after the extremely low-income ($44,000 for a family of 4 or $30,800 for an individual) and very low-income ($73,300 for a family of 4 or $51,350 for an individual) households have been served.
Buy, buy, buy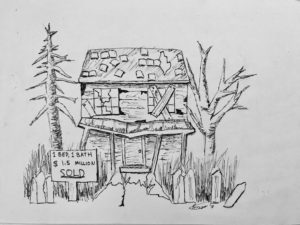 With such a high rent, Newb thinks maybe it makes more sense to buy a house after a year. A quick search shows that an equivalent 2-bed 2-bath with 998 sq ft in Mountain View sells for $998,000 or $1,000 per sq ft. That's below the Bay Area's median house price of $1.4 million but is four times more than the national median home price.
The Bay Area's housing market just keeps rising from the continuous inflow of tech workers and the steady decline in home sales and construction. San Francisco's rate of home ownership is only 36.8% where over half are married. The great majority (63%) are renters, where 76.5% are non-family households or those who live alone or with others who are not family members.
To be even be considered as an applicant, a potential home buyer must pay at least 20% of the selling price. Otherwise, he will pay a private mortgage insurance which can add at least $1,000 more to the monthly mortgage. A home buyer can expect to spend $6,200 monthly for a $1 million house which includes taxes but no maintenance cost.
Even if Newb could come up with a 20% deposit, it's highly likely that he will be outbid by cash-laden Chinese buyers who pay the full purchase price in cash, often tens of thousands above the selling price. Some even pay half a million more.
Many highly paid tech workers who migrate to Silicon Valley from all over the world are shocked by the hefty house prices. Worse, the Bay Area housing market is in negative inventory as only few houses are built but over 300,000 workers keep coming in yearly.
Home buying frenzy is normal in the Bay Area. In Saratoga, five minutes from Apple headquarters in Cupertino, home listings only last a week and are quickly snatched up, especially in the lower millions.
Prime location is so highly coveted that a fixer-upper still sells for over a million. The most expensive one was a 1010 sq ft house in Santa Clara that should have been torn down but sold for $3.5 million this year. Even a condemned house sold for $1.23 million cash in Fremont because of its proximity to San Jose and other major tech firms. Many cash buyers purchase rundown houses so they can destroy it and build their dream home, while others just want the lot to build a new house for a quick resale.
Also, aging homeowners who bought their house in the 90s before the tech boom for less than $400,000 don't want to sell now because they have no place to go. They don't want to buy in an inflated market and shoulder another 30-year mortgage at 4.6% interest into their retirement. Home prices for a 1960 3-bed 2-bath are now over $1.1 million.
A June online poll of registered voters in the Bay Area revealed that over half (53%) find it much harder to find a place to live. Last year it was just 36%.
Families who want an excellent school district have no choice but to stay in million dollar neighborhoods. Of those who opt to reside in the Bay Area, 29% spend 25-35% of their household income on housing. A third spend 40% or more. Filipinos only spend 23% of their income on housing.
Singles can rent a room in a house in the Bay Area for about $1,000 a month. Many workers rent farther away from the Bay Area where housing is at least $1,000 cheaper. But commute takes 2-4 hours a day, either by car or a shuttle provided by companies like Google, Apple, and Facebook.
A docket employee in a major San Francisco law firm wakes up at 3 am to drive three hours to the city from his home near Stockton where he bought a reasonably priced home. In the afternoon, he leaves 3 pm so he can beat the afternoon rush, otherwise his commute will take almost five hours.
Homes weren't always so expensive in Silicon Valley. Apple founder Steve Jobs was raised in a 3-bed 3-bath 1952 house in Los Altos that was less than $200,000. His foster parents, a nurse and a mechanic, scraped enough cash to buy a house in the 70s so Steve could go to a good school district. This is the historic garage from which Steve and his neighbor and co-founder Steve Wozniak built the first Apple computers.
Today, the house is valued at $3 million and Los Altos is considered the wealthiest city in the US. Jobs' zip code is the fifth most expensive in the US with a median home price of $7.7 million.
Home prices are dictated by the quality of the school district. Families who choose to live in a cheaper home to save money must endure a substandard school district. Home taxes form part of the district's educational fund. So lower priced homes bring in less revenue and less money for schools. This can be one factor that leads to a low-performing school with below average scores, unmotivated or needy children, underpaid teachers, inadequate staff and a minimal school budget. Some families just buy the cheaper house and pay over $7,000 a year for a private school for each child.
An employee in Nvidia bought a 3-bed 1-bath in Santa Clara for almost a million dollars on January 2017. Her house has appreciated in value by $300,000 in the last 19 months.
Not everyone is so lucky. One elementary public school teacher in Cupertino grew up in the Bay Area but had to move an hour away because she could not afford to buy a house with her salary. "I was priced out."
Taxes and Wages
Many cities in the Bay Area have a sales tax of 9.25%. Oregon, which is 666 miles north of California (a ten-hour drive), has no sales tax. Drive 277 miles further north to Washington, which is home to Microsoft and Amazon, you get a 6.5% sales tax.
Starting this year, the hourly minimum wage was raised to $15 in Mountain View and Sunnyvale; $13 in Santa Clara; and $13.50 in San Mateo, Cupertino, San Jose, and Palo Alto. By 2019, all wages around the Bay Area will be $15 an hour, which is double the federal wage of $7.25 an hour.
In addition to the taxes, many common items are also more expensive in the Bay Area. A large Gong Cha milk tea costs $4.50; it is only $2.20 in the Philippines. A Venti Starbucks Iced Caffé Latte costs $4.35 but it is $2.2 in PH. A sweet pork bun in a cafe in San Jose Japantown costs $5.75, as much as its regular coffee drinks. Parking in San Jose downtown is $2 an hour.
Despite the seeming wage increase, the exorbitant living standards in the Bay Area still exclude many highly paid workers who belong to the third tax bracket of taxable income $75,900-$153,100. This includes many professionals like lawyers and accountants and tech workers like engineers. A male college graduate averages a salary of $78,931 a year and a male post-graduate averages $106,215 a year. Yet both salaries are in the low-income bracket for San Francisco Bay Area.
A senior manager in a Big 4 consulting firm said that despite the high cost of living, working in Silicon Valley is still a great opportunity. "If you work long and hard you may eventually earn enough to live comfortably in Silicon Valley. But that can take ten years."
It's more likely that only those who belong in the top two highest tax bracket (taxable income $416,00 and above) can comfortably buy a roomy house, pay for necessities, and enjoy the recreational lures of California.
Should I stay or should I go?
The Bay Area's housing crisis has increased the likelihood that residents will leave in the next few years (46%), whether elsewhere in California (24%) or outside (61%). Millennials are the prime hires in Silicon Valley, but 52% of them said they will look for work in affordable places with less taxes.
A new graduate who works for an online company and grew up in the Bay Area agreed to transfer to their Texas office because it was more affordable. Similarly, a partner in a major consulting firm also opted to leave San Francisco and transfer with his family to the firm's Texas office, where he originated, so he can be near his family and buy a house.
One Google engineer echoes the sentiment of Bay Area businesses and says that it is getting harder to attract new hires because workers don't want to live in pricey California. Instead, potential hires prefer offices in Pittsburgh, Seattle, or Texas, where their salaries can afford them a roomy house with $2,000 monthly cash to spare.
Similarly, many Bay Area businesses are opening up in other states with cheaper housing, lower living costs, and lower hourly minimum wage. Early this year, Facebook opened artificial intelligence labs in Pittsburgh and Seattle.
Since 2015, population in the Bay Area has been slowly in decline even if it is still one of the fastest growing cities in the US. Only 37.7% of its remaining residents were born in San Francisco, while 25.2% were born elsewhere.
San Francisco's residents are mostly young: 37.5% are ages 25-44 and 25.9% are ages 45 to 64. These age brackets are the most productive and contribute greatly to California's tax revenue and gross domestic product. But their mid-level salaries constrain them to soon move away from Silicon Valley so they can buy a house, afford to raise kids, live comfortably, and save some money. This is a great loss of talent and future productivity.
Silicon Valley is fueled by innovation, creativity, and diversity. But different minds from various backgrounds and cultures need to work together to come up with great ideas and solutions. Collaboration takes time and depends on consistent relationships with the same people. It's hard to think differently if your co-workers keep leaving.
VIEW THE MAGAZINE ARTICLE HERE: