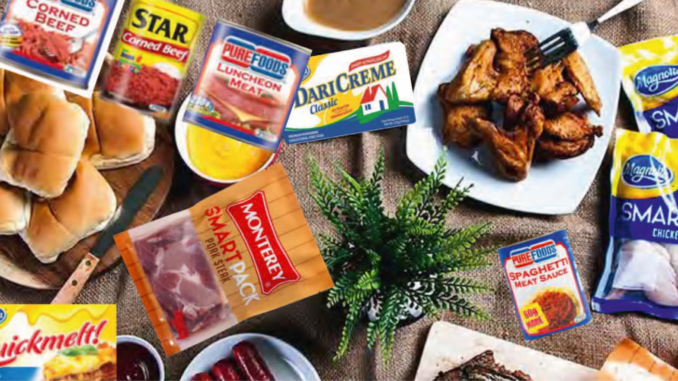 San Miguel Corp. is parlaying the dynamism of the Philippine economy and the conglomerate's leadership, strength, and marketing prowess in its old businesses—beer, beverages and foods—by conducting follow-on public offering (IPO) for its food and beverages division, the San Miguel Food and Beverage, Inc. (SMFB) and spending P86.6 billion to expand the business—P5.3 billion for beer and P81.3 billion for food.
The P86.6 billion beer and food expansion is 12% of SMC's P742 billion three-year capacity expansion, the largest in its 128-year history.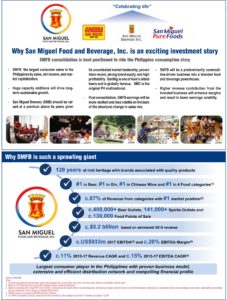 The P742 billion expansion makes San Miguel the single largest corporate investor in the Philippines, bar none. SMC, of course, contributes 5.2% to the annual production of goods and services or GDP.
SMFB is making a follow-on IPO by selling 887 million common shares at P140 per share, plus another 133 million shares to cover over allotment. The 887 million shares are valued at P124.18 billion.
P750B for airport not included
The P742 billion does not include the P750 billion cost of a new airport San Miguel will build in Bulacan with government approval. The airport opens six years from the time construction is started, with four runways and capacity to serve 100 million passengers per year.Of the P81.3 billion for food capex, P30.54 billion will build 11 feed mills, P10.887 billion will go to the expansion of its branded value added foods, P10.887 billion for nine new integrated poultry processing plants, P8.55 billion for flour milling and grain terminal expansion, P6.9 billion for a corn dryer, silos and warehouse; P1.1 billion for a slaughterhouse, and P469 million for a poultry breeding farm.
Largest consumer company
SMFB is the largest consumer company in the Philippines with annual sales hitting P280 billion ($5.23 billion at P53.50 to $1) this year, and annual profits of more than P30 billion ($560 million).
In terms of earnings before interest, taxes, and depreciation or EBITDA, SMFB makes close to $1 billion. EBITDA margin is 20%—very high for a food and beverage company in an industry where margins are single digits. SMFB EBITDA rises by an average of 15% per year.
Previously a listed company as Purefoods, SMFB has a market capitalization of P585 billion. The stock has more potential than that. Because under the new SMFB, San Miguel has incorporated its huge beer business and in effect, is bringing back San Miguel Beer to public ownership.
SMFB has three operating divisions – beer, spirits, and food. All are booming businesses, enabling San Miguel to generate substantial revenues and bigger and bigger profits from them.
Largest retail company
SMFB is also the Philippines' largest retail company. It has over 400,000 beer outlets, 141,000 spirits outlets, and 130,000 retail outlets for foods. It has 1,200 chicken stations, 650 Monterey meat shops, and 530 Kambal Pandesal stores. SMFB is also the biggest food service provider in the archipelago.
SMB was delisted in 2013 after both SMC and Kirin beer refused to dilute their holdings in the beer company. SMC owns 51.216% of SMB, while the Japanese beer giant holds 48.5%. Kirin was always interested in acquiring majority control of SMB because it likes its world-famous San Mig beer and its potential for growth.
Reviving old San Miguel
"SMC's decision to fold in its beer and liquor businesses into Purefoods is like going 'back to the future.' RSA is, in effect, reviving the San Miguel of old (a pure play on food) into a subsidiary that will be renamed San Miguel Food and Beverage (SMFB). The old SMC used to be an economic bellwether for analysts in the 1990s," Raymond Neil Franco, head of research of Abacus Securities.
San Miguel's spinoff of its beer and foods business is a return to basics.
Food is the main consumer spending item, accounting for half of household expenditures.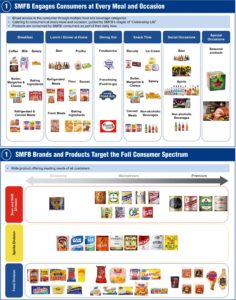 With a population of 106 million, the Philippines is the world's 12th largest consumer market. Per capita, gross national income (GNI) is $3,752, making each Filipino a veritable middle income earner.
The economy has been consumer-driven for the past 10 years. Household expenditures account for 73% of the annual output of goods and services (Gross Domestic Product or GDP). If you add government spending, consumer spending accounts for 84% of GDP. Filipinos should be spending more. The savings rate is 29.8%. Based on a GDP of P17 trillion, 29.8% translates into P5 trillion money looking for goods and services to buy or outlets to invest in.
Synergies
San Miguel is quick to seize those opportunities.
Relates SMC Chief Financial Officer Ferdinand K. Constantino: "Effectively, we (have) creating the biggest consumer company in the Philippines. By doing this, we will be able to extract significant synergies and use their combined strengths to great advantage." He elaborates:
"Within the next three years, we expect to complete the largest capacity expansion in the history of our food and beverage businesses, to meet growing demand for our products and maintain cost affordability."
San Miguel, he says is "constructing a new brewery in Misamis Oriental, Mindanao, expanding the capacity of our bottling plant in Sta. Rosa, Laguna, studying the possibility of putting up additional breweries in Luzon, where demand is growing. We are building a total of 17 facilities for our food business."
This year, Constantino reports, "we've already completed and inaugurated our new hotdog manufacturing facility in Cavite, effectively doubling our capacity.We have also completed a feedmill in Mariveles, Bataan, and are completing another one in Bulacan province."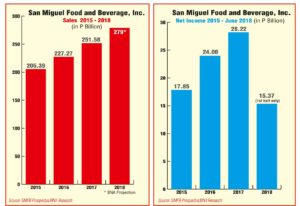 "This expansion seeks to address the rising demand by consumers of quality products at affordable prices. At the same time, such expansion will provide thousands of new jobs and spark growth in local economies in various regions nationwide.
"The impact of this unprecedented expansion of our food and beverage businesses becomes even more compelling in light of our decision to consolidate San Miguel Brewery, San Miguel Pure Foods, and Ginebra San Miguel, into one powerhouse company: San Miguel Food and Beverage Inc.," Constantino stresses.
SMC owns 95.9% of SMFB. In turn, SMFB owns 51.2% of San Miguel Brewery, Inc. and 68% of Ginebra San Miguel, Inc.
Despite SMC's recent diversification into petroleum refining and marketing, power generation, and infrastructure, beer remains a strong brand and an even stronger contributor to revenues and profits of the conglomerate.
SMFB three businesses are in an industry worth $16.3 billion annually. The beer market is worth $3 billion, spirits $2 billion, and food $11.3 billion. SMFB's beer business is worth $2.78 billion a year, spirits $600 million, and food $2.452 billion.
San Miguel holds a commanding 92.7% of the Philippine beer market. The beer business grows by a bubbly 18.4% annually in peso sales and is projected to expand by 9.7% per year over the next three years.
SMFB has an enviable 33% share of the $2 billion spirits market. In value, San Miguel's spirIt business has grown by 8.5% per year in the past three years. Growth will taper off to 4.9% per year in the next three years.
SMFB has a 21.7% share of the $11.3 billion food market. It is No. 1 in all four product categories with 21.7% share of the $11.3 billion market.
SMFB brands are among the most recognizable and top-of-mind brands in the industry and hold market-leading positions in their respective categories.
Key SMFB brands include San Miguel Pale Pilsen, San Mig Light and Red Horse for beer, Ginebra San Miguel for gin, Magnolia for chicken, ice cream and dairy products, Monterey for fresh and marinated meats, Purefoods and Purefoods Tender Juicy, for refrigerated prepared and processed meats and canned meats, Star and Dari Crème for margarine and B-Meg for animal feeds.
No. 1 in 87% of sales
About 87% of their revenue are from categories where the company is No. 1.
The beverage business consists of the Beer and NAB Division and Spirits Division.
SMFB operates its beverage business through San Miguel Brewery, Inc. and its subsidiaries (SMB or the beer and NAB division) and Ginebra San Miguel Inc. and its subsidiaries (GSMI or the Spirits Division).
The Food business (the Food Division) is managed through subsidiaries San Miguel Foods, Inc. (San Miguel Foods), Magnolia, Inc., and The Purefoods-Hormel Co., Inc. (Purefoods-Hormel).
Interwoven with the economy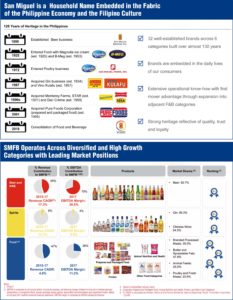 SMFB serves the Philippine archipelago through an extensive distribution and dealer network and export their products to almost 60 markets worldwide.
Originally founded in 1890 as a single brewery in the Philippines, SMC today owns market-leading businesses and has investments in various sectors, including beverages, food, packaging, fuel and oil, energy, infrastructure (including, toll road operations), property, car distributorship and banking services.
SMFB is a key business group under the San Miguel Group that is interwoven with the economic fabric of the Philippines, benefiting from, as well as contributing to the development and economic progress of the nation.
SMFB shares are listed on the PSE under stock code "FB". As of June 2018, market cap was P353.37 billion. Market cap is approaching the P600 billion mark.
Prior to the present offering, SMC approved and implemented the internal restructuring and consolidation of its food and beverage businesses under SMFB (previously known as San Miguel Pure Foods Co., Inc.).
As part of the SMFB Consolidation, SMB and GSMI were consolidated with the Food Division under SMFB, establishing a unique unit within the San Miguel Group focused on the food and beverage businesses. They believes that following the SMFB Consolidation, their stand to benefit from the synergies and cost savings generated through their expanded size, shared infrastructure and group-wide procurement.
SMFB hopes to extend reach to even more consumers across various channels in the Philippines and around the globe, ultimately enhancing shareholder value.
For each of the years ended Dec. 31, 2015, 2016 and 2017, SMFB food and beverage businesses had combined sales of P205,396 million, P227,279 million and P251,589 million ($4,703 million); gross profit of P64,699 million, P75,171 million and P83,129 million ($1,554 million); EBITDA of P37,486 million, P44,795 million and P49,937 million ($933 million); and net income of P17,854 million, P24,002 million and P28,226 million ($528 million), respectively.
For the six-month period ended June 30, 2017, SMFB had sales of P119,130 million, gross profit of P38,978 million, EBITDA of P22,583 million and net income of P12,805 million compared to sales of P137,441 million ($2,569 million), gross profit of P44,833 million ($838 million), EBITDA of P26,569 million ($497 million) and net income of P15,370 million ($287 million) for the six-month period ended June 30, 2018.