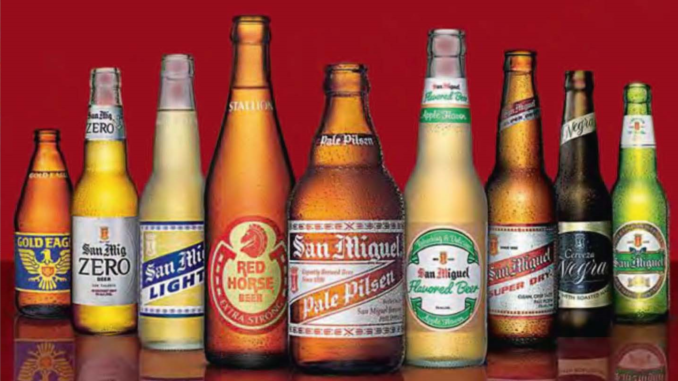 The years 2019 and 2018 have been years of underperformance for the Philippine economy. They have also been challenging years for the country's largest corporations in revenues and profits. Still, the companies, big and small, somehow managed to navigate the rough waters of 2018 and 2019.
In 2018, the BizNewsAsia 1000 Largest Corporations registered combined revenues of P19,166 billion (P19.166 trillion), up a respectable 12% or P2.048 trillion from the P17.118 trillion they posted in 2017.
Combined 2018 profits of the BizNewsAsia 1000 reached just P1.925 trillion, up a paltry P51 billion or 2.7% from the P1.874 trillion profits reported in 2017.
The P1.925 trillion profits were good enough to turn in a return on equity of 11.16%, more than double the 2018 inflation rate of 5.2%. With a return on sales of 10%, the BizNewsAsia 1000 earned P10 for every P100 of sales. Return assets was single digit but still respectable, 3.33%.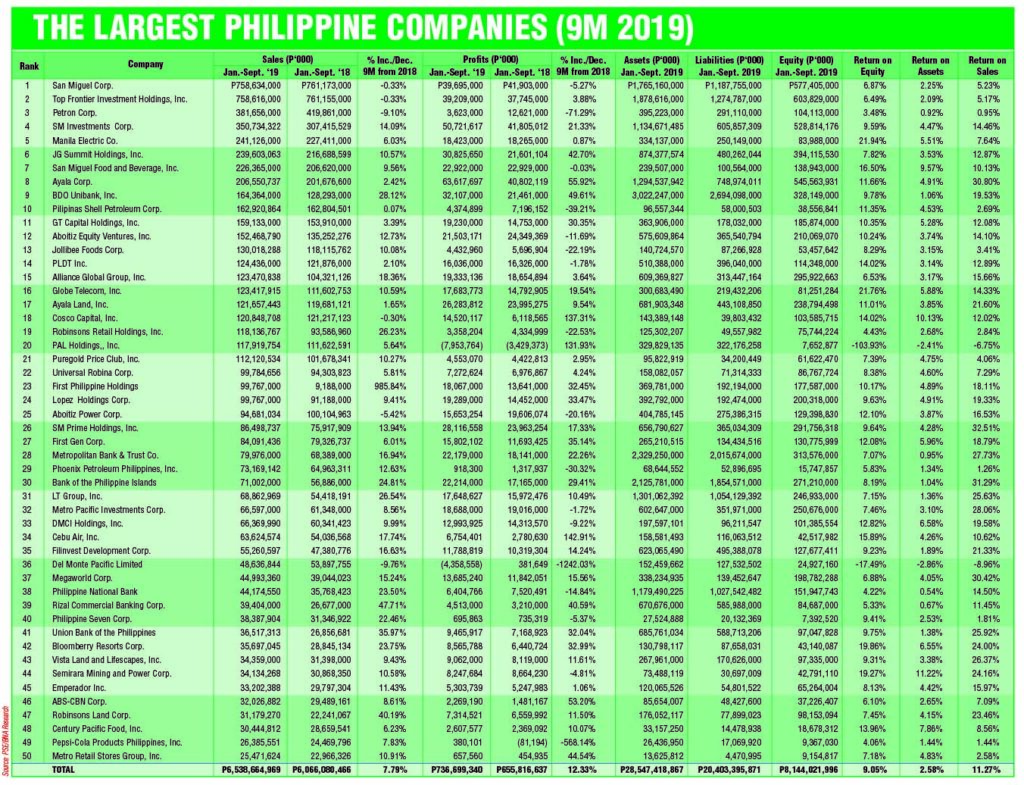 The 50 largest corporations chalked up P10.1 trillion in sales, up 15.66% over 2017, and a hefty 52.7% of the total revenues of the BizNewsAsia 1000.
The Top 50 made P930.9 billion in profits, up just 4.9% but better than the 2.7% gain of the BizNewsAsia 1000 in net income. The Top 50's profits represented 48.34% of the BizNewsAsia 1000's combined income.
For the 10th consecutive year since the BizNewsAsia 1000 begun, diversified conglomerate San Miguel Corp. topped the list, with commanding revenues of P1.024 trillion, a record, and a huge increase of 24% from its previous high of P826 billion revenues in 2017.
Under Chair Eduardo C. Cojuangco Jr. and President Ramon S. Ang, SMC has successfully remade itself over the past 10 years to become the business behemoth that it is today.
In 2019, San Miguel is poised to again become the largest private industrial company in revenues.
SMC posted revenues of P758.634 billion in the first nine months of 2019, a minuscule drop from the P761.173 billion in 2018. If you annualize the nine-month sales to produce revenues of 12 months, SMC will again hit the P1-trillion mark. Revenue gain could be flat and so will probably the profits.
In the first nine months of 2019, SMC profits hit just P39.69 billion, down 5.27% from P41.9 billion in January-September 2018.
RSA re-engineered SMC into what it is today—a nimble, green, colossal, hugely profitable money-spinner with No. 1 position in at least eight industry areas – beer (San Miguel Brewery), food (San Miguel Pure Foods), packaging (San Miguel Packaging Group), power generation (SMC Global Power Holdings), fuel and oil (Petron Corp.), infrastructure (SMC Infrastructure), fun to drive premium cars (BMW), and cement (Northern Cement).
RSA's handiwork
About 60% of San Miguel's business, revenues, and profits is the handiwork of Ramon S. Ang.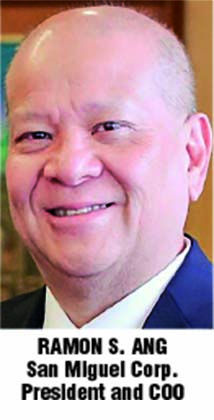 Fifteen years ago, if not less, San Miguel was absent or not even a force to reckon with in five major businesses – fuel and oil, power generation, infrastructure, cement, and luxury cars. About 60% of SMC's business today was created by RSA.
In 2008, SMC had revenues of only P168 billion. By end-2018, revenues had ballooned to a record P1,024 billion (P1.024 trillion), a six-fold or a 509% increase in 10 years or a 50.9% rise every year.
In 2008, SMC had a net income of only P20.1 billion. By 2018, profits had levelled at P48.6 billion, up 142%. If reckoned from 2007's P8.4 billion net income, the rise in profitability has been more dramatic, to P48.6 billion, a whopping increase of 479%, or a dizzying 43.5% gain in profits per year.
Ang became SMC vice chairman in January 1999 and president and chief operating officer on March 6, 2002.
The economy
The economy, as measured by the total output of goods and services (the Gross Domestic Product or GDP), grew by just 5.9% in 2019 and 6.2% in 2018.
These rates are lower than the growth rate of 6.7% in 2017 and 6.9% in 2016. The 2019 GDP growth of 5.9% is the lowest in eight years, since the disappointing 3.7% of 2011.
The four-year average (2016-2019) GDP growth is 6.425% — below the low-end target of 6.5% and the high-end goal of 7.5% in those four years, under the President Duterte administration.
The lower than average 5.9% growth in 2019 was blamed by the World Bank on "a rapid deceleration in investment growth and a weak external environment."
The economy was hampered by the delayed approval of the 2019 budget and the adverse impact of weak global manufacturing and trade, and trade tensions between the United States and China, two of the Philippines' biggest trading partners and export markets.
To be sure, the economy has had unprecedented 84 quarters or 21 years of consecutive growth—the longest economic expansion in the country's history.
This 2020 should have been better, with the economy projected by the World Bank to grow by 6.1% in and by 6.2% in 2021.
2020 a tough year
2020 has proved brutal not only for corporations but most Filipinos.
On Jan. 3, Iran's famous general, Qassem Suleimani, was assassinated by the United States in a drone strike. This raised tension in the Middle East, if not the possibility of a larger war on a global front.
On Jan. 7, Chinese officials announced they had identified a new virus, the novel virus, 2019-nCoV ARD (acute respiratory disease).
On Jan. 11, China announced its first death from the virus, a 61-year-old man who had bought goods from a seafood market in Wuhan, the capital of Hubei province in Central China.
On Jan. 12, 2020, restive Taal Volcano erupted with full fury, devastating the agriculture, industry and tourism of Calabarzon and paralyzing Metro Manila for several days.
Feb. 11, the now named COVID-19 had killed 1,016 and infected 42,638. Thirty-eight airlines stopped flights to and from China. The virus had spread to 28 countries and territories.
On Feb. 11, President Duterte finally sent notice to the US to terminate the Visiting Forces Agreement.
Volcano, virus, VFA. The three apocalypse horse of the First Quarter Storm circa 2020.
COVID-19 could shatter from 30% to 50% of Philippine tourism arrivals and revenues.
Ending the VFA, which gives US soldiers visa free stay and access to major military facilities and military operations in the Philippines, could upset the power balance in the Asia Pacific as Duterte pivots towards China away from the apron strings of America.
VIEW FULL LIST OF TOP 1000 COMPANIES HERE: