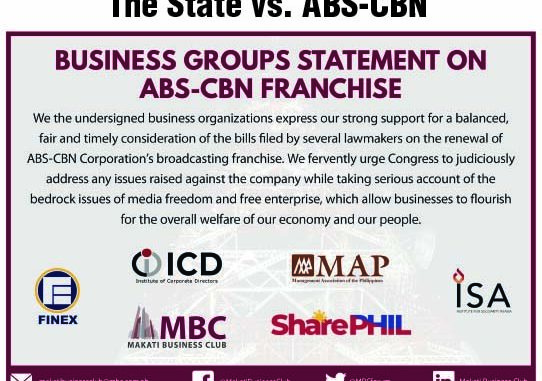 Solicitor General Jose Calida's quo warranto petition against broadcast giant ABS-CBN Corp. makes the following allegations:
1. It violated its legislative franchise when it operated a pay-per-view channel through free-to-air signals.
2. ABS-CBN Convergence Inc. violated its franchise under R.A. No. 7908 (An Act Granting the Multi-Media Telephony Incorporated, a Franchise to Construct, Establish, Operate and Maintain Radio Paging System in the Philippines, and for Other Purposes), as amended by R.A. No. 8332 (An Act Amending Republic Act No. 7908, entitled, "An Act Granting the Multi-Media Telephony, Incorporated, a Franchise to Construct, Establish, Operate and Maintain Radio Paging System in the Philippines, and for Other Purposes".)
3. ABS-CBN Convergence Inc. violated R.A. No. 7908, as amended by R.A. No. 8332, when the transfer of the subject legislative franchise was made without prior approval from the Congress.
4. ABS-CBN Convergence Inc. violated Section 16 of R.A. No. 7908, as amended by R.A. No. 8332, in relation to Section 21 of R.A. No. 7925, when it failed to publicly offer any of its outstanding capital stock to any securities exchange in the Philippines.
5. ABS-CBN sold ownership shares to foreign investors by selling Philippine Deposit Receipts. Under the Constitution, media must be 100% Filipino owned. Not a single share can be sold to foreigners.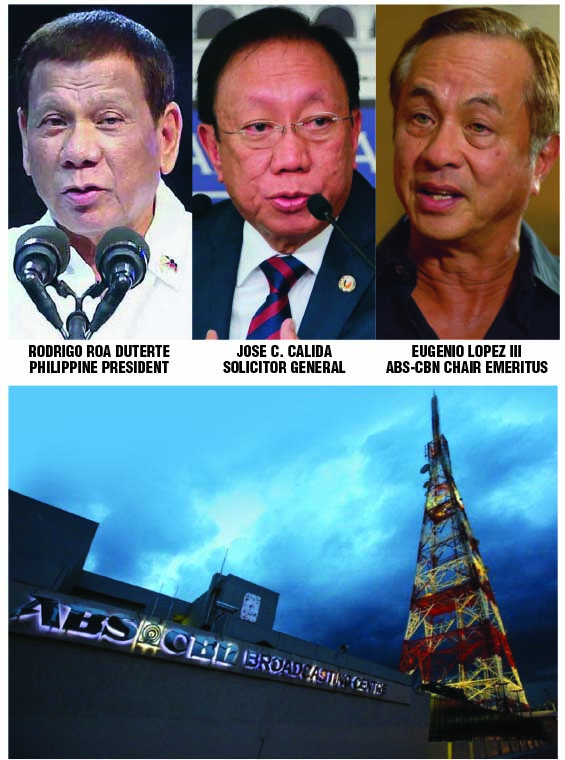 In February 2015, ABS-CBN Corp. launched the country's first digital terrestrial set-top box with free and premium digital TV channels called ABS-CBN TV plus. Thereafter, in March 2016, ABS-CBN launched a pay-per-view channel in ABS-CBN TV plus, the Kapamilya Box Office.
Under R.A. No. 7966, ABS-CBN is required to secure prior authority from NTC before it uses any frequency in the television or radio spectrum.
On May 14, 2019, the state agency National Telecommunications Commission told ABS-CBN Corp.. "No Encryption nor Conditional Access of programming content shall be allowed." In granting Provisional Authority to ABS-CBN Corp. to convert DWWS television station from Analog TV service to DTT using Channel 2 in Metro Manila, NTC also required to obtain permits and licenses for its DTTB (Digital Terrestrial Television Broadcasting) service.
ABS-CBN Corp. has no authority to offer the ABS-CBN TV plus, the Kapamilya Box Office Channel.
Under the DICT Framework (which was crafted after DICT's consultation with public and private broadcasters, equipment manufacturers, content producers and key TV industry stakeholders), the operation of CAS (Conditional Access System) is subject to prior approval or authorization by the government. CAS is defined as a technology used in digital TV systems that involves satisfying qualified criteria prior to granting access to content. ABS-CBN has no such permit.
ABS-CBN Corp. is not only operating a CAS without the required authority from NTC; it also illegally exacts money from the Filipino people. KBO is a pay-per-view channel where Filipinos may choose to access premium content from their television sets. To be able to watch the movies and other contents shown in the KBO, one must first register and pay P30 or P99 through the country's mobile networks (ABS-CBN Mobile, Globe, TM, Smart, TNT and Sun).
Calida says "As the legislative franchise is being regulated by the government to prevent a monopoly of a scarce resource, that person or entity cannot transfer it to any another person or entity without the imprimatur of Congress." He adds: "Not only are the circumstances surrounding the transfers of controlling interest of Multi-Media Telephony suspicious, the transfers were made without the approval and authorization of Congress."
On Oct. 15, 2010, ABS-CBN Corp. acquired from PCCI Equities Inc. its subscription rights over the 250,000 shares in Sapientis Holding Corp. Sapientis thus became a wholly-owned subsidiary of ABS-CBN.
On Dec. 29, 2011, Sapientis acquired Columbus Technology Inc., which owned 95% of Multi-Media Telephony Inc. CTI sought the approval of the SEC for the increase in its authorized capital stock to accommodate the subscription of Sapientis. Thus, Sapientis was able to acquire 70% interest in CTI through the conversion of the deposits into common stock. This acquisition indirectly included the acquisition of Multi-Media Telephony which as stated was a 95-percent-owned subsidiary of CTI.
On March 5, 2015, ABS-CBN Corp. entered into a merger with its wholly-owned subsidiaries, which included Sapientis. As a result of the merger, ABS-CBN Corporation became the surviving corporation of Sapientis.
In the meantime, ABS-CBN Convergence Inc. signed a five-year network sharing agreement with Globe Telecom in 2013, in which ABS-CBN Convergence created a new mobile telephone brand, the ABS-CBN Mobile. The ABS-CBN Mobile had its own prepaid and postpaid voice, SMS, and mobile broadband services. The network sharing deal was approved by the NTC on June 7, 2013.
On March 2, 2015, the Securities and Exchange Commission issued a Certificate of Filing of Amended Articles of Incorporation in favor of ABS-CBN Convergence. ABS-CBN Convergence uses Multi-Media Telephony's franchise without congressional approval. To this date, ABS-CBN Convergence has not publicly offered any of its outstanding capital stock to any securities exchange within the Philippines. PDRs by ABS-CBN Holdings Corp.
On March 30, 1999, Worldtech Holdings Corp. was incorporated for the primary purpose of investing, purchasing, and holding real and personal property including but not limited to shares of stock, bonds, debentures, notes, evidence of indebtedness or other securities for obligations. On Sept. 16, 1999, the SEC approved the change in the Company's corporate name to ABS-CBN Holdings Corporation.
On Sept. 29, 1999, ABS-CBN Holdings issued Philippine Deposit Receipts.
The PDRs were then listed in the Philippine Stock Exchange on October 7, 1999, which PDRs may be exercised at any time from said date.
Immediately prior to the closing of the PDR offering Lopez, Inc., to which ABS-CBN Holdings is affiliated, transferred 132 million ABS-CBN Corp. shares to the latter company for PDRs that were issued. The number one PDR holder holding 186,635,072 or 60.42%, PCD Nominee Corp, is a non-Filipino.
Similarly, ABS-CBN Corp. acquired and used Amcara's legislative franchise under R.A. No. 8135. Amcara was incorporated on April 11, 1994 and was granted a legislative franchise which lapsed into law on July 16, 1995. The franchise will expire on July 16, 2020. Amcara started its broadcasts using Channel 23. Channel 23 was, however, renamed Studio 23 in 2010 and was rebranded as ABS-CBN Sports and Action in 2014.
In its Amended Annual Report for 2012 submitted to the SEC, ABS-CBN Corp. disclosed that it had invested or advanced 49% of equity interest or ownership in Amcara, which ABS-CBN Corporation considers as one of its subsidiaries. It also revealed that the remaining carrying value of investments in Amcara amounted to P41 million as of Dec. 31, 2012 and 2011. — Tony Lopez
DOF chief: If SC finds violations by ABS-CBN, then Duterte right in upholding the law
If the Supreme Court rules that media giant ABS-CBN Corp. indeed violated constitutional restrictions and franchise rules, it would mean the Duterte administration has been upholding the rule of law, Finance Secretary Carlos G. Dominguez III said on Tuesday (Feb. 18).
On the sidelines of the Bureau of Internal Revenue's (BIR) 2020 tax campaign kickoff, Dominguez was asked to comment on the impending shutdown of ABS-CBN if its franchise was not renewed.
He replied: "I have no idea. Sorry, that's not my department."
When asked if closing down ABS-CBN may impact on investor sentiment, Dominguez replied: "A lawsuit has been filed, right? There's a claim by the OSG [Office of the Solicitor General] that there's a violation of the regulations and, in fact, it might be a constitutional violation."
"I think if that's proven, the investors will say, 'oh, these guys have been upholding the rule of law,'" Dominguez said.
Dominguez was a childhood friend and former classmate of President Rodrigo Duterte. He also was the finance manager during Mr. Duterte's campaign for the 2016 presidential elections. Separately, Internal Revenue Deputy Commissioner Arnel Guballa clarified that ABS-CBN no longer had any unpaid tax liabilities to the BIR.
However, Guballa said there remained a case pending at the Court of Tax Appeals (CTA) involving an ABS-CBN sister-company.
On Tuesday (Feb. 18), four big business groups asked Congress to consider pending bills aimed at renewing ABS-CBN's franchise, which will lapse next month.
— Inquirer, Feb. 18, 2020