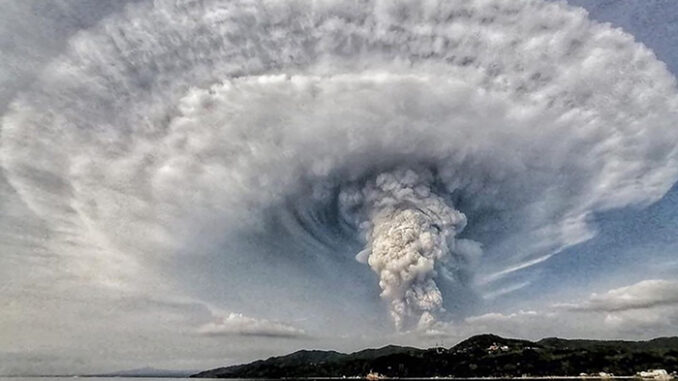 It is now the biggest waiting game in the nation. When will be the Big Bang of the now world famous Taal Volcano, its explosion or eruption, with all its fire and fury, grit and grime.
The state agency PhiVolcs (Philippine Institute of Volcanology and Seismology) has raised Alert Level 4 since 7:30 p.m. of Sunday, Jan. 12, 2020. Alert Level 4 is "hazardous explosive eruption is possible within hours to days."
After the 2:30 p.m. full eruption on Jan. 12, 2020, which lasted for about five hours, Taal seems to have simmered down and settled to just generating steam, spewing it out, along with ash and gas, daily, by the tons.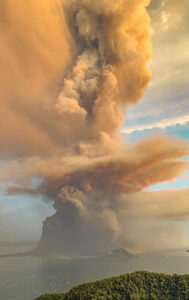 As of this writing, Thursday, Jan. 24, here is the latest Phivolcs advisory on Taal Volcano as of 8 am Jan. 23, 2020:
"Activity in the Main Crater in the past 24 hours has been characterized by weak to moderate emission of white steam-laden plumes 50 to 500 meters high from the Main Crater that drifted southwest. Sulfur dioxide (SO2) emission was measured at an average of 141 tons/day.
"The Philippine Seismic Network (PSN) plotted a total of seven hundred thirty-one (731) volcanic earthquakes since 1:00 PM, January 12, 2020. One hundred seventy-six (176) of these registered at magnitudes M1.2-M4.1 and were felt at Intensities I-V. Since 5:00 AM on January 22, 2020 until 5:00 AM today, there were six (6) volcanic earthquakes plotted that registered at magnitudes M1.5-M3.4 with no felt event.
"For the past 24 hours, the Taal Volcano Network, which can record small earthquakes undetectable by the PSN, recorded four hundred sixty-seven (467) volcanic earthquakes including eight (8) low-frequency earthquakes. Such intense activity likely signifies continuous magmatic intrusion beneath the Taal edifice, which may lead to further eruptive activity."
"Alert Level 4 still remains in effect over Taal Volcano. This means that hazardous explosive eruption is possible within hours to days. DOST-PHIVOLCS strongly reiterates total evacuation of Taal Volcano Island and high-risk areas as identified in the hazard maps within the 14-km radius from Taal Main Crater and along the Pansipit River Valley where fissuring has been observed.
"Based on PAGASA wind forecast, if the eruption plume remains below five (5) km, ash will be drifted to the municipalities west and northwest of the Main Crater; however, if a major eruption occurs during the day and the eruption column exceeds 7 km, ash will also be drifted over some parts of Laguna and Quezon provinces.
"Residents around the volcano are advised to guard against the effects of heavy and prolonged ashfall. Civil aviation authorities must advise pilots to avoid the airspace around Taal Volcano as airborne ash and ballistic fragments from the eruption column pose hazards to aircraft. DOST-PHIVOLCS is continually monitoring the eruption and will update all stakeholders of further developments."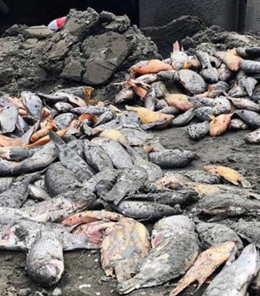 Shorn of its gobbledygook, Phivolcs, is, in effect saying, eruption will (not may) still happen. Just when Phivolcs cannot say exactly.
In previous years, displaced residents of the towns ringing the volcano were made to wait up to three months or longer, only tosee no eruption. PhiVolcs chief Dr. Renato Solidum Jr. now says the chance of a 1754-type eruption has been markedly reduced, to just 30%. It could be that there would not be any more eruption outside of the Jan. 12, 2020 explosion.
Taal has a history of violent eruptions. In 1754, it erupted for 200 days and destroyed five Batangas towns forever. Its lake waters rose five meters up to its present level converting what was sea water into fresh water. The mud and ashes were seven feet deep. Four of the five towns have since been relocated. The fifth, Sala, was not revived.
The 1754 eruption produced a base surge—what Phivolcs describes as "mixtures of fragmented volcanic particles, hot gases and ash that rush down the volcanic slopes or rapidly outward from a source vent at high speeds." Base surge can travel as fast as 80 kilometers per hour. In the 1754 eruption the base surge reached as far up as the present Tagaytay Ridge.
Taal impending eruption's base surge will immediately reach the towns of Talisay and San Nicolas, which are within 2 kms from the crater, as well as Agoncillo, west of Tanauan, Malvar and Balete towns. "The base surge is the primary hazard," says chief Phivolcs volcano monitor Maria Antonia Bornas. "It can cross the lake and reach communities around the lake."
Taal has five potential eruption vents – the volcano Main Crater, Binintiang Malaki, Pirapiraso, Off-Calauit, and Binintiang Munti. In Phivolcs' planning, the worst-case scenario is a repeat of 1754 eruption.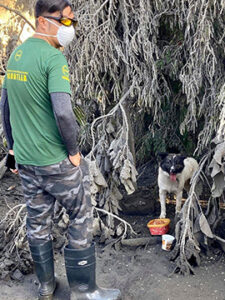 Sunday's early afternoon eruption had no warning, except a Level 1 alert, in place since March 2019, or for more than nine months.
So if Taal could erupt even without adequate warning, could it erupt with plenty of warning?
Unfortunately, volcanoes have no logic nor sense of timing.
On Dec. 9, 2019, New Zealand's White Island volcano erupted without warning, with 47 tourists on its crater. Five of them died instantly.
Just like Taal's Jan. 12 eruption, the White Island explosion was phreatic (steam-driven), impulsive and short-lived, with ash plume rising three kms up from the vent.
Taal and White Island behaved similarly. They had water in their bowels, which became steam at supersonic speed, expanding at 1,700 times its original volume, creating a nuclear energy that could shatter rocks, excavate or destroy craters, mixing up with gas from below the water level, and then ejecting most everything several kms up into the air, creating a poisonous and dangerous hurricane of ash, rocks, and gas, travelling at EDSA traffic speed, causing untold damage and devastation in its wake.
The death toll in the New Zealand eruption: 19.
The death toll in the Taal eruption: 0. Why? Well, the Batangueños evacuated themselves, without need for alert or alarm from either Philvolcs or the National Disaster Risk Reduction and Management Council (NDRRMC). That means Batangueños can well manage themselves.
Taal has plenty of water to boil. Its lake is 180 meters deep and up to 32 kms long. When the volcano boils that into steam and gas, that's 5.7 million cubic meters of poison, equivalent to 2,300 olympic-size pools. Add molten rocks, gritty sand and poisonous gas and you have an explosion worse than the end of the world.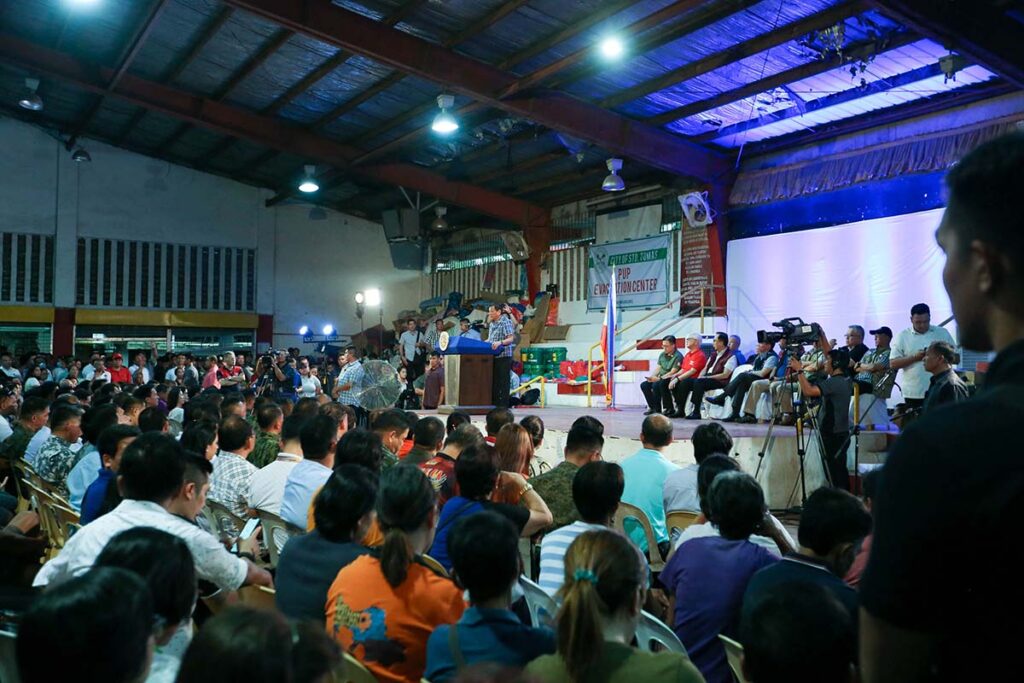 Visiting Santo Tomas, Batangas on Monday, Jan. 20, 2020, President Duterte urged Congress to allot immediately P30 billion to rehabilitate affected communities. The President suggested the construction of emergency shelters, urging Congress to help allocate fund in building large evacuation centers in disaster-prone areas particularly in the provinces facing the Pacific Ocean like Samar, Isabela, and Cagayan.
In his privilege speech at the Senate also on Monday, Senate President Pro Tempore the economic value of Batangas to the nation – the electricity fed to Metro Manila, steel bars and sheets, cars, fishery like bangus and tilapia, pineapples, coffee, eggs, beaches, balisong, anchovies, buko pie, and even sin products like liquor. In fact, he noted, the four provinces affected by Taal's eruption – Batangas, Cavite, Laguna, and Quezon, form "a sort of mini-European Union, four provinces linked by commerce." (Read text of Senator Recto speech, pages 12-16).
Why does Phivolcs insist there will be a big eruption?
Says Phivolcs chief Dr. Renato Solidum Jr.: "Mayroon tayong nakikitang recharge o resupply ng magma na galing sa ilalim papunta doon sa volcano island. Kung umabot ito sa ibabaw, posibleng magdulot ito ng malakas na pagsabog (We are seeing a recharge or resupply of magma underneath and moving toward the volcano island. If this reaches the crater, it could cause an explosive eruption."
Simply stated, Taal Volcano is swollen, an indication of magma activity. Since its eruption on Jan. 12, 2020 and until this writing afternoon of Wednesday, Jan. 22, there had been 725 earthquakes, with Intensities of I to V. "Such intense seismic activity likely signifies continuous magmatic intrusion beneath the Taal edifice, which may lead to further eruptive activity," said Phivolcs.
Solidum has said it is normal for the volcano to display an apparent "waning" of activities in its surface crater before an explosive eruption.