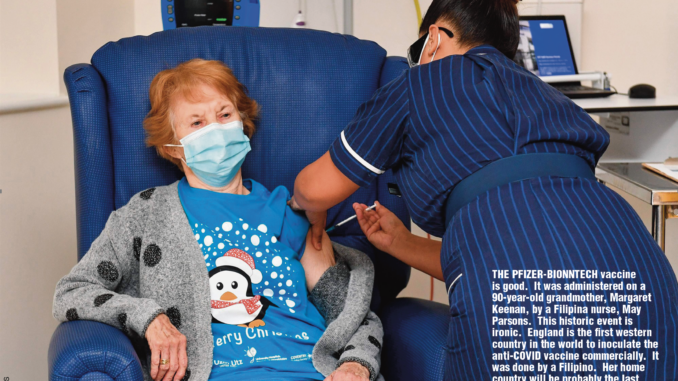 By Antonio S. Lopez
At 6:30 GMT Tuesday, Dec. 8, 2020, or 2:30 p.m., Tuesday, in Manila, retired British shop keeper and 90-year-old grandmother Margaret Keenan became the first person in the west to receive the commercial variety of the Pfizer/BioNTech vaccine. It was administered by nurse May Parsons, a British-Filipino citizen.
It was a historic moment. In less than a year when the world came to learn about the coronavirus SARS-2 on Dec. 31, 2019, the western world has produced a viable vaccine. It is the fastest vaccine to be developed, in history. For Filipinos, it is a bittersweet moment. A Filipino makes history to inject the vaccine into its first user, outside of clinical trials.
Yet, in Manila, 10,700 kms away from London, nurse May's 110 million kababayans in the Philippines are wondering just when they will get their own vaccine against COVID-19—if ever. May's home country will be probably the last to get the vaccine. UK first in the west. PH last in the east. That is why I love this country.
As of Dec. 11, 2020, UK had 1.787 million COVID-19 cases, No. 6 in the world. It has had 63,000 deaths. UK has 21,000 cases daily; and 500 deaths daily, from COVID.
Three milestones in 18 months
Over the next 18 months, three milestones should happen in the Philippines.
One, a vaccine or vaccines arrive, just in the nick of time to waylay the COVID-19 pandemic.
Two, with a vaccine rolling out, a pandemic comes under control which then triggers consumer confidence to bring up the economy from its worst doldrum in 100 years.
Three, a president is elected and takes over by June 30, 2022, from President Rodrigo Roa Duterte who is enjoying unheard-of job approval and trust ratings of 91%, per Pulse Asia.
The SARS-2 CoV-2 pandemic
The SARS-CoV-2 or COVID-19 pandemic presents an extraordinary challenge to global health. It is the greatest and gravest global health crisis in the last 100 years. It has triggered the greatest global economic crisis in the last 100 years.
As of Dec. 11, 2020, COVID-19 has caused more than 70.7 million cases and claimed the lives of 1.588 million people worldwide. About 677,000 cases erupt daily, worldwide; 12,600 die from COVID, daily, worldwide. Of the 70.71 million, 49.13 million have recovered; a recovery rate of 69.5%.
Of the 19.98 million currently infected patients as of Dec. 11, 19.876 million or 99.5% are in mild condition; 106,710 (0.5%) are serious or critical.
In the United States, over 15.59 million cases have been reported to the Centers for Disease Control and Prevention (CDC), with 293,500 total deaths so far. Confirmed cases and mortality continue to rise globally.
The World Health Organization declared the novel coronavirus a pandemic on March 11, 2020.
Vaccines are critical to mitigate the pandemic, says the US Centers for Disease Control, and to prevent future outbreaks.
Per CDC, SARS-CoV-2 is a novel, zoonotic coronavirus that emerged in late 2019 in patients with pneumonia of unknown cause. The virus was named SARS-CoV-2 because of its similarity to the coronavirus responsible for severe acute respiratory syndrome (SARS-CoV, a lineage B betacoronavirus). SARS-CoV-2 is the cause of COVID-19, an infectious disease with respiratory and systemic manifestations.
According to CDC, SARS-CoV-2 is an enveloped, positive sense, single stranded RNA virus sharing more than 70% of its sequence with SARS-CoV, and ~50% with the coronavirus responsible for Middle Eastern respiratory syndrome (MERS-CoV). The SARS-CoV-2 spike glycoprotein (S), which is a main target for neutralizing antibody, binds to its receptor human angiotensin converting enzyme 2 (hACE2) to initiate infection.
Symptoms of COVID-19 vary. At least one of every five victims is asymptomatic or has a mild disease. Some cases progress to severe respiratory tract disease including pneumonia and acute respiratory distress syndrome (ARDS), leading to multiorgan failure and death.
To prevent the spread of disease and to control the pandemic, numerous COVID- 19 vaccine candidates are in development. "These vaccines are based on different platforms including mRNA and DNA technologies and include viral vectored, subunit, inactivated, and live attenuated vaccines," says CDC. "Most COVID-19 candidate vaccines express the spike protein or parts of the spike protein, i.e., the receptor binding domain (RBD), as the immunogenic determinant," says CDC.
200 vaccines in development
The WHO reports that some 200 Covid-19 vaccines are in development around the world. Each candidate vaccine promises to protect people from the deadly coronavirus and allow them to go back to work and school. Nearly a dozen are starting or nearing the final stage of testing.
The U.K. on Dec. 3, 2020 became the first Western country to approve a vaccine for emergency use and on Dec. 8, became the first in the western world to inject the vaccine.
It is a shining moment for the UK, and indeed for the world, debilitated by the worst health crisis in a century.
The U.S. and the European Union are expected to approve one or more vaccines this December. Chinese and Russian authorities, meanwhile, have already approved some state-developed vaccines for "emergency use," although trials are still under way, according to the Wall Street Journal.
Advised the World Street Journal on Dec. 8, 2020:
None are authorized for use yet in the US, though Pfizer Inc. and partner BioNTech SE have already asked the FDA to authorize theirs. AstraZeneca PLC and its partner, the University of Oxford, reported some trial results, but haven't requested U.S. authorization so far.
You won't be able to get inoculated until the companies are permitted to begin distribution. And if and when shipments start, unresolved planning means we don't know where the shots would go and whether you would even have a choice among vaccines, especially during the first few months, when supplies will be limited.
Moderna's COVID-19 shot performed comparably in its late-stage trial to the vaccine from Pfizer and BioNTech. Both were more than 94% effective and generally safe, the companies reported. That isn't too surprising given the vaccines rely on the same gene-based technology.
AstraZeneca vaccine
AstraZeneca's vaccine, which uses an older, more proven technology, appeared to be less effective; it had a 62% effectiveness rate among volunteers who got two full doses, and a 90% rate among a small group who got a half-dose followed by the full dose.
Yet health authorities have said a 62% efficacy would be enough to build up the herd immunity communities need to fight the virus.
AstraZeneca and the University of Oxford said their vaccine didn't appear to have serious side effects either.
One problem with the AstraZeneca vaccine. Only 12% of its trial group were in the age bracket 55 to 70; only 4% were 70 and above. Demand for vaccines will be strong among people 55 and above because they are the age bracket most susceptible to COVID infection. Also, AstraZeneca needs to have a larger trial group, 30,000 people, before it could get US FDA approval.
Pfizer vaccine's benefits
Meanwhile, the two-dose vaccine Pfizer-BioNTech, according to the Food and Drug Administration (FDA) report on Dec. 8, "provided benefits even after just the first injection—cutting the risk of getting Covid-19 by about half. The vaccine was found to be 95% effective after the second dose, three weeks later."
The Pfizer vaccine could reduce the risk of confirmed severe disease after the first dose, an important finding as some health experts were concerned Covid-19 vaccines would protect against only mild to moderate disease.
"Side effects were common, however, especially in younger people, the analysis found. The most common complaint was fatigue, followed by muscle pain and joint pain," reported the Wall Street Journal, citing the FDA report.
"Severe 'adverse reactions' were rare, most frequent after the second dose, and generally less frequent in older adults greater than 55 years of age."
Allergy warning
On Dec. 9, 2020, a day after Britain began its mass immunization using the Pfizer vaccine, UK's Medicines and Health Care Products agency medical issued a warning: "Any person with a history of significant allergic reaction to a vaccine, medicine or food" should not receive the new Pfizer-BioNTech vaccine. The announcement came after two health-care workers reacted adversely to the shot.
The adverse effects included skin reactions, low blood pressure, constricted airways, and dizziness or fainting. Both workers have recovered, health officials assured. The UK government now requires that "vaccinations should be only carried out in facilities where resuscitation measures are available."
What the Moderna vaccine means for other COVID-19 vaccines in development
Meanwhile, according to the Wall Street Journal, Moderna's results, similar to those announced recently by Pfizer, "advance the new technology of mRNA that was in development for years but yet to be approved for use.
Other leading vaccines developed by AstraZeneca, Johnson & Johnson and Novavax Inc. don't use mRNA-based technologies, but they target the spike protein of the coronavirus that is also targeted by mRNA vaccines."
The Moderna and Pfizer effectiveness results might augur well for shots generally targeting the spike protein, but we won't know how the other vaccines will perform in late-stage testing until their makers report results over the coming months. "They're all pretty much concentrating on the spike protein and that seems to have been the right thing to have selected," said Paul Duprex, director of the University of Pittsburgh Center for Vaccine Research.
The Chinese vaccines
For its part, the United Arab Emirates became the first government outside China to approve the vaccine, CoronaVac, of Beijing-based Sinopharm for inoculation. CoronaVac is said to be 86% effective.
Sinopharm's 86% efficacy puts its vaccine behind Moderna's 94.5% and Pfizer-BioNTech's 95%, but ahead of AstraZeneca's 70%. Sinopharm has two vaccines. They are probably by now the most widely used, with one million having received doses, but without passing thru clinical trials.
Unlike Pfizer's vaccine, Sinopharm's vaccines can be stored in regular refrigerators, making them a more attractive option for developing countries like the Philippines. Morocco has ordered 10 million doses of Sinopharm vaccines.
Chinese vaccines coming to the Philippines
Manila is now eyeing Chinese vaccines for a rollout in the second quarter of 2021 in the Philippines.
Sinopharm vaccines are in Phase 3 testing in Egypt, Bahrain, Peru and Argentina.
A second Chinese company, Sinovac, is testing its coronavirus vaccine in late-stage trials in Brazil, Indonesia and Turkey.
A third Chinese company, CanSino is developing another vaccine, in tandem with a military research institute. CanSino has been approved for emergency use by China's military.
Should we rush to get the Pfizer vaccine?
I am not sure. You probably have better chances of securing Viagra over the counter than getting the Pfizer vaccine. Assuming supply is available, Pfizer's vaccine needs frigid temperature of minus 70 Celsius, colder than the South Pole, in winter. You need a facility the size of a football field to store it in great volume. We don't even have a decent football field. And we don't have a cold chain facility the size of a football field. In fact, I doubt that the Philippines has a decent cold chain facility.
No post-pandemic life yet
For Americans, despite having the vaccine by this December, post-pandemic life is going to have to wait, most likely, says the Wall Street Journal. Even if Pfizer and Moderna vaccines begin distribution before year's end, the shots won't be widely available until some time next year, probably spring or summer, mostly due to production lag times.
As a result, precautions such as mask-wearing and social distancing will continue to be key to stopping the spread of the virus.
"It's not going to be flipping a switch and everything going back to normal," WSJ quotes Dr. Saad Omer, director of the Yale Institute for Global Health. He doesn't expect large groups of people could safely congregate before early 2022, even with vaccines. "It will be gradual."
The US pandemic situation
The surgeon general of the United States has told Americans: Hang in there. Don't die. Half of America is waiting for a vaccine. The other half don't want it. There are more than two million Filipino-Americans.
The US now has more than 16.0 million COVID cases; 300,000 have died from it. Among 218 countries ravaged by COVID, the US is No.1. With 331.84 million people, the US has 4.25% of the world's population of 7.8 billion. Yet, US has 22.7% of the world's 70.7 million COVID cases and 18.9% of the world's 1.588 million COVID deaths.
Every day, 218,000 Americans are infected with COVID. More than 3,000 Americans die from it, daily–more than the number who died the first day of D-Day (2,500), and during 9/11 (2,977). COVID deaths now rank as the third most deathly event in US history.
How did the US, the world's most advanced– in technology, science, medicine, and military arsenal –come to such a rut? Simple answer: Incompetence, by its leader. Yet, per Nature magazine, the US is No. 2 in the world in doses of anti-COVID vaccines ordered, per capita—2.2 doses for each American.
Canada tops in vaccine purchase, per capita
No. 1 in the vaccine grab is Canada, with 11 doses per Canadian citizen. Per CNN, Canada contracted vaccines from seven suppliers, for total doses of 414 million—11 times its population of 37 million.
Now, that's what I call nationalism and foresight. The only reason to explain Canada's preemptive if not predatory behavior is maybe, PM Justin Trudeau expects each Canadian will get sick with COVID five times during their remaining lifetime, a statistical improbability.
Third largest vaccine consumer is UK, 4.7 doses per person. The rest of the world? Mostly zero. That includes the Philippines.
The vaccines are not cheap. Pfizer reportedly charges $20 per dose. Moderna will charge between $32 and $37 per dose. It plans to produce between 500 million and one billion doses by 2021. AstraZeneca, $25 per dose.
The European Union has cornered the bulk of the initial Pfizer-BioNTech production, with 300 million doses confirmed as of Nov. 11, Japan will buy 120 million. The U.S. has bought 100 million, plus an option to buy 500 million does more. The U.K. will buy 40 million. Canada, Australia and Chile each has bought at least 10 million doses of the Pfizer vaccine.
80% of vaccines went to 14% of the people
More than 80% of the US drugmaker Pfizer's vaccine has been sold to the richest governments across the world, according to UK-based campaign group, Global Justice Now.
Global Justice Now says over 1 billion doses have been bought by the rich countries, which represent only 14% of the global population.
The supposedly cheaper AstraZeneca vaccine $25 per dose), has been sold out, mostly to the rich countries. This is the same vaccine targeted by the Philippines.
The U.S. and India have both agreed to procure 500 million AZN doses, the EU 400 million, and the Covax facility has ordered 300 million.
The U.K., Japan, Indonesia, Brazil, and Latin America, excluding Brazil, have confirmed orders of at least 100 million AZN doses each.
AstraZeneca has said its vaccine will be delivered at a price of no profit, regardless of where in the world it is being delivered, "as long as all these orders have been taken in the next few weeks and months."
Johnson & Johnson vaccine
The Johnson&Johnson vaccine candidate is also sold out. J&J's vaccine requires basic refrigeration for storage and may cost only $10 a dose. The EU has ordered 200 million doses of the J&J vaccine; U.S. 100 million, Canada 38 million (good for its entire population in one dose); and the U.K. 30 million.
The Philippines, as of Dec. 9, had 444,164 COVID cases (No. 27 in the world and No. 2 in ASEAN) and 8,677 deaths (No. 29 in the world).
Per government announcements, COVID vaccines will come to Manila at the earliest in the second quarter of 2021, between April and June. It's a token order, just 2.6 million, good for 1.3 million people—half in government and half in the private sector. What happens to the rest of 109 million Filipinos? According to a certain general, they may have to wait for as long as five years.
Advice to Filipinos
The advice then to Filipinos: Hang in there. Don't get sick and don't die. A vaccine is coming, but probably not until after 2022, when a new Philippine president has been elected.
How did the Philippines come to such a rut? Simple answer: Incompetence.
At least, in Donald Trump's case, he ordered COVID vaccine development as early as March 2020, under Operation Warp Speed. The US has spent over $10 billion for the effort. A successful vaccine was developed—two weeks after the Nov. 3, 2020 US presidential election. Too late to rescue Trump from defeat.
In Rodrigo Duterte's case, he ordered vaccines only this December. He hasn't released a single centavo for his order. Why? There is nothing to buy any more. And only now is the government lining up the money, an initial P72.5 billion, most of it borrowed money.
Noting that the world's richest countries have grabbed most of the vaccines to be produced between now and 2021 and beyond, Duterte's reaction, in effect, has been to scare the world. "If you don't give us vaccines, we will infect you." Ha-ha.
According to Nature, "the makers of the three vaccines that seem closest to widespread distribution — AstraZeneca, Pfizer and Moderna — estimate a total production capacity of 5.3 billion doses for 2021, which could cover between 2.6 billion and 3.1 billion people, depending on whether AstraZeneca's vaccine is administered in two doses or one and a half. And a vaccine created at the Gamaleya National Center of Epidemiology and Microbiology in Moscow could cover another 500 million people per year outside Russia from 2021."
Economy to contract by 9.5%
With a delayed vaccine rollout, the Philippines' top economic agencies—the Department of Finance, Bangko Sentral ng Pilipinas, Department of the Budget, and NEDA—collectively have admitted to a much bigger contraction in the economy.
This year, the economy, as measured by the GDP growth rate, will contract by between -8.5 and -9.5%, much higher than the -5.5 and -6.5% projected contraction made in July 2020, and -2 and -3.4% contraction made in April.
A 9.5% contraction on a P19-trillion value of annual economic production means a reduction of P1.8 trillion. If P2 million could create one job, a P1.8-trillion loss of income in GDP terms would mean 900,000 jobs gone for good. With a shrinking economy, unemployment has more than doubled, from 4.5% in 2019 to 10% by the second quarter of 2020.
Why has the economy shrunken so badly? Duterte has imposed the world's longest and harshest lockdown enforced by his generals nearly all of whom know no better about pandemics than your ordinary taho vendor across the street.
The lockdowns killed consumption which is 73% of the economy. Consumption is when you go out, eat, shop, enjoy entertainment. The lockdowns were supposed to give the health system breathing space to treat and trace COVID victims.
The trouble is that the Philippines has no health system to speak of.
The Philippines has only one doctor for every 33,000 Filipinos. In Cuba, a much poorer country, there is one doctor for every 1,000 Cubans. The Philippines has more than 130,000 licensed physicians but only 70,000 practice.
A good number have become nurses and gone abroad, as nurses. In the countryside, Filpinos live and die, without having seen a doctor during their lifetime. The country graduates 2,300 doctors yearly but only 30 to 40% of them pass the board exams.
The Philippines has only about 1,300 hospitals, 2,600 rural health centers, and 20,300 barangay health stations. The country has only two PGHs—the one in Manila and the one in Davao. We have 90,000 active nurses, 42,000 doctors, 44,000 midwives, and 14,000 medical technologists.
Yes, we have a Department of Health and a PhilHealth insurance. Both are hobbled by incompetence and corruption and by lack of trust by the general public.
Lowest in per capita spending for COVID response
Among the six major countries of ASEAN, the Philippines has spent the least, per capita, for COVID response– $202.95. Singapore has spent $15,809; Malaysia $2,562; Thailand $1,211; Indonesia $432.54; and Vietnam $277.40. "May pera ako," Duterte said while COVID raged. Asan?
In managing a pandemic, there are basic Ts—treat, test, trace, and trust. Just like the vaccine, all four are in inadequate supply.
In the meantime, Duterte's advice to Filipinos: Don't gather for this Christmas. COVID, not carols, is in the air.
And even if the needed vaccines were all to be procured by the Philippines, Filipinos will have to still cope with the New Normal.
The COVID-induced economic crisis will continue well into the second half of 2021, contrary to projections by the government of a full recovery next year.
Full recovery in 2022
Analysts say full recovery will take place only in 2022. Such recovery will mean just going back to the P19.35-trillion economic production registered in the whole of 2019. In other words, we will be back to square one, pre-COVID in 2019. In between 2020 and 2021, the Philippines would have the equivalent of P2.9 trillion in economic production.
That is like losing 1.45 million jobs in 18 months. Imagine if you are the head of a family and you are one of those 1.45 million who should have been employed but didn't get any job.
In the entire Asia, the Philippines will be an economic laggard, in 2020 and in 2021.
Duterte remains hugely popular
The popularity of the former Davao mayor of 23 years has not diminished, despite a mismanaged pandemic response, an economy in its worst recession, record extrajudicial killings, and prolonged absences from public view despite the most damaging and debilitating disasters in the last 12 months.
If the new chief executive is handpicked by the incumbent, then the six years from July 2022 will be more of the same Duterte of the past five years. Duterte's reign has been the most disruptive in the nation's history.
Between 7,000 and 25,000 are estimated to have been killed in the most vicious illegal drugs war ever launched by the government.
Duterte's economic achievements
On the economic front, Duterte focused on modernizing the economy by spending the largest allocation ever for infrastructure – up to P1 trillion a year, or 5.4% of GDP, double the average for infra spending for the past 50 years; reducing corporate income taxes by 10 percentage points (the largest stimulus ever given big business); dramatically easing the rules for doing business and cutting red tape; lowering cost of capital through the best credit ratings ever and outright interest rate reductions; and holding utilities (telco, water, and electricity) and other giant enterprises (like the now defunct ABS-CBN) to stricter performance audit and accountability.
Until COVID-19 struck in February, the Philippines was becoming an upper-middle income country. Unemployment fell to a record 4.5%, the lowest and equivalent to full employment.
Poverty incidence fell to a record low of 16.7%, from 23.5% when Duterte began his presidency. The 6.8-point reduction was equivalent to more than five million Filipinos (one million families) rescued from poverty.
Unemployment rises
The pandemic wiped out those gains. Unemployment rose to 17.7% in April 2020 before stabilizing at 10% in July 2020. Poverty is estimated to have returned to over 20% this year, reverting over three million Filipinos back to poverty.
With such a mixed record, can Duterte hand-pick his own successor and make him/her win? Given that people do not seem to blame the President for their unprecedented health and economic woes, the President has the gravitas to make his chosen candidate win.
The 2022 candidates
That candidate for could be anyone or a combination of these four: his daughter, lawyer and Davao Mayor Sara Duterte, his long-time aide and alter ego of 21 years, Sen. Christopher "Bong" Go, 46, a La Salle-educated management graduate; former Senator Ferdinand "Bongbong" Marcos Jr., 63, and presidential ally Sen. Cynthia A. Villar, 70, the property tycoon whose son, Mark Villar, is Duterte's public works and highways secretary. Also, in her place, Cynthia's husband, Manny B. Villar Jr., 72, the richest Filipino, could run again. Despite wealth estimated by Forbes of $6.7 billion, Manny lost in the 2010 presidential elections.
Outside Duterte's inner circle, the leading light is the rags-to-riches boxing champion Manny Pacquiao, 42, the most globally recognized Filipino today with a name recognition that spells outright success in any undertaking.
Not to be ignored are: the conscientious and independent-minded Senator Panfilo "Ping" Lacson, 72, popular and quiet hardworking Senator Grace Poe, 52, who lost to Duterte and Mar Roxas in 2016; and Vice President Leni Robredo, 55, a lawyer, whose election by a hairline margin against Bongbong, failed to catapult her into a political heavyweight to be reckoned with in 2022.
Leni Robredo a caricature
The widow of the popular LGU executive Jesse Robredo, Leni, sometimes comes across as a caricature (thanks to Duterte's frequent tongue-lashing of her) and has not been disruptive enough as a leader to park big money on in 2022.
Not to be ignored is the emergence of tycoons as possible statesmen. Ramon S. Ang, 66, is vice chair, president, and chief operating officer of food, beverage, energy and infrastructure conglomerate San Miguel Corp.. SMC has P1.852 trillion in assets, P344 billion in cash, and the most gilded name in Philippine business.
A mechanical engineer by training and the quintessential entrepreneur in visioning, Ang has an exuberant and infectious optimism about the future, a bare-knuckle grasp of a wide array of businesses and national problems, and a street-smart warmth and compassion for the man on the street to make him the right guy and the right choice in the worst of times.
The Philippines' two gravest problems
The Philippines faces the gravest existential crises since its founding in 1898—the worst pandemic in 100 years and the deepest recession in its history.
When the pandemic struck, Ang was among the first to deploy big time money (more than P11 billion in foregone contributions) to fight the crisis, and secure a cash hoard (P246 billion) to cushion San Miguel from the worst of the pandemic.
His humble message to his business peers: "Stay strong, stay committed in helping out."
As a future President, Ang is expected to do better than Donald Trump, the worst of the world's tycoon politicians, and billionaires Sebastian Piñera, the president of Chile, and Andrej Babis, the prime minister of the Czech Republic. Their record of leadership in their countries has been mixed at best.
READ FULL ARTICLE HERE: