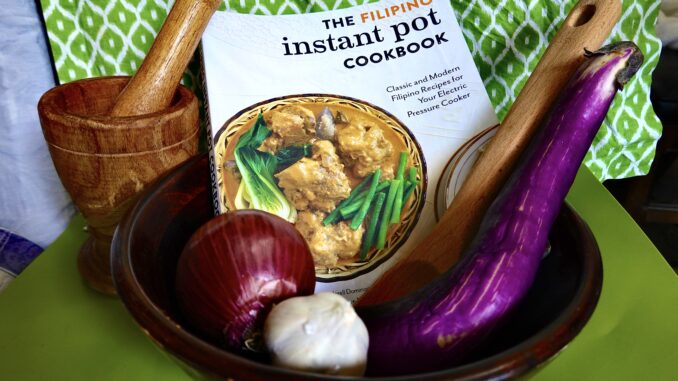 By Tisha Gonda Domingo, Jorell Domingo, Jeannie E Celestial, Art Swenson, Romeo Roque-Nido, Jamar Cabebe
Paperback, 173 pages, 2019.
Rocketships & Wonderment
With the whole family at home, I've had to cook thrice as much as I did—which means I only cooked twice a week before we quarantined. So now I cook six times a week. That's too much for me.
We grew tired of microwaving or adding hot water to our instant meals, so I finally caved in to the pressure and bought the much-raved Instant Pot. I didn't think I needed it since I'm not a cook, but I wanted to feed my family my favorite Filipino food fast! Comfort food in times of discomfort.
It's hard to find reliable Pinoy recipes online—even harder for those suited for the Instant Pot. Good thing, these six Filipino-Americans collaborated to compile their traditional family recipes and adapted them to our hungry hectic life.
The recipes work. I tried notorious time hogs like nilagang baka (beef soup) and chicken arroz caldo (rice porridge). Instant sarap! I didn't even have to wait for the meats to defrost or soften. The meat still had ice when I browned it. The surprise was how well the kare-kare turned out. Buttery soft meat in a creamy peanut sauce. It's now my picky eater child's favorite.
I'm emboldened to try more of the 78 dishes, sweets, and sauces that I remember from childhood.
The beauty of the Instant Pot is that it's a one pot wonder. I can sauté, boil, steam, slow-cook, pressure cook anything in the same pot. It even cooks rice perfectly. Whaaat?! I used to brown meat in a skillet (yup, I pretend I can cook) then transfer it to a crockpot. "That's too many pots to wash!" complained my kids. Now they just wash one big pot. I got the largest for LOTS of soup and leftovers.
Now it doesn't matter if I forgot to defrost the chicken or if I only have frozen stew meat. We'll salivate with a steaming ulam in less than 40 minutes!
Kain na!
                                                               ——@IvyDigest