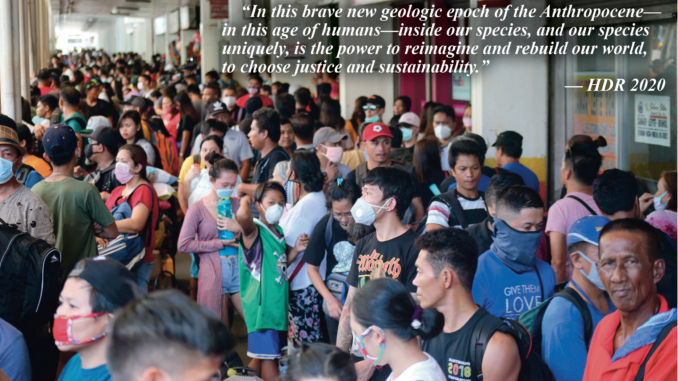 Despite being the 12th largest in the world in population and 27th biggest in terms of size of its economy, the Philippines is only 107th among 195 countries in quality of life of its people
The latest Human Development Report of the United Nations Development Program has depressing data for the Philippines.
Among 195 countries or territories in the HDR report for 2020, the Philippines manages a breathtaking 107th place, a ranking it shares with Bolivia and Indonesia. Being 107th is supposed to be good news. Countries from 67th to 119th are supposed to have "high human development".
A Filipino born today can expect to live up to 71.2 years of age (below the global average of 72), expect to have schooling of 13.1 years, and have a Gross National Income (GNI), PPP (purchasing power parity or what the dollar can buy in goods locally) of $9,778. He is middle income but has poor reading, math, and science skills. Those skills are the worst in the world, among 195 countries.
Farmers are the poorest Filipinos. The poorest 40% of Filipinos have only a 34% share of the national income. The richest 1% have a 44.4% share. An equal sharing is one is to one.
According to UNDP, the Human Development Index (HDI) is a summary of average achievement in key dimensions of human development: a long and healthy life, being knowledgeable, and having a decent standard of living."
The health dimension uses life expectancy at birth; the education uses mean of years of schooling for adults aged 25 years and more and expected years of schooling for children of school entering age. The standard of living dimension is measured by gross national income per capita.
UNDP says "the HDI emphasizes that people and their capabilities should be the ultimate criteria for assessing the development of a country, not economic growth alone. The HDI can also be used to question national policy choices, asking how two countries with the same level of GNI per capita can end up with different human development outcomes. These contrasts can stimulate debate about government policy priorities.
"The HDI simplifies and captures only part of what human development entails. It does not reflect on inequalities, poverty, human security, empowerment, etc. The HDRO offers the other composite indices as broader proxy on some of the key issues of human development, inequality, gender disparity and poverty," says UNDP.
The HDR 2020 remains optimistic despite the worst challenges to human existence in the last 70 years. It says:
"In this brave new geologic epoch of the Anthropocene—in this age of humans—inside our species, and our species uniquely, is the power to reimagine and rebuild our world, to choose justice and sustainability."
READ FULL ARTICLE HERE: