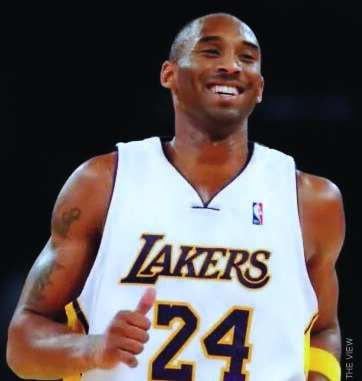 Kobe Bean Bryant is the fourth-leading scorer in the history of the National Basketball Association (NBA). He had 33,643 points. No. 1 is Kareem Abdul-Jabbar 38,387; No. 2 Karl Malone 36,928; No. 3 LeBron James 33,655; and No. 5 Michael Jordan, 32,292 points.
The 6-foot-6 Kobe won five NBA championships, was No. 2 in All-Star appearances (18), an MVP once (2008), and averaged 25 points per game (No. 12 in the league). He was in the All-Defensive team 12 times, second-most in NBA history.
In his final game, watched by 5.2 million people and 18,997 at the Staples Center, on April 13, 2016, Kobe, then 38, scored 60 points.
With his Lakers team down by 10 and only 2:36 left, Bryant went on a one-man rampage, scoring 13 unanswered points in two minutes, culminating with a 19-foot, lead-stealing jumper and two free throws to cap a comeback win against the Utah Jazz, 101-96.
In terms of marketing himself, Kobe had no equal. With social media, the Black Mamba made basketball truly a global sport. The New York Times called him "The Face of the NBA's Worldwide Popularity".
Kobe also helped make basketball immensely lucrative and globally popular. The LA Lakers is the second most valuable NBA team, $3.7 billion, according to Forbes, behind New York Knicks, $4 billion. NBA makes $8 billion in revenues.
In 2016, Kobe was the highest-paid athlete in the history of team sports. He had an annual salary of $25 million and earned $26 million from endorsements. He endorsed Nike which paid him $10 million a year in 2013, Nintendo, Turkish Airlines, Sprite, McDonald's and Nutella.
When he retired from basketball in 2016, Kobe had had total career earnings of $770 million.
Currently, LeBron James remains the highest-earning NBA player, $94.2 million, according to Forbes; followed by Stephen Curry, $85.2 million; and Kevin Durant, $73.2 million.
Kobe had the second best NBA score in a single game—81 points, against the Raptors in 2006, mostly with jumpers and not free throws, unlike the best record, 100 points, of 7-foot-1 Wilt Chamberlain who experts still consider the greatest basketball player because of his size, skill and strength. Wilt held 72 NBA records.
In terms of NBA championships won, Bill Russell still is No. 1 — 11 in 13 seasons. Kobe is 14th in number of NBA championships, 5, the same as 12 others, including Earvin "Magic" Johnson.
In average points per game, the Top Five are: Jordan, 30.12; Chamberlain, 30.07; Elgin Baylor, 27.36; LeBron James, 27.10; and Jerry West, 27.03.
In my book, the three greatest in basketball are: LeBron James, Michael Jordan, and Kobe Bryant.
Perhaps Kobe's greatest contribution to basketball was making it a global brand for NBA. Another was building up basketball for the next generation. Kobe kept his interest in basketball largely because of his daughter Gianna, 13, who was with him in the helicopter crash of Jan. 26, 2010. Gianna or Gigi was the female version the young Kobe when he was in high school and beating everyone of his peers in basketball. She was to have been the third generation Bryant great in the sport.
"Kobe Bryant (and not Michael Jordan) became the most popular American NBA star in China after Yao Ming's arrival (in the Houston Rockets) and (which elevated the awareness and interest of the NBA in China)," says Forbes' Patrick Rishe. "Kobe Bryant leaves as a pioneer among American-born NBA players in skillfully building his brand in China. His vision, intelligence and willingness to engage the people of China offered a great lesson in how those who invest their time into fan engagement will produce the most loyal following."
During 2002-2003 through 2012-2013, notes Forbes Magazine, "several things happened that helped facilitate Kobe's global reach. Facebook launched in 2004, Twitter started in 2006, NBA China was founded in 2008, Weibo (often referred to as the Chinese equivalent of Twitter or Facebook) launched in 2009, and Instagram launched in 2010… The ascension of Kobe's on-court career perfectly aligned with the birth of various social media channels. The confluence of these events yielded a perfect storm to transform a growing Lakers legend into an international superstar—and one of the most popular athletes in China."
Rishe writes: "Bryant made a concerted effort to build his personal relationship with the Chinese public. He first visited China to host a basketball clinic in 1998. He returned on a promotional tour for Adidas in 2001 and visited China every year from 2006 through 2015 on promotional tours for Nike. Additionally, he competed at the 2008 Beijing Olympics, winning a gold medal, and he visited China with the Lakers for two exhibition games against the Golden State Warriors in 2013." ­
— Tony Lopez