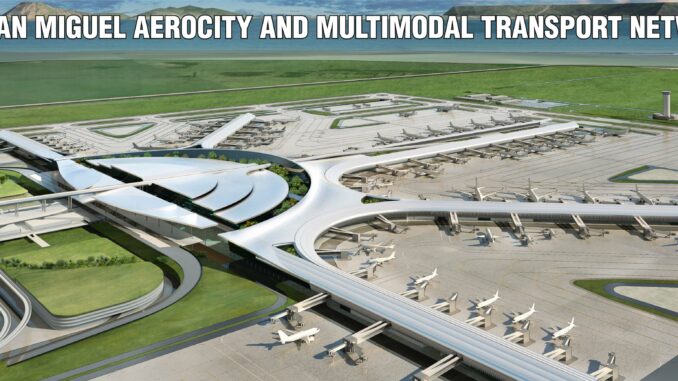 By Antonio S. Lopez
It is the largest and greatest enterprise ever in the Philippines to be undertaken by any single company or group of companies in the nation's history.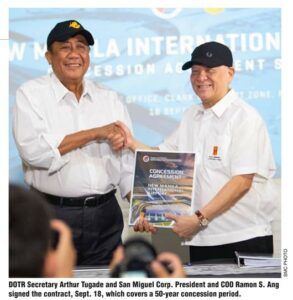 San Miguel Corp., the country's largest and most diversified conglomerate, was finally given the go-signal on Sept. 18, 2019 to proceed with the development and construction of its P735.6-billion New Manila International Airport (NMIA) in Bulakan, a quaint 444-year-old fishing and farming town, in historic Bulacan province.
Bulakan used to be the capital of Bulacan and also of nearby Pampanga province. So Ramon Ang's putting up NMIA in the 444-year-old town (pop. 77,000) will in effect rewrite history, making Bulakan not only the virtual capital of Bulacan and Pampanga provinces but of the entire Central Luzon region, the nation's richest region.
Bulakan sits cheek-by-jowl to Valenzuela City, the nearest of Metro Manila's 14 cities and three towns. The town is about 22 kms from Manila, the national capital, with kilometer zero at Rizal Park. From Luneta, the drive is about 9 kms away. So the distance between Bulakan town to NAIA is just 31 kms.
Game changer
"NMIA will be the game changer," declared Ramon Ang, SMC vice chairman, president and chief operating officer, upon the signing of the 62-page 50-year concession agreement midmorning of Wednesday, Sept. 18, at the headquarters of the Department of Transportation (DOTr) in Clark Freeport Zone.
On behalf of the national government, Department of Transportation (DOTr) Secretary Arthur Tugade signed the SMC concession agreement. The contract comes with a notice to proceed (NTP) or notice to commence which was given the same day.
It seems ironic the contract for Asia's next most modern airport was signed inside Clark, a former American facility that is being developed by the government itself as a gateway international airport.
In addition to Clark, a consortium of seven conglomerates is proposing to upgrade and operate Naia over a 15-year period. The National Economic and Development Authority has yet to approve the project.
DOTr Secretary Tugade said multiple airports would benefit the public. "Let it be a battle of commercial competitiveness," he said on Wednesday. "Having multiple airports is something that the world's biggest economies do. Ideally, there should be a train service linking these airports, which is also being pursued by the government. This complementation strategy was already part of the air transport roadmap from Day One. Rest assured, that's what we are going to do," Tugade pointed out.
San Miguel AeroCity
The project of San Miguel Aerocity, Inc., SMC's wholly-owned airport subsidiary, does not just involve land development, and the construction and operation of an airport.
The long-term strategy includes the construction of no less than 22 expressways over a ten-year period or longer. The scheme is called the NMIA Integrated Multi-Modal Transport Network.
RSA's AeroCity and multi-modal transport network are so huge they would make the present NAIA irrelevant. He thinks the 625 hectares of Ninoy Aquino International Airport (NAIA) should be redeveloped instead into a new business district, which plan will free up P2 trillion worth of prime real estate. NAIA has a rated capacity of 25 million but services 31 million passengers.
Aerocity is aimed to attract 30 million tourists yearly beginning 2025 (from the present 7.1 million), drastically lower the cost of travel within the archipelago (a return ticket from Manila to the Visayas costs $500 because of runway congestion and traffic at NAIA), and contribute up to P1.5 trillion to the Gross Domestic Product (GDP or the total output of goods and services).
Spirit of greatness restored
To me, the most important impact is that the Philippines will recapture its sense and spirit of greatness, the imagination and capacity to build grand things for the benefit of many, so that Filipinos during the next decade will proudly march in cadence, with the best of people in this world. Indeed, 500 years ago and until the 20th century, the Philippines was the center of the world and Filipinos were the envy of their neighbors in Asia.
The roads planned by San Miguel include a ten-lane 22-km elevated EDSA Expressway atop EDSA to ease traffic on Metro Manila's main highway and of course deliver passengers to NMIA and back in just 30 minutes, a Bataan-Bulacan Airport Expressway, Bulacan-Tarlac Airport Expressway, a San Jose del Monte to San Jose, Nueva Ecija Expressway, an MRT7 to NMIA Expressway, and various expressways connecting NMIA to Balintawak, Sgt. Rivera, Buendia, Anda Circle in Manila, Lawton (BGC), Tramo (Pasay), Mall of Asia (Pasay), San Pedro and Calamba (Laguna), and Tagaytay (Cavite).
The expressways will cover as far north as Laoag (Ilocos Norte) and as far south as Matnog (Sorsogon). They will converge at the food and transport hub in Pandacan, Manila which connects to SLEx Skyway Stage 3. The road network combines with an MRT7 railway, now under construction from North EDSA to San Jose del Monte in Bulacan, and an even longer railway, from Tutuban to Bicol.
Expressway loop for Luzon
In other words, RSA will build an expressway loop from north to south, west and east of Luzon, easily a distance of more than 1,000 kms. and back, by connecting major airports and ports, from Poro Point in La Union to Bataan, Subic in Zambales to Clark in Pampanga and Tarlac, to Port Area Manila, NAIA in Pasay, Batangas port, and Matnog port which is a jump-off point to Visayas cities.
RSA will be redrawing the road network of Luzon, creating a new government center, new business districts, industrial estates, commercial areas, and residential districts, in the process redistributing population, agriculture, industries, jobs, and economic opportunities.
Mind-boggling cost and scale
The cost, scale, scope and supporting road, rail and coastal network of the Philippines' future gateway airport are so mind-boggling only a man of RSA's guts and audacity could possibly think of it and dare to pursue it, no matter the problems and the challenges.
I first learned of the word audacity from the late Ferdinand E. Marcos, once considered the most bemedaled Filipino soldier, the ultimate politician warrior and empire builder (If you believe Imelda,
the family once owned the major corporations in the country).
The battlecry of warriors
FM quoted Napoleon on l'audace. The French conqueror's battlecry was "audacity, more audacity, always audacity" ("de l'audace, encore de l'audace, toujours de l'audace"). In battle and in war, one must not hesitate because if one hesitates, one loses the battle, and having lost the battle, one loses the war.
The original quote is attributed to French revolutionary George Jacques Danton, "de l'audace, encore de l'audace, toujours de l'audace" to save the fatherland. Danton was later guillotined. General George S. Patton also subscribed to the strategy of audacity as did President Barack Obama.
Audacious in size and cost
RSA's airport is audacious for its size and cost. Total cost is P735.6 billion. Initial cost is P550 billion. The performance bond alone is P10.98 billion. The debt entailed with the project: P94 billion.
The first phase of NMIA will have two independent parallel runways (2.6-km to 3.5-km long) that can handle 80 aircraft movements per hour, two taxiways, and annual capacity of 35 million passengers. It will have three aprons suitable for 180 aircraft gates or stands. The terminal building will have a footprint of 16.5 hectares plus a cargo terminal of 3.5 hectares footprint. First phase will have 3+3-lane access road, expandable to 6+6 or 12 lanes.
With NMIA's first phase is an 8-km toll road from NLEX to Bulakan, Bulacan. The first phase will cost P544.572 billion.
At a cost of P76.42 billion, the second phase increases capacity to 60 million (at 92 movements per hour) and is triggered once arrivals hit 21 million annually. The final phase is 100-million passenger capacity with runway rating of 105 movements per hour. The third phase will cost P114.636 billion. Total cost of NMIA after all three phases are done: P735.63 billion.
When fully completed after six years, NMIA will have four runways, eight taxiways, and three passenger terminal buildings, including two for low-cost carriers.
San Miguel AeroCity is given six years to complete the airport, Phase I. Ramon Ang promises to do it in four years. The airport proper will sit on 2,500 hectares of area. But with an expressway loop connecting a total of 22 major roads, the right of way (ROW) land coverage will extend to 10,000 hectares.
RSA is given 18 months to raise financing for Phase I, about P550 billion, 70% debt and 30% equity. He plans for 80/20 debt-equity ratio.
RSA feels that the Philippines is on the verge of a major tourism boom and attract tourists a third of the size of its population of 107 million.
San Miguel will take care of about 200 fishpond workers in Bulakan town displaced by the airport construction. They will be relocated and given support and training, SMC said. The company will also clean nearby rivers, build a flood barrier and spillway to help solve perennial flooding in the area.
The cleaning of the Tullahan River alone will cost SMC P1 billion, at no cost to the government.
SMC has tapped global engineering firms Groupe ADP, Meinhardt Group and Jacobs Engineering Group Inc. for the airport's design.
Food and transport hub in Pandacan
Meanwhile, Ang said SMC plans to spend up to P50 billion to convert the old 50-hectare Pandacan oil depot into a bus and food terminal.
The project will ease traffic in Metro Manila, create a new business district for the city of Manila, and a new marketing hub that could rival Divisoria with the construction of a bus terminal. SMC owns 25 of the 50 hectares.
"This project can really help the government and the people. It would help decongest Metro Manila," said Ang.
As a business district, Pandacan will be half the size of the Makati Central Business District.
The bus terminal will serve different bus operators plying in and out of Metro Manila. There will also be a food terminal that will accommodate the food companies displaced when a portion of the Marcos-era Food Terminal Inc. in Taguig was shut down to give way to redevelopment.
The unsolicited proposal has already been submitted to Transportation Secretary Arthur Tugade.
Dubbed an "aerotropolis", NMIA will have its own seaport, industrial, residential, commercial, and institutional zones. Also included in its design is the development
 of a new government center making vital government services more accessible to fast-growing areas in Central Luzon.
The airport will be accessible from Metro Manila in less than 30 minutes, via interconnected expressways and rail—including a shoreline expressway that will traverse Manila Bay and head straight to NMIA.
NMIA will mean many things for the Philippines. It will be a proud showcase of what Filipinos can do. It is a long overdue and much-needed solution to problems rooted in our aging and inefficient airports—where flight delays and congestion are the norm.
Filipino travelers will have a greater sense of pride when they fly in from other countries. Facilities will be more than adequate, service levels will be consistently high, there will be zero delays caused by air, runway or taxiway congestion.
Airport congestion is a serious problem that both airlines and passengers have to contend with.
In the present NAIA, annual losses of airlines brought about by air traffic congestion are estimated to reach more than P10 billion per year. This will continue to grow if no new airport capacities are built.
On the other hand, productivity losses of passengers are estimated to amount to more than P15 billion per year.
Moving the country's main gateway out of Metro Manila will also help alleviate the nightmarish traffic situation on major and secondary roads in cities around the present airport—Parañaque, Pasay, Las Piñas, Manila, Makati—and beyond.
The NMIA will signal to the world that the Philippines is finally ready to take its place among the ranks of Asia's rising economies. It will boost tourism, raise 
our profile as an investment destination, and increase the competitiveness of our industries—including manufacturing and exports. It can even help bring about the development of new, technology-based industries.
Overall, it is seen to add an estimated P400 billion to the country's Gross Domestic Product (GDP) and generate at least one million jobs.
In 2018, the Philippines recorded some 7.1 million tourist arrivals. We are well behind our ASEAN neighbors such as Thailand (38.27 million tourists), Malaysia
 (33.1 million tourists), Singapore (18.5 million), Indonesia (15.8 million), and Vietnam (15.5 million). If the Philippines can reach 20 million tourists, then that will equate to an estimated 40 million new tourism industry-related jobs.
The government's Build Build Build program promises to fix our country's infrastructure gaps. Boracay's successful rehabilitation has made headlines all over the world, sparking renewed interest in our islands. It also serves as a model for our other tourist destinations.
Once complete, the NMIA is envisioned to be among the best airports in the region: the game-changer the Philippines has needed all this time.