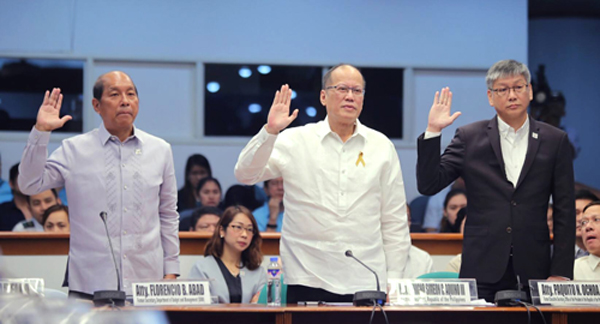 President Duterte boycotted the 32nd anniversary celebration of EDSA People Power. And hardly anybody noticed the celebration, except for a few thousand Yellowtards.
EDSA People 1986 did more harm than good to the people and the country. It ushered in a flawed Constitution. It gave us two Aquino presidencies lasting for 12 years and four months. The Cory Aquino presidency and that of BS Aquino III should by now be viewed as among the worst regimes this country has ever endured.
Duterte is trying to rectify history. One by encouraging the Senate and House hearings on Dengvaxia. The hearings should end up with BS Aquino being arrested and placed behind bars. Noynoy senses the rising outrage and the maddening crowds. He has asked his good friend, Quezon City Mayor Herbert Bautista to put up barriers at the north and south entrances of Times Street where he has his house.
Two, by seeking to amend the 1987 Constitution to install federalism, free the economy, and end the rule of the entrenched oligarchies.
Last year, I wrote the Cojuangco-Aquino family of BS Aquino III has appropriated Edsa People Power as if it were their brand, their franchise, their business. That's a lot of BS.
Corazon Cojuangco Aquino was in Cebu hiding in a convent during the first and most dangerous night of People Power, on Feb. 22, 1986. Her son was too engrossed with many other things to have participated, too. Both didn't have aything to do with People Power. I was at People Power I as a foreign correspondent.
The Aquino family has been the biggest beneficiary of People Power. They were awarded two presidencies.
And what did the people get for having two Aquino presidents? It was a bad deal.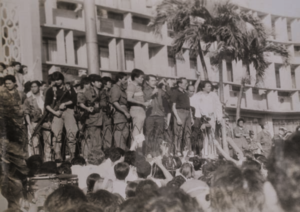 In 1983, Cory had blamed Marcos for her husband's assassination and launched a destabilization campaign. Upon United States prodding, the strongman was forced to call a snap election to end bring the crisis, in February 1986. Marcos was confident he would win the election. In 1982, the President still had the support of US President Ronald Reagan. The Philippine economy was stable, having weathered what could have been a crippling downturn. Basic services were in place. But Ninoy's murder turned things upside down.
Sensing Marcos was very sick (he was, having undergone two kidney transplants), Ninoy Aquino attempted to return in 1983 and grab power from the President. The opposition senator was instead felled by a bullet at the airport tarmac.
The Aquino-Cojuangco family has no more right to claim Edsa as theirs than every Filipino, you and I. Their Edsa failed us, the people.
On the first day of Edsa I, Feb. 22, 1986, I was lucky to be both in Cebu, for Cory's civil disobedience afternoon rally, and Manila, for the first night of Enrile's breakaway coup. Enrile had no troops, just about two dozen RAM soldiers. His shock troops were us, foreign correspondents, numbering about 40.
Not many people know it but Edsa I was triggered by greed and was won by a lie. The crowds that massed on Edsa on Feb. 24, 1986, Monday, and February 25, Tuesday, were there not to stage a revolt but to hold a picnic. June Keithley had announced on radio at 7 a.m. of Feb. 24 that the Marcoses had left. It was a lie. In their glee and feeling that finally it was all over, people trooped to Edsa to celebrate.
Flawed Constitution
The 1987 charter was flawed for a number of reasons.
First, it abolished the old two-party system dominated by the Nacionalista and Liberal parties. The NP and LP had ensured regional balance in the choice of senators and competent and popular officials.
For the NP or LP to capture the presidency, it must first capture the Senate, which had 24 senators, eight of whom had to be elected every four years. To control the Senate, both parties had to field the best and brightest and most popular candidates. One proof the old system worked is that seven Philippine presidents were bar topnotchers and first served in the Senate (or Congress) before being ushered into Malacañang.
The lack of regional balance under the present system of electing senators led to a ridiculous situation during Aquino's time where a small snooty village in La Vista in the Manila suburb of Quezon City had four senators in residence while the entire Mindanao island didn't have a single senator.
Second, in lieu of the Senate Commission on Appointments, it created a Judicial and Bar Council (a small cabal of men and women actually who are very susceptible to suggestion) to screen judges and Supreme Court justices instead. This resulted in a corrupt if not incompetent judiciary or both.
Third, the Constitution banned foreigners from owning majority of real estate and other key areas of the economy. This turned off investors and the Philippines missed the flood of foreign investments that swept through Southeast Asia in three waves in two decades.
Fourth, the 1987 charter banned nuclear power. This denies the Philippines the option to tap one of the cleanest and best sources of energy.
The multi-party system that replaced the old two-party system enabled communists to get seats in the 280-seat Congress.
Because poll inspectors of the two largest parties were no longer paid wages by the state on election day, presidential candidates had to raise private money to man electoral precincts in 42,000 barangays or villages, making them vulnerable to vested interest and election financiers and crime syndicates. The setup opened doors to corrupt elected officials and worse, incompetent administrators.
The harm of EDSA People Power (2)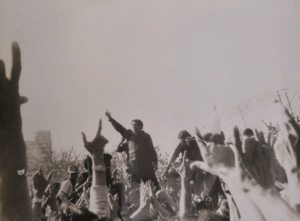 Not many people know it but Edsa I was triggered by greed and was won by a lie. The crowds that massed on Edsa on Feb. 24, 1986, Monday, and February 25, Tuesday, were there not to stage a revolt but to hold a picnic. June Keithley had announced on radio at 7 a.m. of Feb. 24 that the Marcoses had left. It was a lie. In their glee and feeling that finally it was all over, people trooped to Edsa to celebrate.
The greed arose from a Chinese forex trader who violated the peso-dollar trading band imposed by the then unofficial central bank, the Binondo Central Bank managed and headed by then Trade and Industry Secretary Roberto V. Ongpin.
Ongpin had the erring trader arrested and loaded into a van. Unfortunately, the forex trader died. Unfortunately again, the trader happened to be a man of then-Armed Forces chief Fabian C. Ver. Angered, the dreaded military chief had 22 of Ongpin's security men arrested. They were marching in full battle gear and dressed in SWAT uniform at about 4 a.m. inside Fort Bonifacio when arrested on Feb. 22, 1986, a Saturday.
At 11 a.m., Feb. 22, 1986, at the Ministry of Trade and Industry, Ongpin went looking for his security men. He called up then-Defense Minister Juan Ponce Enrile who was with the Club 365 at the Atrium in Makati. Enrile thought the arrest of the 22 Ongpin security men, who turned out to be RAM Boys of Col. Gringo Honasan, was part of the crackdown against the plot to oust Marcos.
The putsch was being planned by Enrile and his RAM Boys. The defense chief had grown disenchanted with Marcos, who was very ill following a botched kidney transplant three years earlier. JPE had become wary of the palace cabal led by Ver and the First Lady, Mrs. Imelda Romualdez Marcos.
Enrile summoned his boys to his house on Morado Street, Dasmariñas Village. There they plotted their next moves. They decided to make a last stand at the armed forces headquarters, Camp Aguinaldo in Quezon City.
At 2 p.m., Enrile called then Vice Chief of Staff Lieut. Gen. Fidel V. Ramos. "Are you with us?" JPE asked Eddie. "I am with you all the way," the latter assured.
It was not until late in the evening that Saturday (Feb. 22, 1986) that Ramos actually joined the rebellion at Camp Aguinaldo. He had contacted his loyal PC-INP commanders, like Rene de Villa in Bicol, and Rodrigo Gutang in Cagayan de Oro and found to his dismay no troops could be readily airlifted to Manila to reinforce Enrile's men, who were undermanned and under-armed.
Cory learned about the brewing rebellion at 4 p.m. the same Saturday in Cebu. She had led a destabilization and boycott rally there, which I covered.
After hearing about rumors of the Enrile defection, I went to the Mactan airport to book a flight to Manila. I landed in Manila shortly after 9 p.m. With Boy del Mundo of then UPI, I took a taxi to Camp Aguinaldo.
I was surprised to find the camp commander welcoming us with open arms. Enrile and Gringo had no troops at that time. Enrile had made a deal with Marcos—No shooting on the first night. Also, foreign correspondents were to be allowed inside Camp Aguinaldo.
In the Comelec-sanctioned official count, the legal and official winner was Marcos, by a margin of 1.7 million votes.
It was thought Marcos had cheated because his Solid North votes were transmitted very late to the tabulation center at the PICC. Two Namfrel volunteers were hanged in Ilocos. The Ilocano votes were enough to overwhelm Cory's lead in Metro Manila and other places. The canvassers claimed Marcos was cheating and so led by the wife of a RAM major, walked out, as if on cue. The day before the celebrated incident, we, foreign correspondents, had been alerted about the planned walkout and to be there to cover it.
Cory Aquino didn't have any participation in the four-day People Power revolt of Feb. 22-25, 1986 or Edsa I.
Inside the Defense Ministry headquarters, Enrile and Ramos were giving an extended press conference. I asked if Cory Aquino called them up. Enrile said yes. "What can I do for you?" she asked. "Nothing, just pray," Enrile replied.
After Cory got the presidency, Namfrel made recount of the votes cast in the February snap election. The tally still showed Marcos was the real winner, not by two million votes, as canvassed by the Batasan, but by 800,000 votes as recounted by Namfrel.
Cory disregarded the 1973 Constitution and proclaimed a Freedom Constitution to sidetrack critics from questioning her legitimacy.
Cory had a tumultuous reign. Her cabinet was riven by discord between right and left wingers. She battled a nasty communist insurgency whose guerillas swelled to their highest number ever. She tried to placate Muslim separatists with an aborted autonomy deal, ala Tripoli Agreement of Imelda Marcos.
The century's worst earthquake, the century's worst volcano eruption, and among the most massive floods happened during her time. Twelve to 18-hour blackouts scared the daylights out of investors. An unruly military mounted nine coup attempts against her.
Only raw courage and the power of prayer saved her and her administration from ignominy.
When Cory Aquino left office, the economy was in the throes of a recession. Daily blackouts paralyzed business. She mothballed the Bataan nuclear plant which would have been the principal power source for the main island of Luzon, which produced half of the total economic output.
Still after Cory died on Aug. 1, 2009, the people were so grief-stricken they elected on May 10, 2010, her ghost in the person of Noynoy Aquino, a man who never held a stable job before and who probably himself was not a stable person, to run the 12th largest nation on earth in population.