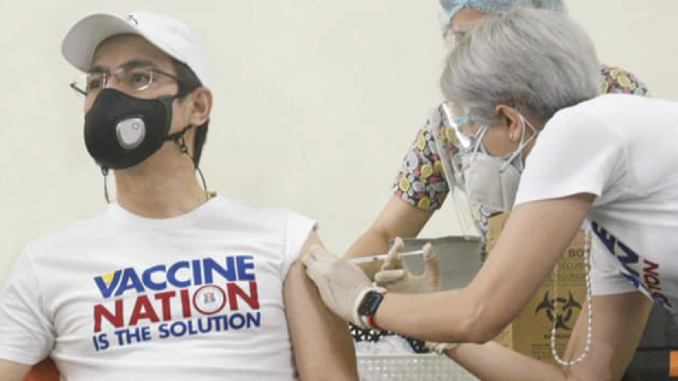 In May next year, 50 million Filipinos will elect the next president of the Philippines.
The candidates to succeed Rodrigo Roa Duterte are not exactly the best of the Filipino race. And judging by the standards used by the electorate in 2016, the next president will not exactly be better than Digong Duterte. He or she could, in fact, be worse. And that will be both a tragedy and a comedy.
Tragic because out of 24 million families in this country, the next president will come from just half a dozen families. You see, for the last 500 years, this country, its politics and its economy, have been ruled or owned by no more than 100 families.
Such a situation is comedic because the happiest people on earth, Filipinos, out of frustration, will probably just laugh off their outrageous fortune or misfortune, and probably even thank God for it. You know the saying, "Blessed are the poor in spirit, for theirs is the kingdom of Heaven." So why bother? Heaven waits.
In the past 60 years, the president came from just five families—1. Macapagal and Macapagal-Arroyo (13 years); 2. Marcos and Ramos, who are cousins (26 years); 3. the mother and son Aquinos (12 years and four months); 4. actor Joseph Estrada (30 months); and 5. Duterte, six years.
The Philippines is not at all a democracy. It is a rule by feudalism where the so-called noble political class, or economic class, rules over the teeming millions who are slaves or vassals. Thanks to their miseducation, the slaves do not at all complain. What has tamed and or abetted the rapacity and lust for power of the five families is not the Filipino electorate. It is the military.
The military role
The military ousted Ferdinand Marcos (EDSA I), savaged Cory Aquino with eight coup attempts, deposed Joseph Estrada (EDSA II), destabilized Gloria Macapagal Arroyo (EDSA III), and botched crucial missions given by Benigno Simeon Cojuangco Aquino III to secure the state.
The military has propped up the regime of Rodrigo Duterte. Not surprisingly, some of the generals employed by Duterte in civilian positions have not lived up to expectations. They are indifferent to people's needs, incompetent or plainly corrupt. They have enforced the longest and harshest lockdown of the 21st century and managed the most mismanaged pandemic program in the world.
Duterte also has in his cabinet, doers—like Finance Secretary Carlos Dominguez, Transportation Secretary Arthur Tugade, and Public Works and Highways Secretary Mark Villar.
For his incredible achievements at DoTr, Tugade should be running for senator.
For senator or VP?
The same with Wharton-educated Villar, 42. He is a good bet for either senator or vice president. His mother, Cynthia Villar, is incumbent senator. His father, Manny, is the Philippines' richest individual.
During the past 60 years, the Philippines deteriorated from being the richest and best governed country in Asia, after Japan, to today, one of the poorest (thanks to the pandemic) and most ill-governed countries, with the region's highest poverty incidence, highest unemployment rate, highest income inequality, lowest economic growth, the lowest grades in reading, math and science; and with among the worst infrastructure, power and telco rates.
The next president
Yet, per surveys, the next leader of this nation of 110 million will come from one of the five families mentioned above—a Duterte or a Marcos.
According to a Pulse Asia survey of Feb. 22, 2021-March 3, 2021, Inday Sara Duterte, 43, is the choice of 27% of voters the polling firm queried.
Pulse Asia is a famous polling firm. It gave a 91% job approval and trust rating to Digong Duterte, Sara's dad. That 91% is the highest ever in world history polled by any leader, since Pontius Pilate made his subjects choose between Jesus and a thief (the thief won).
In the Philippines, thieves do win public office, with votes that will make their rivals salivate with envy. The same thievery, however, brings them down from power, thankfully.
Former senator Ferdinand "Bongbong" Marcos Jr., 63, is the next best choice of the Pulse Asia voters, for president, with 13%.
The son of the late strongman is tailed closely by Senator Grace Poe, 52, and Manila Mayor Francisco "Isko Moreno" Domagoso, 46, both with identical 12%.The world's greatest boxer, Manuel "Manny" Pacquiao is not too far behind, with 11%.With single digit ratings are Vice President Leonor "Leni" Robredo, 55, with 7%; Senator Christopher "Bong" Go, 46, 5%; Senator Panfilo "Ping" Lacson, 72, 2%; Rep. Alan Peter Cayetano, 50, 2%; and Senator Richard "Dick" Gordon, 75, 1%.
If there are 50 million voters, Sara Duterte's 27% translates into 13.5 million votes (her dad garnered 16 million or 39% in 2016). Bongbong Marcos's 13% would be equivalent to 6.5 million votes –seven million votes behind Sara's.
The 12% of Grace Poe and Isko Moreno would be worth six million votes, meaning, they can still dislodge Bongbong Marcos from his No. 2 perch, or even Sara, if her dad continues to mismanage the pandemic Pacquiao's 11% would give him 5.5 million votes.
Who among these so-called presidentiables will be the Lord of the Rings, one who will rescue the millions who are poor from the clutches of a deadly pandemic, from deadening poverty, and from a future that increasingly dims each passing day?
So is there no one else running for and qualified to be president?
READ FULL ARTICLE HERE: