Finally, the Philippines will have a third telephone company (third telco). It will be tycoon Dennis Uy's Mislatel Consortium in partnership with China Telecom.
China Telecom is big. China Telecom is China's biggest landline telephone company and the third largest in mobile. It has revenues of $40 billion, EBITDA of $11.3 billion, and assets of $93 billion. It has 294 million mobile subscribers of which 230.45 million (78.38%) use 4G.
Last year, the Chinese government offered China Telecom to the Duterte administration to be the Philippines' third telco to fight the powerful duopoly of PLDT Smart of the Salim group of Indonesia and Globe Telecom, of the Ayala family and SingTel.

In effect, the Philippine mobile and broadband market will be a proxy fight among China, Indonesia and Singapore, each backed by a powerful and resource-rich Philippine group or family – Dennis Uy of Davao for China, Manuel V. Pangilinan and the PLDT Pension Fund for Indonesia, and the Zobel-Ayala family for Singapore.
Offhand, Smart and Globe have the first mover advantage. They have between them 100% of the market which of late has stagnated in growth. Still, the market is hugely profitable, milked by PLDT-Smart and Globe to the tune of at least $1.5 billion in profits a year, thanks to the among the most atrocious telephone rates in the world and among the slowest internet speeds, and of late, among the worst in service quality.
Being the third biggest in China's mobile telephony, China Telecom is a smart and aggressive player. It is willing to cut or remove fees, if necessary, and to lower rates, in favor of greater market share. Also, it has international plans. China Telecom wants to enter Myanmar too.
China Telecom should perhaps look at the Globe formula. Long a second fiddle to PLDT Smart, Globe, under Ernest Cu (since 2009), went mass market, slashing prices to buy market share (service quality also went down). Hence, Globe now has 65 million mobile subscribers while Smart has just 58 million. With greater scale, Globe is now more profitable than Smart.
Expect China Telecom and Dennis Uy to offer the most reasonably priced telco service with the highest quality. Dennis Uy's Mislatel promises to spend $3 billion in five years, internet speed of 27 to 55 mbps (ten times current speeds), and coverage of 84% of the country.
The key to China Telecom's success in the Philippines is Dennis Uy, 43, and BS Business Management, La Salle 1993.
Dennis has become the fastest growing and most successful businessman under the Duterte administration. To-date, he probably has a net worth of at least $350 million, making him the Philippines' 20th richest Filipino. His holding company is Udenna Corp., established in 2002, with now 55 companies, financed by debts of P85 billion, more than triple in one year.
After Duterte became president in July 2016, Dennis Uy's Phoenix Petroleum became the third largest player in the petroleum marketing industry, with a market share of 7%, after Petron's 34%, and Shell's 21%.
Barely 13 years old, Phoenix has 558 gas stations with 30 more in the pipeline. It is now the second biggest supplier of aviation fuel, with Cebu Pacific as its biggest client (which buys 6% of Phoenix's total sales). In nine months to September 2018, Phoenix had total sales of P64.96 billion, double from a year ago; and profits of P1.317 billion, down slightly from P1.436 billion.
Chelsea Logistics Holdings Corp. (CLC) is the fastest growing shipping and logistics company in the Philippines. Established on 26 August 2016, CLC was created to act as the holding company of the shipping and logistics arm business segments of the Udenna Group of Companies.
On Aug. 8, 2017, Chelsea went public and its shares of stock were initially listed at the Philippine Stock Exchange (PSE). The company is engaged in shipping and logistics businesses with key segments divided into: Charter, Passage, Freight, Tugboat services, and Logistics.
Largest in logistics
Uy's Chelsea Logistics Holdings Corp.has become one of the largest in logistics, with the youngest boat fleet in the country (50 are brand new vessels). The IPO of Chelsea last year certified Dennis as a multi-billionaire. Chelsea Shipping Corp., the country's largest tanker fleet, was acquired only in November 2017.
This year, Chelsea Logistics amended its articles of incorporation to change the primary purpose of the company to include infrastructure – the centerpiece program of President Duterte's "Build, Build, Build".
Infra focus
Thus, the company will engage in the "(i) development, management and operation of infrastructure facilities and systems and the business of building, rehabilitating, renovating, constructing, developing, operating and maintaining such facilities and systems, including the commercial assets thereof and all allied business for the operation and maintenance of such facilities and systems."
CLC aims to expand its business further by engaging in the development, management and operation of infrastructure facilities and systems., says its website.
Chelsea Logistics operates the country's biggest vessel and a brand-new RORO passenger ship.
Chelsea inaugurated the latest additions to its fleet — M/T Chelsea Providence and M/V Salve Regina — on October 5 at the Manila North Harbour Port.
"We have long dreamed of having our presence felt in the international waters and to commence our foray into the regional liquid carrier market. Today, we are grateful to welcome our biggest as well as the Philippines' biggest registered vessel – M/T Chelsea Providence," Uy said.
M/T Chelsea Providence is a 183.3-meter long medium-range oil tanker that can carry up to 54 million liters of petroleum at any given time.
Meanwhile, Chelsea's M/V Salve Regina, is a roll-on, roll-off vessel which can accommodate more than 500 passengers and 41 vehicles. It is the first brand-new RoPax to service the Batangas-Caticlan route. It was built by Kegoya Dock Co. Ltd., a Japan-based shipbuilder.
Udenna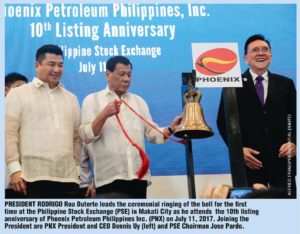 Incorporated on March 19, 2002, Udenna is at the helm of the diversified business interests of the Udenna Group in petroleum and oil through Phoenix Petroleum; shipping and logistics through Chelsea Logistics; real estate through Udenna Development; education through Enderun Colleges; and infrastructure through Udenna Infrastructure, among others.
CLC operates 16 tankers, 22 RoPax, 11 cargo vessels and 14 tugboats through Chelsea Shipping, Starlite Ferries, Trans-Asia Shipping Lines, Inc. and Fortis Tugs. In addition, its investee 2GO Group, Inc. operates 8 RoPax vessels, 5 cargo vessels, and 11 fastcrafts.
CLC also acquired in March 2018 a floating dock named "Chelsea Exuberance" which is programmed to keep its 88-strong fleet in the best condition and thus optimize the deployment of the ships
The Udenna Group has grown exponentially in 15 years. It successfully listed Phoenix Petroleum Philippines, Inc. and Chelsea Logistics Holdings Corp. at the Philippine Stock Exchange in 2007 and 2017, respectively.
At the 10th anniversary of Phoenix as a listed company last year, no less than President Duterte showed up at the stock exchange to ring the bell.
Logistics hub
Dennis has acquired 177 hectares of land in Clark as a logistics hub which is expected to cost $1 billion. Land sales are brisk.
He also has a resort hotel and casino complex in Mactan, Cebu. In July 2017, he bought Endurun Colleges which has 1,200 students on a sprawling 1.8-hectare campus in Taguig. He already has a maritime training school to support his shipping and logistics businesses.
In October 2017, Dennis bought FamilyMart which then had 67 stores. It is now under the Phoenix Petroleum wing which means FamilyMart could have 500 outlets almost overnight.
As if those acquisitions were not enough, Dennis also bought Conti's, a glamorized bakery.
Soon, Phoenix will offer clients not just gas, not just LPG, not just groceries, not just cakes and coffee, but free mobile phones, anyone?
By the way, it is not advisable to use your cellular phone when gassing up.