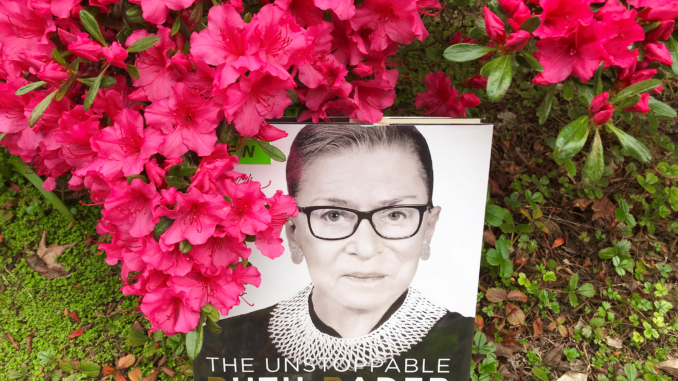 The Notorious R.B.G. is the second female US Supreme Court justice. Now 86, Justice Ginsburg is known for her composure, excellence, and egalitarian advocacy.
In 130 photographs, we see her remarkable ascent into the male-dominated legal profession.
RBG finished Cornell first in her class; was one of nine Harvard Law School female students out of 500; she made the Harvard law review in her first year; and tied for first in Columbia Law School.
RBG was the second female professor at Rutgers School of Law; the first female tenured professor at Columbia Law School; cofounder of the American Civil liberties Union Women's Rights Project; and the first lawyer to submit to the Supreme Court that sex, like race, is also discriminatory.
If that weren't enough, she is happily married to a brilliant tax attorney who fully supported her career. Together they raised two successful children.
She is a formidable legal mind packaged in a petite and unassuming personality. RBG was raised by her intelligent mother to "Be a lady and be independent."
This inspiring picture book is a tribute to a woman's mastery over historical disadvantages. The Ginsburg truth is sung by the Notorious B.I.G.—"Sky is the limit. Be what you want."
————————————-
@felixauthor @mimi.leder @sterlingbooks @onthebasisofsex @ruth.bader.ginsburg
#youngadultnonfiction #teennonfiction #nonfictionbook #nonfictionbookclub
#nonfictionreading #nonfictionread #nonfictionreader #ivydigest #nonfictionbookreviews #nonfictionbookreview #smartread #nonfictionbooklovers #nonfictionlove #intelligentreaders #busyreader #nonfictionrecommendation #intelligentbooks #adultnonfiction
#pinoybookworms #pinoyreader #biographybooks #historicalbiography
#notioriousrbg #thenotoriousrbg #readermom #womenpower #inspiringwomen #inspirationalwomen #womeninhistory