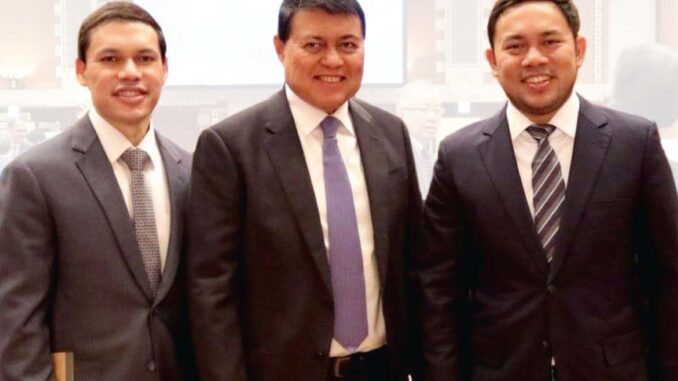 Manuel B. Villar Jr. may have lost the 2010 presidential election dismally after spending by one estimate, P5 billion. After that disappointment, the former Speaker of the House of Representatives (1998-2000) and former President of the Senate (2006-2008) went back to what he knows best – housing and land development. He has been a big winner.
Because two listed companies are highly valued by the stock market – Golden Bria Holdings and Vista Land and Lifescapes – the ever smiling Manny has become the Philippines' richest person. He is also probably the country's largest private landowner.
His wealth is estimated by BNA to be $5.9 billion. His family owns 85% of Golden Bria which is valued at P238 billion. Also, his family owns 69.54% of Vista Land and Lifescapes which is valued at P67 billion. Manny is chairman of both companies.
His son, Wharton-educated Manuel Paolo A. Villar, 42, has been the president and CEO of Vista Land since 2011. Paolo has degrees in economics and applied science at the University of Pennsylvania.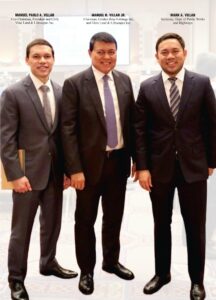 Manny's younger son, Mark, 41, is the secretary of the Department of Public Works and Highways (DPWH), implementing the P9-trillion Build, Build, Build infra program of President Duterte.
Mark has three degrees – economics, philosophy, and political science, from UPenn. He has an MBA from the University of Chicago Booth School of Business.
Mark has been scored by the Commission on Audit (COA) for serious underspending amid President Duterte's much-vaunted Build, Build, Build infra program.
In 2017, DPWH had a budget of P467.7 billion—a record high. Mark spent only 34.1% or P159.48 billion of that, leaving P308.2 billion idle. In 2018, Mark had a budget of P637.9 billion, another record high. Per COA, he spent only 39.2% or P250 billion of that, leaving P387.8 billion unspent. So in two years, the DPWH chief did not spend a total of P696 billion.
Did you know the implication of not spending P696 billion? Quite grave. Assuming it takes P3 million to create one job, P696 billion could have created 232,000 jobs.
And 232,000 could have made 232,000 families happy or they could have been rescued from poverty. And usually, a peso of government spending generates as many as eight times of economic activity.
I talked to Mark Villar about the underspending. His explanation: DPWH projects take a number of years to build or implement. One bridge alone can take three years. Just look at the Rockwell bridge. It was demolished and the Chinese are building a new one on top of it. That will take three years.
During his stint at DPWH, Mark targets a spending ratio of 80% in a three-year period. So the P696 billion unspent could still create new jobs.
Meanwhile, Manny's wife, Cynthia, topped the senatorial elections last May 2019, with an unheard of 25.28 million votes. That makes her a viable candidate for president in 2022. In the Senate, she is focusing on agriculture and SMEs. In agriculture, Cynthia is interested in two things – rice and coconut.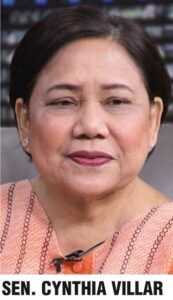 Rice has a so-called RCEP – Rice Competitiveness Enhancement Program which means P10 billion a year of government money going to three things – agricultural machinery, high-yield seeds, and cash support to farmers.
Last year, inflation rose to its highest in 11 years, to above 6%, because of a severe rice shortage triggered by incompetence at the National Food Authority (NFA). NFA was given P6 billion to buy rice wholesale. Instead, it spent the money to pay debts and announced there would be a rice shortage. The result was a run on rice, its price hitting its highest in 40 years.
Coconut has a P100 billion fund for which many government officials are salivating to get their hands on. The P100 billion is the money paid by Danding Cojuangco for 31% of San Miguel Corp. shares which the government said the state owns. So Danding gave the shares to the government, converted them into preferred shares which then were redeemed back by SMC, paying the government P100 billion in cash and dividends. The money is now parked in government treasury.
The law says the P100 billion should go only for the development of the coconut industry. The coconut industry is dying. Copra prices have slumped, to below production cost. There are 3.4 million coconut farmers tilling 3.565 million hectares of land. Most of the farmers live below the poverty line. About 30% of the country's 339 million coconut trees need to be replaced, immediately. Productivity is low, 46 nuts per tree per year, compared with 250 nuts for India, 300 nuts Mexico, and 400 nuts in Brazil.
The stock market seems to value Villar's Golden Bria, which used to be a chain of memorial parks and funeral before it went public, exceedingly—more than 200 times earnings. The market values Vista Land, the country's largest home builder, at about 77x earnings.
Manny has parlayed his more than 30 years of experience in housing building and property development to build a conglomerate with nationwide presence (more than 145 cities and towns, unmatched by any other developer), superior brand recognition, and proven track record, under five distinct business units—Brittany, Crown Asia, Camella, Communities Philippines, Vista Residences, housed under an integrated real estate holding company, Vista Land and Lifescapes.
Manny has also made successful forays into malls, department stores, hardware, 24-hour convenience stores, home depots (a future IPO that could raise P20 billion), memorial parks, drug retailing, coffee shops, schools, and even medical centers, to enhance themed residential and leisure projects in his so-called Communicities. — Tony Lopez