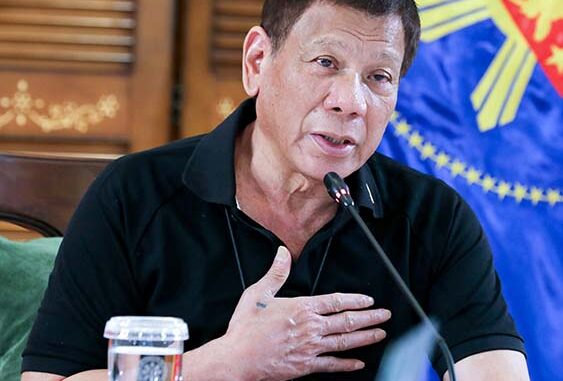 If indeed our President Duterte did not go to Singapore over the weekend for a health emergency and yet there is widespread cynicism, that could mean he has a growing credibility problem.
The anecdotal evidence was there – that someone very important was being attended to in hush-hush fashion.  Viber posts showed a Lear Jet plane ambulance landing in Davao, is surrounded by hordes of men looking like security people, and then takes off and lands at Singapore's small Seletar Airport, less than four hours later, by 8 p.m.
In Manila, on Monday, Aug. 17, meanwhile, Foreign Secretary TeddyBoy Locsin turned emotional at his mention of Duterte, while welcoming some 410 returning overseas workers. He cried.
"We do it because we love you. And we do it because we respect our President, the first and only President who has dared for the least of the Filipino people," the former journalist and presidential speechwriter said, his voice choking.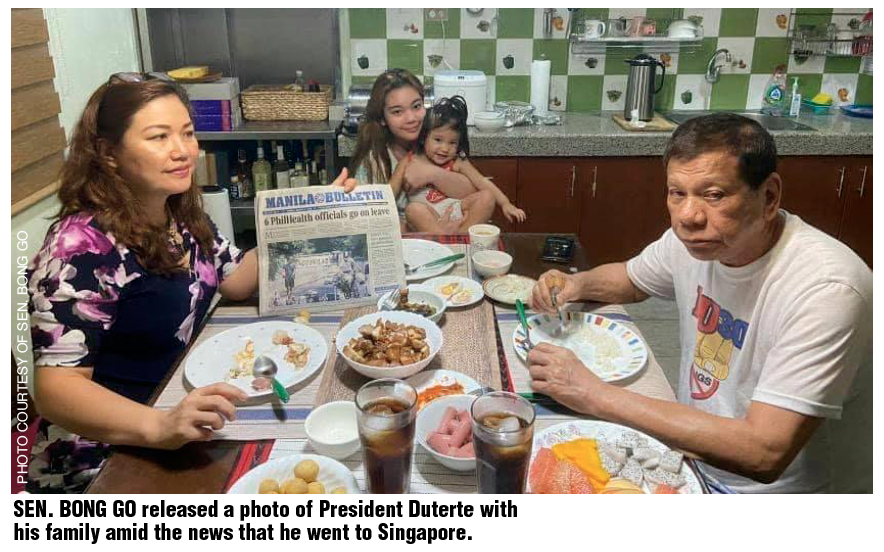 On the other hand, if indeed the President flew to Singapore and yet tried to conceal it, the more he will have a credibility problem. In the age of the internet and vibrant social media, very few secrets can be kept from this world.
Either way, Duterte could be likened later to the boy who cried wolf. This is not the first time rumors swirled around the whereabouts of the President whenever he disappeared from the scene, mysteriously. There would be talks of his having made quick trips to China, his favorite country.
If talks of the President's unexplained disappearances surface again in the future, then he risks undermining the fourth major pillar of pandemic management: TRUST. There are four Ts to coping with a deadly and unpredictable pandemic—testing, testing of contacts, treatment, and trust.
The first three pillars — testing, tracing and treatment — all are suffering from major inadequacies, principally the thin thread of science and credibility stitching government maneuvers. Now, you have trust, or lack of it.
The Philippines is on the way to beating Germany in number of COVID-19 cases.
As of Aug. 19, Germany had 228,129 cases, No. 20 worldwide, and ahead of the Philippines by 54,355. The Philippines had 173,774 cases, No. 22 among 220 countries. With Manila piling up 4,000 new cases per day, in three weeks or less, the Philippines will overtake Germany.
That is sad and tragic. We will have more cases than Germany, but without Europe's economic power's technocratic and focused leadership (Chancellor Angela Merkel is a scientist, being a physicist and a chemist), ample health care resources, and disciplined testing, tracing and treatment. We are thus perpetually in God's mercy that nothing much worse befall us as people become isolated and distant from a more competent, caring and clean government. No wonder, Presidental Spokesman Harry Roque said Duterte is in "perpetual isolation".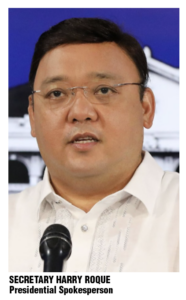 I think what my friend Harry Roque meant but did not want to explain plainly is that Duterte might be afraid to get sick and die from COVID. At 75, the President has many underlying conditions, making him highly susceptible to a vicious virus like the corona and its disease, SARS-CoV-2. So "isolation" could mean the President cannot meet people, including perhaps even members of his cabinet. "Perpetually" means that is now the standard operating procedure while the COVID devastation is in full swing.
Another explanation, not forwarded, is that the public should now get used to unexplained, frequent, prolonged or extended absences or silence by Duterte for two reasons: To enable him to hide from COVID, ala Kim Jong-Un, or recuperate or have treatment from whatever ails and pains him.
Over the past half century, the Philippines has been bedevilled by among the worst possible disasters and tragedies, natural and man-made, the world has ever seen.
The COVID pandemic is the worst of them all, in the last 100 years. It has brought the Philippines down to its knees, with 70% of businesses closed, 50% of the work force jobless, and 30% of the population certifiably poor.
In the second quarter of 2020, the economy shrunk by 16.5%, the greatest economic contraction in the country's history. In the second quarter alone, more than five million were rendered jobless. A third of them will never get their jobs back.
As if the pandemic was not bad enough, nature, again, struck the Philippines with a 6.5-magnitude earthquake at 8:03 a.m. yesterday (Aug. 18), 5 kms southwest of Cataingan, Masbate. At the same time, Taal Volcano, which erupted on Jan. 12, this year and displaced 380,000, is acting up again. So we will have the unusual phenomenon of an earthquake and a volcano eruption along a 571-km stretch of Southern Luzon from Manila to Masbate island. Viber pictures of the Masbate earthquake indicate the damage is extensive, with several otherwise solid buildings, collapsing or teetering dangerously.
After a magical presidency in his first three years that saw him riding on the crest of an unprecedented 80% popular approval rating, the populist Duterte is engulfed by a maelstrom of disasters and tragedies of unprecedented proportion and timing.
I remember President Cory Aquino's reign. She was hugely popular, the savior of the nation. Then tragedies and disasters struck one after another. On top of eight coup attempts, there was the pre-Christmas 1987 MV Doña Paz sinking where more than 4,300, died, the worst maritime disaster in world history; the 1999 Luzon earthquake; the 1991 Mount Pinatubo volcano eruption, the second largest terrestrial eruption of the 20th century; the 1991 Typhoon Thelma that killed 5,000, the deadliest typhoon in Philippine history, plus the worst power blackouts in history, 12 to 18 hours of no electricity daily.
Duterte, of course, is made of a different mettle. He has fought many battles, including diseases, and won them all — so far. The only problem: The man is less religious and prayerful than Cory was. God, however, attends to men of lesser faith, in equal measure, as those with fulsome faith. Let's pray for our President, our leader. — Tony Lopez
READ FULL ARTICLE HERE: