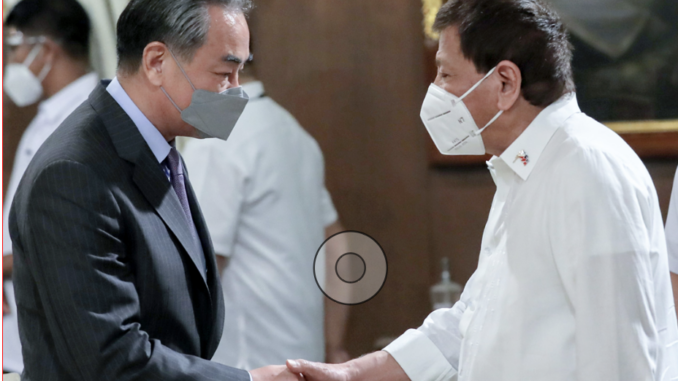 Prices PH is paying for various vaccines are consistently higher than those available elsewhere for the same brands. Is there a whiff of corruption?
None, assures President Duterte.
So why the unnecessary confusion and secrecy?
President Duterte and his subalterns, Vaccine Czar Carlito Galvez and Health Secretary Francisco Duque, are at loggerheads with the Senate led by Senate President Vicente "Tito" Sotto III, and Senators Panfilo Lacson, Senate Minority Leader Frank Drilon, and Francis Pangilinan, on the anti-COVID-19 vaccines, particularly on three issues: one, price; two, volumes; and three, timetable of rollout.
Until today, nobody knows exactly when will ordinary Filipinos be inoculated against the most dreaded disease to hit mankind in the last 100 years.
Also, nobody knows exactly how much volume of vaccines are coming to the Philippines, at exactly what prices.
Consistently overpriced
A Bangkok newspaper last week published some vaccine prices. They are consistently much lower than the rumored buying prices of the government for the same brands. Examples: AstraZeneca BKK P473 vs P620 of DOH; Pfizer P1,232 vs P2,379 of DOH; Moderna P1,951 vs P3,904-P4,504 of DOH; Sinovac P591.32 vs P3,639.50 of DOH; and Gamaleya BKK P1,183 vs P1,220 of DOH. The DOH figures include 12% VAT and 10% inflation.
Manila's buying prices are 23% overpriced for AstraZeneca, 44% for Pfizer, 50-57% for Moderna, and 515% (six times) for Sinovac. Either our government vaccine procurers do not know how to negotiate (tanga) or somebody is trying to make a killing. In either case, the whiff of scandal could rise to high heavens.
Said Senator Lacson at the Jan. 15 hearing on the vaccines:
"Our confusion brews from the procurement of Beijing-based Sinovac Biotech vaccine which price ranges from a low of $13.60 to a high of $29.75 or from P680 to P1,487.50 per dosage, as reported by several reliable sources. The Office of Senator (Sonny) Angara, for example, with data provided by the Department of Health itself, pegs the cost of Sinovac at P3,629.50 for two doses. Undeniably, data shows that Sinovac runs as the second most expensive vaccine in the market."
Later, in a tv interview, Galvez said that with the WHO's COVAX facility, the price of the Sinovac vaccine could be reduced by 300%.
Galvez, who studied at PMA where math is taught, got confused. If you reduce something by 300%, then you reduce it to below zero, meaning it's free. What he probably meant is that the price reduction is 75%. Because 300% plus the original 100% is 400. You reduce it by 300%, that leaves you with 100; 300 over 400 is 75%.
Locked in with China
Retorts Lacson to Galvez: "Our initial lock-in agreement with the Sinovac comprising 25 million doses will not be covered by the ludicrous 300% markdown as the COVAX facility only has this agreement for early rollout in February with Pfizer-BioNTech vaccine of a limited quantity. COVAX also has secured agreements for AstraZeneca, Moderna and also signed agreements for Johnson & Johnson and Sanofi-GSK. There was no mention of Sinovac."
Lacson adds: "To our dreadful surprise, it may be too late now to backpedal from our Sinovac deal since 50,000 doses are already set to be delivered on February 20, notwithstanding the lack of Emergency Use Authorization of Sinovac to the Philippines. And even in China, its country of origin, Secretary Galvez is positive that we will have a rollout of the vaccine next month and onwards. In his words, as if speaking on behalf of the Food and Drug Administration, 'Iyong EUA po ng Sinovac, baka ma-approve po before February 20. Maganda ang arrangement natin kasi may darating kada buwan'."
Warns Senator Lacson: "When public officials hide under the cloud of secrecy, confidentiality and motherhood statements, we cast a shadow of doubt over matters of national interest and lose sight of our health agenda amid this global pandemic. Lest we forget, Mr. President, in the course of this public inquiry, what hangs in the balance is the life and welfare of every Filipino, no more, no less."
"There is no corruption," Duterte assured the people in his televised show on Jan. 18. Neither vaccine czar Carlito Galvez nor Finance Secretary Carlos Dominguez has anything to do with vaccine pricing, Duterte said. "I don't know why you are so preoccupied with corruption," the President sneered at the senators.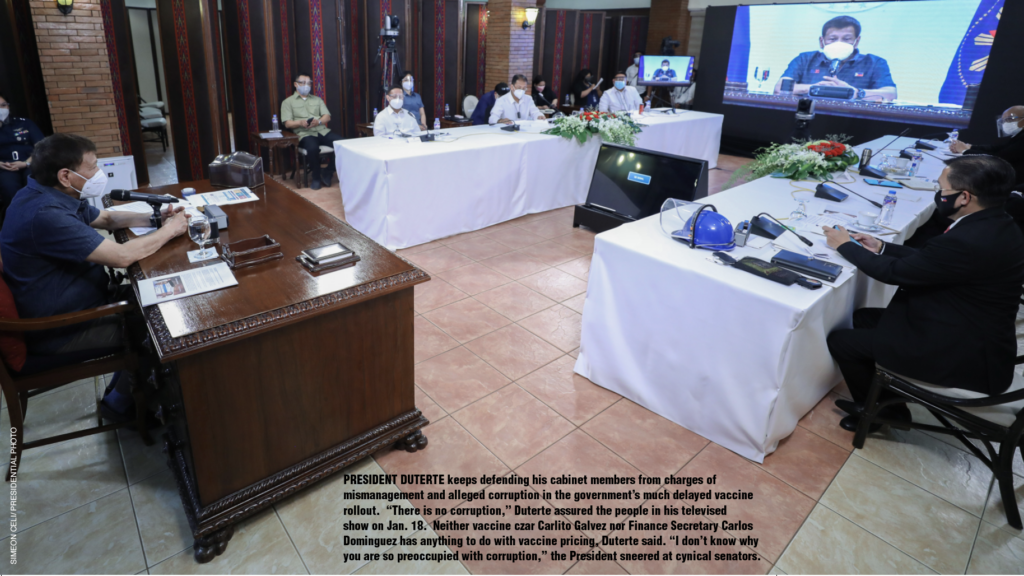 Why Duterte wants Chinese vaccines
But why is Duterte so enamored with the Chinese vaccine Sinovac? Long before this controversy, the President related last Monday, Jan. 18, he called up Chinese President Xi Jinping. "We don't have the money, we don't know how to make vaccines. Please do not forget the Philippines," Duterte pleaded with the Chinese leader. The latter assured Duterte: "We will give you, after we vaccinate our own citizens." On Jan. 17, globe-trotting ASEAN, Chinese Foreign Minister Wang Yi visited Duterte. He donated 500,000 doses of Sinovac vaccines. Small gesture, big significance.
Now, the issue of when. At the Senate hearing on Jan. 11, both General Galvez and Secretary Duque mentioned February 2021 as the start of the vaccine rollout. In his talk to the people Jan. 18, Duterte mentioned two months from today, or late March at the earliest. The President is very realistic. Galvez and Duque are overly optimistic, which makes them open to charges of lying.
Where the vaccines will come from
At the Jan. 11 Senate hearing, Galvez assured:
"Our main volumes will be coming from Novavax with 32 t0 40 million doses; Pfizer, more or less 40 billion, and AstraZeneca, 25 to 30 million doses and Sinovac and Gamaleya, 25 million each." On Jan. 15, Galvez added: "We have been pursuing a portfolio strategy and are negotiating with seven vaccine manufacturers. These are the Syringe Institute of India for Novavax, AstraZeneca of UK, Pfizer of US and Germany, Janssen or J&J of US and Belgium, Moderna of the US, Sinovac of China and Gamaleya of Russia. Each of these vaccines were given EUAs under their origin countries. This proves that we are not favoring any one particular brand or country."
In sum, Galvez wants Filipinos to believe that the government is now trying to negotiate to buy 148 million doses from seven pharma companies. The idea is to inoculate between 30 million and 70 million Filipinos – this year, 2021.
The government could have lost some P16.8 billion from overpriced coronavirus vaccines had the Senate not inquired into ongoing negotiations for the Sinovac shot, which has been chosen by Malacañang, Sen. Panfilo Lacson said in a privilege speech on Monday, Jan. 18.
Testimony during the Jan. 11 and Jan. 15 inquiry by the whole Senate indicated an attempt to overprice vaccines. "When there is an attempt at overpricing, isn't it also logical to think [that somebody would make a lot of money]?" Lacson asked rhetorically.
The government had claimed being able to lower the cost of the Sinovac vaccine, making it at par with prices in other Southeast Asian countries.
The office of Senator Sonny Angara using figures earlier released by the Department of Health (DOH) showed that the government was to pay P3,629 ($38) for two doses of the Sinovac vaccine.
"If indeed it is true that the government was able to bring down the cost from P3,600 to P650 per dose, or at least 60% lower than the previous DOH figures, well and good," Lacson estimated.
"If this Sinovac controversy was not tackled in the Senate, and assuming that the deal for the original price of P3,629 or $38 for two doses, or P1,814 equivalent to $19 per shot, against the $5 in Thailand, easily the price difference of 25 million doses would fetch $350 million or P16.8 billion," said the senator, a former national police chief.
The huge price difference "defies logic".
"When the Pfizer issue came about, we asked: 'Who dropped the ball?' We haven't even gotten a clear answer … and now, on the Sinovac vaccine, we ask, 'Who dropped the price?'" Lacson said.
Earlier, no less than Foreign Secretary Teodoro Locsin Jr. accused Health Secretary Francisco Duque III for "dropping the ball", or the Philippines' failure to secure 20 million doses of the Pfizer vaccine back in July 2020 for delivery in January 2021. That vaccine was diverted instead to Singapore.
Lacson questioned the reluctance of vaccine czar Carlito Galvez Jr. to respond to questions by by senators on the Sinovac vaccine, CoronaVac, which he described as the "best and worst-defended" brand during the hearings.
"I could not understand for the life of me why we are being kept in the dark when it comes to our price negotiations with Sinovac, while our neighboring countries could not be more transparent about it," the independent-minded senator winced.
For his part, Senate Minority Leader Franklin Drilon slammed government officials' refusal to disclose the prices of the COVID-19 vaccines the government is negotiating to procure from the manufacturers.
The government, Drilon said, cannot hide behind supposed confidentiality agreements to deprive the public of critical information about the vaccines because it is taxpayer money that it will use to buy those vaccines.
The Inquirer quoted Drilon urging Galvez to disclose the prices of the vaccines.
"Secretary Galvez, [it] is your obligation to inform the people. These are public funds.
The people have the power to get information in line with what is provided for by the Constitution and with doctrines laid down by the Supreme Court," the senator said.
Officials, including Galvez, have refused to disclose the prices of the vaccines, invoking confidentiality agreements with the pharmaceutical companies whose shots have yet to be tested here and approved by the FDA.
The Bangkok Post reported on Saturday that CoronaVac costs $5 (P240) per dose in Thailand and $17 (P817) in Indonesia. In India, CoronaVac costs $14 (P673), the newspaper India Today reported on Tuesday.
In a television interview Jan. 18, Galvez disputed those prices, saying they were "very erroneous" and highly improbable.
The vaccine czar maintained that he could not disclose the price of the CoronaVac vaccine the government had negotiated with the manufacturer because it might compromise the deals the country had made with other vaccine makers.
Assurance
Galvez gave assurance, however, that the Sinovac vaccine would cost less than P700 per dose here.
"The real market price of [the] Sinovac [vaccine] is $26.50. The P3,629 on social media is the price of [the] Sinopharm [vaccine]. That's why we chose [the] Sinovac [vaccine], because it's much cheaper than Sinopharm," Galvez said.
The former general described the $5 price as "very unrealistic," as trade and customs duties cost manufacturers $2.50 to $3 per dose.
The government has said it is procuring 25 million doses of CoronaVac.
Under questioning by Sen. Nancy Binay during the Senate hearing Jan. 15, Galvez said the government had not yet paid for the order and that it was not yet a done deal.
On Monday, Jan. 18, presidential spokesperson Harry Roque said there was no backing out of the deal with Sinovac.
"When there is already a meeting of the mind when it comes to consent, object and consideration, as per our New Civil Code, we already have an obligation," Roque told a news briefing.
He said it was an obligation subject to "suspensive condition," or dependent on something that may or may not happen.
It's as good as a contract, but the purchase is subject to agreed upon conditions, such as FDA approval of the vaccine, he said.
READ FULL ARTICLE HERE: