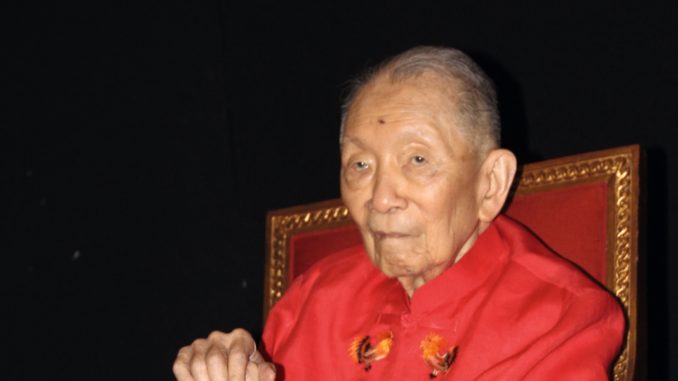 By ROBERTO V. ONGPIN
(Speech during the Washington SyCip's Dinner Reception, Alphaland City Club, July 27, 2017)
I'm very grateful for your presence here tonight, because tonight is the night that I want to express my personal gratitude for my mentor, my friend, and a great guy, Washington SyCip.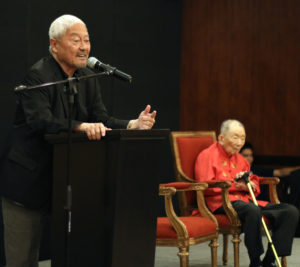 I have quite a few little stories I want to tell you about Wash, about what great man he is. But before that, I need to acknowledge the dignitaries here tonight. You know, I was astonished that we invited about 170 people for this dinner here tonight. A hundred and thirty accepted. I've never seen anything like that before. And that's because of Wash SyCip.
Well, I told him, "Look, 130 people are coming." He said, "What?" Then he said, "that's because I have very few enemies." But I said, "That's because you have many friends and you have many more admirers." But before going any further, I would like to acknowledge to you the people who are here tonight.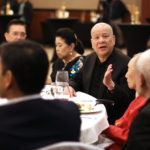 I'm sorry that I cannot acknowledge everybody because if I do, we will spend the entire night here. There are so many of you. So forgive me if I miss some of you. At the head table—where is Ramon Ang? Ramon, come on, you're supposed to be here.
Ramon Ang, my friend, my partner, the unstoppable, irrepressible engine of the San Miguel group. And you know, Ramon doesn't often stay for parties, but tonight he is here for a party because of Wash.
And second, next to Ramon, is my fellow oligarch, Marixi Prieto. Next to Marixi is Titoy Pardo. I think tonight we have at least four Secretaries of Finance here: Titoy Pardo, everybody knows you but can you please stand up anyway. Titoy was Secretary of Trade and Industry. Then he became Secretary of Finance for Erap. Erap was here earlier but I don't know, he disappeared.
Titoy was Erap's fair-haired boy. Titoy is now Chairman of the Stock Exchange and one of the good guys in this country. He's a peacemaker, good guy.
Next is Cesar Virata. Cesar was my first boss at SGV. In 1967, President Marcos conscripted Cesar into government. He was Chairman of the Board of Investments. Then he went on to become Secretary of Finance and subsequently Prime Minister.
He is one of the greatest men that ever worked for Wash SyCip. Next is Helen Yuchengco Dee. Helen, if you don't know, she is the niece of Wash SyCip because her mother is Wash's sister.
And Helen, don't sell the Yuchengco group, keep it.
Next is my dear friend and, I don't quite know how to describe Johnny Ponce Enrile because he's saved my life many times – a very dear friend.
JPE and Virata
Johnny normally, I know, doesn't come to parties, but I'm very happy that Johnny is here tonight. You know, way back in the early days, Johnny was managing partner of Ponce Enrile Siguion Reyna Law Office.
And he and Cesar Virata collaborated on many foreign investments. I was Cesar's assistant and Edong Angara who somehow slipped out (he was here earlier), was Johnny's assistant. So we worked together in quite a few projects, bringing investors into the Philippines. Quite a few of them, some too long to name: United Fruit, Dillingham, American Standard, Dole, Standard Fruit, and many others. Johnny and I were in the Marcos cabinet together. He probably has the most unique role in the history of this country, and I'm so happy that he's here tonight. Thank you, Johnny for being here.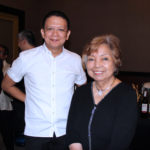 Next is Chiz Escudero, Senator Chiz Escudero, better known as the husband of Heart Evangelista. Next is my favorite mayor of Makati, Abigail Binay. Next is Cesar Purisima. I think there are three people who were ex-SGV managing partners and have pretty much the same career path.
I was the first and then the late Roy Navarro was managing partner, became Trade and Industry, but Roy never became secretary of finance, just Trade and Industry, just like me. Cesar was managing partner, at a very young age. In fact, when I left SGV in 1979, I don't think you were there. 1979? Were you? Alright, when I left, he was not yet there. He went to the firm in '80s.
But Cesar, I think, has done a wonderful job for the economy of this country. I think that the benefits of the economy that we have here today are largely, not solely, but largely because of Cesar's efforts. Now he's a driver for his family because, as you know, if you're in the government, you cannot go to the private sector for at least a one year period.
Next is Senator Frank Drilon, former Senate President. Frank is a very old friend of Wash SyCip. We did a lot of things together. He used to be a partner of SyCip-Salazar and then became a partner of ACCRA. And we did a lot of things together and I'm very pleased and honored that he agreed to accept the invitation and be with us tonight.
Fearless forecast on Sonny Angara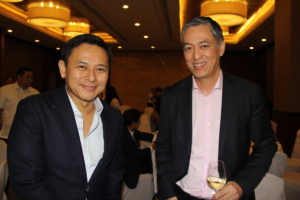 Next is Senator Sonny Angara. Sonny is, because his father is no longer here, I can say this: Sonny will, in my fearless forecast, one day be somewhere where his father never made it to. He's a good guy. Kahit na. Palagay ko hindi mareRecto 'yan.
Sinabi ni Digong mareRecto 'yan but he's doing his job. And he's doing a good job. I would like now to go to, I put a table there, to what I call the diplomatic table. But quite a few diplomats who agreed to attend didn't show up, I don't know why. I asked my friend Babe Romualdez to host that table. Ambassador Babe Romualdez.
Can you take a bow please? Babe is an old friend, and I sincerely believe that he is the most qualified and will do the best job as the Ambassador to the US. I sincerely believe that.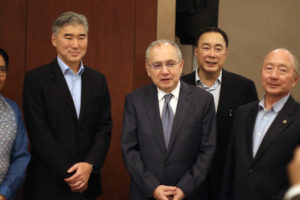 Next is Ambassador Sung Kim, US Ambassador to the Philippines. I had the pleasure of meeting the Ambassador only once but I'm happy he's here. I think next to you was supposed to be Edong Angara but I don't know where he went. He has been appointed Special Envoy to the EU. Next is Ambassador Joey Antonio, special envoy to the US.
And then Ambassador Lilia Bautista. You know once you're Ambassador, you're Ambassador forever. Lilia Bautista was one of my prized possessions at the Ministry of Trade and Industry. She was Secretary of the Board of Investments. She became Governor of the Board, she became Chairman of the Securities and Exchange Commission then she became Ambassador to WTO, in Geneva? Did you become Philippine Ambassador to Switzerland? No? No, but I know you were an Ambassador. So, Lilia is one of the brightest persons you will ever meet. Next to her is I'm sorry you are Mr. Yasigawa? From the Japanese Embassy.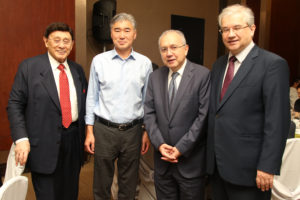 I'm sorry I don't know your name. Then, oh the Russian Ambassador, Igor, I can't remember the last name. I spoke to him in Russian earlier, he's quite surprised why I know Russian. Now, next is Robbie Delgado, Robbie is Honorary Consul from somewhere, I'm not really sure where. But I know that's why he's in the diplomatic table. And next to Robbie is Fortune Ledesma, she is the honorary consul for something, I don't know. Then next is my friend, Ricky Delgado. Ricky is not yet an ambassador but a future ambassador and of course Babe Romualdez.
Okay let me now go to the next table, which is hosted by my daughter, Anna. Anna can you please take a bow?
Lucio Tan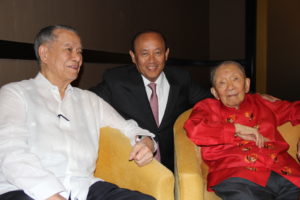 Next to Anna is, Jimmy Bautista. Lucio Tan, though you may not have seen him, but he was here earlier. Lucio doesn't normally come to these parties but he came, because of Wash. Wash continues to be Lucio's main adviser, and I don't think Lucio actually undertakes anything major, unless he's advised by Wash.
And maybe 40-45 years ago he came to me, Lucio Tan. He said "Can you give me a good accountant? You know I need a good accountant," he said. I gave him Jimmy Bautista. Now Jimmy Bautista is President of Philippine Airlines, and he is doing a great job. Jimmy please take a bow.
Next to Jimmy is Nestor Tan. Nestor is also ex-SGV. He's a Philippine CPA and a US CPA and he's the president of BDO Unibank. Tessie Coson was supposed to be here tonight, but I think she's sick. She sent word just before we started, she sent word that she couldn't come.
Ah, next is Secretary Wanda Teo. Wanda Teo is Secretary of Tourism. She likes Balesin, that's why I like her.
Five Finance secretaries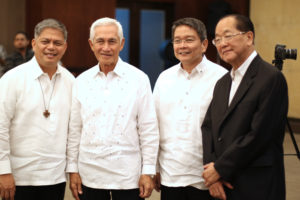 Next is Secretary Gary Teves. You know I think there are, what, four secretaries of Finance here tonight. Cesar Virata, Titoy Pardo, no Gary Teves first and then you, and, no, I thought Johnny was secretary but you're only undersecretary, you're Secretary of Justice. Oh, Mon del Rosario that's right! Is he here? Mon… So that's five here tonight!
And, next to Gary is Brother Armin Luistro. Brother Armin was former Secretary of Education in the last administration and I don't know anybody else in this country who has been to all 86 provinces. Brother Armin has.
I thought there were only 82 provinces, but Bro. Armin told me tonight there were 86. He's been to all of them. He is now head of all the La Salle Colleges, and he's a competitor of his friend, Fr. Jett Villarin, president of Ateneo.
You know I am from Ateneo. So Fr. Jett is an unusual guy, he's a scientist, unusual to become a president of Ateneo as a scientist. But he, I said he will be the next Jesuit Pope. You know Pope Francis is a Jesuit, so I told him you will become the next Jesuit pope and he said, "No way!"
Jose Sio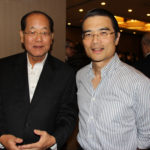 Next to him is Joe Sio. Joe, was a partner of SGV and one day, Henry Sy, Tatang, brought him to Wash, because he wanted to ask for permission, he was a partner, at one of our brand partners, and Wash said, "no we need you at SGV". And he came to me and said "Wash has vetoed". I said, "Joe, you go, I'll talk to Wash."
He got mad at me! But now Joe is Chairman of the SM Group of Companies, the entire group. Joe Sio, is Chairman. Joe. He is one of the SGV alumni that we are most proud of.
Next is Congressman Luis Campos, the boss of Mayor Abigail Binay. Who's next? Next is Monchu Aboitiz, the head of the Aboitiz group of companies.
Lorenzo Tan
Next is Lorenzo Tan, Lorenzo is the brother of Nestor. And Lorenzo is also ex-SGV, believe it or not. He is also ex-SGV.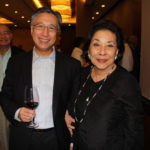 Both of them, they're both CPAs, they're both American and Philippine CPAs. And Lorenzo is on my board of advisers at Alphaland, and I'm very proud of that.
You know there are, if I went on to introduce all of you dignitaries here tonight, I mean, we'd spend all night. So I'm just going to call on a few guys who are, I think, exceptional that needs to be known by everybody.
First is Ramon Monzon, Mon, are you here? Are you still here? Mon is the son of Turing Monzon, who was my partner at SGV, who was head of the tax division and, well, he died in an unfortunate plane crash. Mon joined SGV, became partner of SGV. He is now president of the Philippine Stock Exchange.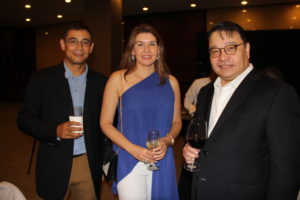 One of the guys that we, at SGV or ex-SGV, are very proud of because of what they have achieved. I also want to introduce to you some of the ex-SGV guys, who are now competitors of SGV. Manny Reyes, are you here?
Manny? Manny Reyes is the chairman of Reyes Tacandong and giving SGV a run for their money, but you know I'm no longer in that business so that's fine.
Bert Manabat..Bert…Where's Bert? Bert Manabat is Chairman of KPMG. And I'm not sure if number two, number three, or number five, I don't keep track anymore, but I know that SGV is still number one.
And then, Ben Punongbayan, where's Ben? Ben Punongbayan is uh, are you still active in Punongbayan & Araullo? Currently.
But, Ben, he is one of our former partners in SGV, who have done well, and actually done so well, that they have established their own firms and now giving a run for their money.
I'll now introduce to you Itos Cruz, Carlitos Cruz, the new Managing Partner of SGV. Itos Cruz, I think he took over July 1? July 1, and he is the Managing Partner of SGV.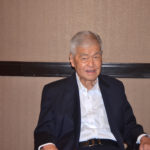 Is Cesar Zalamea still here? Cesar. Cesar is a very old friend of Wash and myself. Cesar was the head of PhilAm Life then, he went to AIG in Hong Kong and he is now unfortunately in a wheelchair, but he still enjoys his wines and, he wants some really good wines so I invite him for lunch occasionally. He likes his wine.
I also have my friends from the media who are here. Well of course Ambassador Romualdez is ex-media, still media but now he's ambassador. Tony Lopez, are you here? Tony Lopez.
My friend, Emil Jurado, Is Emil here? I saw him earlier. Ayun.
Is Dax Lucas here? He was supposed to be here, Dax Lucas. Where is he? Marixi, Ramon, Dax Lucas is not here. I predict he'll be the next Editor of the Philippine Daily Inquirer. Anyway, I'm really sorry. You know, there are so many dignitaries in this place, it's just impossible. We'll spend the whole night. We're past the time already, and Wash hasn't even spoken.
I just want to give you a few vignettes, a few glimpses of the 15 years that I spent with Wash: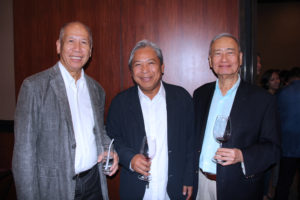 Wash hired me when I was 26 years old, and he tells this story which I think is not true and we have a disagreement about it.
He says that when he first interviewed me, I asked him, "How old are you?" And he said, "Why?"
"Because I want to know how long before it is I can take over from you". You know, that's just not true, but he just thinks it's true. And you know, I was a young guy, I was in great awe of him.
In fact, I was very nervous when he first interviewed me. But, he believes that I said that thing, so we just agreed to disagree about that particular fact.
Who would, as 26-year old, he was a great guy, like a God to me, and I would ask him "How old are you?", "How long before I could take the firm, take over the firm?" I just don't do that, but as he claims I said that.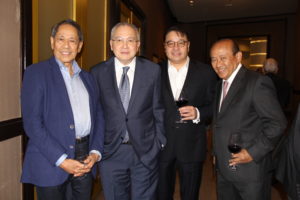 I'll tell you a story. In June last month I believe, when I had lunch with Wash, when he finally agreed that I could host this dinner to show him my gratitude, because probably more than anyone, Wash was responsible for giving me my first big break, and was very instrumental in my career. I said, "Wash, I would like to have a dinner party for you." It was before his birthday, a few days before, but I was on my way to Europe and so I said "Wash, can I host a dinner for you?" and he said, "You know, I'm 96 years old, it's not such a significant day, why don't we wait until I'm a hundred years old?"
So, you know, he's very hardheaded, hard to convince him, so I said, "You know Wash, I'm sure, you're going to live up to a hundred, four years from now. I'm not sure I'm going to last another four years, so can you please allow me to host this dinner?" And he finally agreed, and that's why we're here, all here tonight.
I do want to thank about a few other things, you know the 15 years I spent with Wash. I joined the firm late 1964, and I left when I was conscripted into the government in 1979, so I was with Wash for 15 years.
During those years, I learned quite a few things, and what I am today is because of what Wash and SGV taught me.
Wash had a very strong belief in meritocracy, and anybody, no matter what his background is. If you deserve it, should merit the job, you'll get it.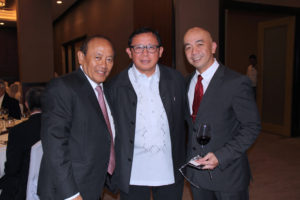 I was appointed managing partner, in 1970s in my early 30s, and it's great that it changed my life. (Hey Ramon Ang where are you going? Are you sneaking out? Uhm, we're running overtime, I'm sorry)
I need to cut this short, I just want to say that SGV developed, has always had a culture of meritocracy. You have to work hard, you got to serve, and you will get what you deserve. And so, up to today, I think it's a badge of honor to have worked for SGV. I think many of the CEOs and many CFOs now of most of our largest companies have worked for SGV and are proud of the fact that they worked for SGV. Our former Central Bank governor, Say Tetangco worked for SGV, and so many people here worked for SGV.
I always thought that Wash SyCip was named after George Washington. Then shortly after I was with the firm, I think it was at a dinner or something, somebody asked him, "Why is your name Washington?" He said, "My name is Washington, because my father was in Washington DC when I was born." So, what if his father had been in Buffalo or Peoria, Illinois, or Des Moines, you'd be called Buffalo SyCip!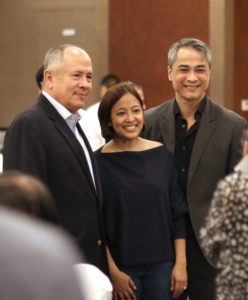 The years I spent at SGV were very difficult. I was at my young 30s as a Managing Partner, and most of my partners were in their 50s, 60s.
And it was not easy, but you know, Fred Velayo was the original partner of Wash and they would always say "We're the largest firm, accounting firm, west of the Mississippi" because most of the big accounting firms have headquarters in Chicago and New York but Westbrook we read them.
First truly multinational
At that time, as I remember the numbers, because we were the SGV group, we were the first true multinational company, because Wash started the T. N. Soong in Taiwan.
We were in Korea, Taiwan, Hong Kong, Bangkok, Kuala Lumpur, Singapore, and Jakarta. And I remember because I would spend half the month travelling, and it was hard. I would spend two days in every country, and spend half of the month in Manila. But we became a really powerful multinational.
Middle East opening
Just before I was conscripted in the government, I convinced Wash that we should go into the Middle East. And actually I spent one of the much time in the Middle East.
I opened an office in Kuwait, in Bahrain, in Dhahran, Saudi Arabia, in Dubai, and Abu Dhabi in the Emirates. And then I was conscripted in the government and you know, that was the end of that.
You know, SGV represented 7 of the big at that time 8 accounting firms, worldwide. The only one that we did not have was Price Waterhouse. Price Waterhouse was with Cunanan. Wash was very keen, and actually so was I, with Arthur Andersen.
Andersen story
Arthur Andersen had the culture which was most resembled SGV and in fact, I went to St. Charles, their training center, very impressive, and the Managing Partner was a fellow Harvey Kapnick who was very very aggressive, and I spent a lot of time with them and he was always trying to convince me to join up but I told Wash, why should we join up with anyone with these big 8. Why should we marry one of them when we can sleep with all 7 of them?
Anyway, after I left the firm I was in London and Wash said, "Are you going to return to SGV" "I don't think so" and he said, "Do you mind if I team up with Arthur Andersen" and I said, "No, I don't mind, I'm not going back to the firm."
But I really always admired Arthur Andersen. Unfortunately it became a victim of the Enron disaster. And Arthur Anderson disappeared.
One of the few things that he always encouraged me was to find the good guys. He would push me to go to the US twice a year to interview and look and interview the best guys from the best business schools.
Quite a few of them are here with us. Guilly, are you here? Guilly Luchangco, are you still here? Guilly was one of my recruits from Harvard, and Guilly is now running his own firm very successfully.
Well, I really think I should shut up and give the mike to Wash and would like you to just understand how I admire this man. He is not only a great man, he is a good man, and indeed a man for all seasons.