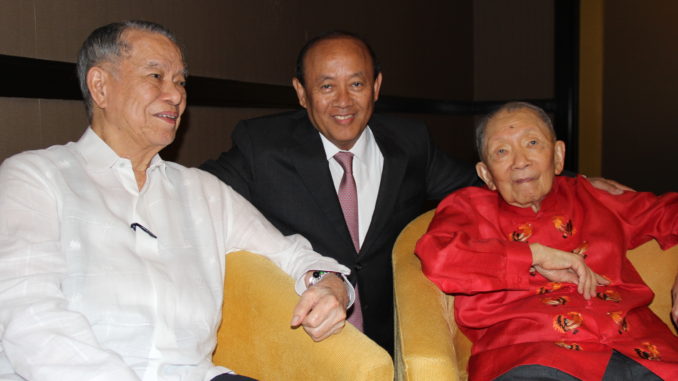 by Tony Lopez
My friend Washington SyCip, died in his sleep as he was about to land on a Philippine Airlines flight in Vancouver, Canada, Oct. 8, 2017. He was 96.
Mr. Wash was an American by force of circumstances (he was with the US Army in Manila to decipher secret Japanese codes during the war, using his talent with numbers) and by name (he was named after Washington DC where his father was defending a case) but a Manila-born Filipino in heart and soul,
As the youngest business editor of a daily in the 1970s, I had the opportunity to interact with Mr. Wash. He encouraged me and was generous with praise. He also liked my weekly BizNewsAsia and ordered copies when something was written about him.
When he turned 90 in 2011, I wrote that Mr. Wash was the Philippines' foremost management guru—founder of SGV & Co., the largest accounting and professional services firm west of the Mississippi. He also helped establish the Asian Institute of Management, the Philippine Business for Social Progress and the Management Association of the Philippines. He was the symbol of wisdom, strength and durability—qualities of successful enterprises.
He was on the boards of many international and local corporations, but devoted more time in reducing poverty in his later years.
He believed that democracy cannot work in an impoverished nation. Thus, he urged government to reduce food prices.
His strategy toward reducing poverty was by increasing access to education, promoting entrepreneurship through microfinance, and improving health care.
Addressing a dinner party on his 90th birthday, Wash expressed hope that "in the remaining years of this bookkeeper, we can still work together in the quest for a time when the water in every Philippine community can be drunk. Only then can our people really know the meaning of democracy."
Wash was the most respected bookkeeper and business guru. He founded the Philippines' first truly multinational, SGV, once the largest professional services firm.
He believed in Narayana Murthy of Infosys Technologies, that the future of the corporation lies in its value culture which includes fairness honesty, decency, transparency, accountability, happiness, humility, charity,and Wash's personal favorite—integrity.
Last July 27, 2017, SGV's youngest and long-time chairman, Roberto V. Ongpin tendered a dinner in Wash's honor. It was attended by at least five former secretaries of finance—all of them ex-SGV.
RVO related "a few vignettes, a few glimpses of the 15 years [he] spent with Wash. Here is Bobby:
Wash hired me when I was 26 years old, and he tells this story which I think is not true and we have a disagreement about it.
He says that when he first interviewed me, I asked him, "How old are you?" And he said, "Why?"
"Because I want to know how long before it is I can take over from you." You know, that's just not true, but he just thinks it's true. And you know, I was a young guy, I was in great awe of him.
I was a 26-year-old, he was a great guy and like a God to me, and I would ask him "How old are you?," "How long before I could take the firm, take over the firm?" I just don't do that. But he claims I said that.
I joined the firm late 1964, and I left when I was conscripted into the government in 1979, so I was with Wash for 15 years.
What I am today is because of what Wash and SGV taught me.
Wash had a very strong belief in meritocracy. Anybody, no matter what his background is, If you deserve it, merit the job, you'll get it.
I was appointed managing partner, in 1970s in my early 30s, and it's great that it changed my life.
I just want to say that SGV developed, has always had a culture of meritocracy.
You have to work hard, you got to serve, and you will get what you deserve.
And so, up to today, it's a badge of honor to have worked for SGV. I think many of the CEOs and many CFOs now of most of our largest companies have worked for SGV and are proud of the fact that they worked for SGV. Our former Central Bank governor, Say Tetangco worked for SGV, and so many people here worked for SGV.
I always thought that Wash SyCip was named after George Washington. Then shortly after I was with the firm, somebody asked him, "Why is your name Washington?"
He said, "My name is Washington, because my father was in Washington DC when I was born." So, if his father had been in Buffalo or Peoria, Illinois, or Des Moines, you'd be called Buffalo SyCip!
The years I spent at SGV were very difficult. I was at my young 30s as a Managing Partner, and most of my partners were in their 50s, 60s.
And it was not easy. Fred Velayo was the original partner of Wash and they would always say "We're the largest firm, accounting firm, west of the Mississippi". Because most of the big accounting firms have headquarters in Chicago and New York.
At that time, I remember the numbers, because we were the SGV group, we were the first true multinational company, because Wash started the T. N. Soong in Taiwan.
We were in Korea, Taiwan, Hong Kong, Bangkok, Kuala Lumpur, Singapore, and Jakarta. And I remember because I would spend half the month travelling, and it was hard.
I would spend two days in every country, and spend half of the month in Manila. But we became a really powerful multinational.
Just before I was conscripted in the government, I convinced Wash that we should go into the Middle East. And actually I spent one of the much time in the Middle East.
I opened an office in Kuwait, in Bahrain, in Dhahran, Saudi Arabia, in Dubai, and Abu Dhabi in the Emirates. And then I was conscripted in the government and you know, that was the end of that.
SGV represented seven of the Big Eight at that time accounting firms, worldwide. The only one that we did not have was Price Waterhouse. Price Waterhouse was with Cunanan. Wash was very keen, and actually so was I, with Arthur Andersen.
Arthur Andersen had the culture which was most resembled SGV and in fact, I went to St. Charles, their training center, very impressive, and the managing partner was a fellow, Harvey Kapnick who was very very aggressive, and I spent a lot of time with them and he was always trying to convince me to join up but I told Wash, why should we join up with anyone of these Big Eight. Why should we marry one of them when we can sleep with all seven of them?
Anyway, after I left the firm I was in London and Wash said, "Are you going to return to SGV" "I don't think so" and he said, "Do you mind if I team up with Arthur Andersen" and I said, "No, I don't mind. I'm not going back to the firm."
But I really always admired Arthur Andersen. Unfortunately it became a victim of the Enron disaster. And Arthur Anderson disappeared.
One of the few things that Wash always encouraged me (to do) was to find the good guys. He would push me to go to the US twice a year to interview the best guys from the best business schools.
He (was) not only a great man, he (was) a good man, and indeed a man for all seasons.
Bobby Ongpin says Wash became a Filipino citizen when the government allowed dual citizenship. – Antonio Lopez