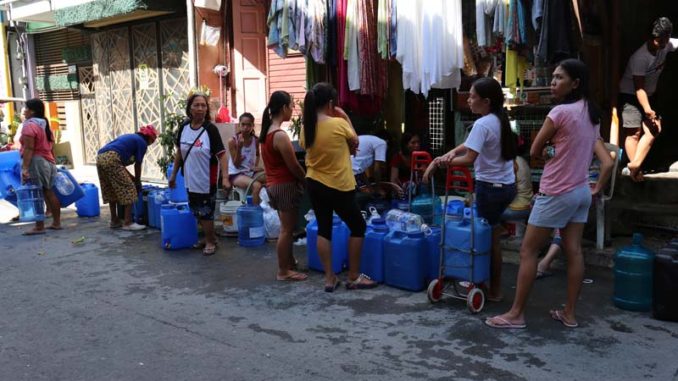 The worst water shortage to hit Metro Manila in 500 years began on March 6, 2019 when the water level at the La Mesa Dam in leafy Quezon City hit the critical level of 69 meters (it was 68.62m on March 18, 2019). 
At that level, the Ayala-owned Manila Water, the concessionaire for the East Zone or the towns and cities east of EDSA, could no longer draw water from La Mesa, at the rate of 150 million liters per day (MLD).  That meant water supply for the East Zone would be short by 150 MLD.  It could supply only 1,600 MLD, the volume it was getting daily from Angat Dam which has plenty of water. 
Initially, Manila Water blamed El Niño weather phenomenon for the drop in water level at La Mesa.  It was a lie. Angat Dam, which should also be affected by El Niño, is brimming with water.  Water demand in the East Zone is 1,750 MLD. Manila Water gets 1,600 MLD from Angat and 150 MLD from La Mesa.  But then La Mesa seems to be drying up, probably from too much extraction.
Manila Water has been rationing water to the East Zone for two weeks since March 6.  The rationing meant no water for thousands of households, from six hours to 20 hours.  In some places like Mandaluyong and Pasig, households did not have a drop of water for several days, from four days to eight days.  Affected people: at least 1.2 million.  The severe rationing will last most of summer (June 21, 2019-Sept. 23, 2019).
Tropical humans die without water for three days. You can live without food for three weeks, and probably forever, without electricity, money, and politicians. But not water. It is 60% of your body. There is no substitute for drinking water.
So you could imagine what happened to humans during those days, since March 6, when Manila Water could not render what it is bound to do, under its concession agreement with the government since 1997—water pressure of 20 pounds per square inch (psi), 24/7.
So what is causing the water shortage in East Zone?
"The Heavens (or El Niño) cannot be blamed for it," asserts Marikina Rep. Bayani Fernando, an engineer and himself a former chair of the Manila Waterworks and Sewerage System (MWSS) in concurrent capacity as former secretary of public works.
Fernando thinks the problem is technical and Manila Water is to blame. "The company does not have pressure regulated valves that can regulate the flow of water from its pipes, say from La Mesa to Marikina, La Mesa to Pasig, La Mesa to Quezon City and so forth," he explains.
Such pressure-regulated valves are installed in LPG tanks with which one can regulate the flow of gas. Fernando uses a radio metaphor. Manila Water only has an on and off button but not a button to control the sound volume.
Such lack is crucial. Fernando says that with pressure valves, Manila Water could have reduced water psi from 20 to 17 or even 16. "Every one-point drop in psi is equivalent to 3% cut in water consumption; so a drop of three points (from 20 to 17) is 9%—exactly the amount of water shortage," the Marikina solon says. At 16 psi, water can flow only up to the second floor, but not to the third floor "but everybody will still have water."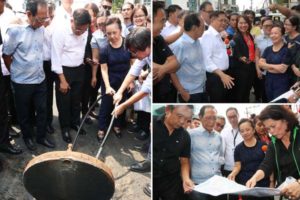 The issue then becomes one of incompetence and or mismanagement. As early as August 2018, Manila Water foresaw a water shortage, by 2020, at the earliest.
But the company was delayed in constructing the Cardona reverse osmosis water treatment plant which would have produced 100 MLD of treated water coming from Laguna Lake (whose water is very difficult to clean).
Manila Water began charging its subscribers for the Cardona plant in May 2016 even though it became operational, and only partially at that (at 24 MLD capacity) only in December 2018. Consumers were charged for a service that was not being delivered. "It's highway robbery!" exclaimed Sen. Panfilo Lacson at the Senate hearing on water Tuesday. He demanded that Manila Water refund the money.
Manila Water also wanted to revive 1,000 ancient wells to produce 100 MLD and secure 50 MLD of cross border water from Maynilad—a total of 150 MLD. Those efforts have yet to deliver water.
At the House hearing on Monday (March 18), congressmen took turns demanding that Manila Water refund consumers for undelivered water. The MW contract is for water, at 20 psi, 24/7. In many places, no such water was available.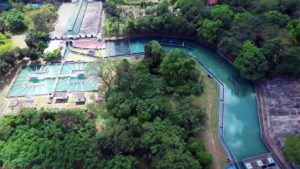 Manila Water makes about P400 million a month in profits. The crisis has lasted for two weeks. So at least P200 million must be refunded consumers. This is just for undelivered water.
What about for man hours lost while queuing up for non-existent water, for not coming to work for failure to take a bath, and for businesses shut down for lack of water? Or the precious money spent on overpriced pails and plastic drums (their prices rose 50%)? Or treatment like dialysis for patients for whom such service is a matter of life and death?
There is supposed to be a Kaliwa Dam to deliver 500 MLD, after five years. But the Chinese and the Japanese are still fighting over it and the government cannot make up its mind.
To his credit, Manila Water president Ferdinand dela Cruz, a veteran marketing man, apologized for the "supply deficit". He offered to resign but his priority, he said, is solve the water deficit.
He may never resign. Over the next five years, according to World Bank studies, the water shortage is not only in Metro Manila, but nationwide – unless $838 million (P43.5 billion) is invested annually in water supply. So far, nobody knows, where and how to get the money.
Why? There are too many water bodies or agencies with no single agency in charge of anything integrated. So when crisis comes, nobody is to blame.
—  Tony Lopez
"Forgive me. I hold myself fully accountable."
(Manila Water opening statement for congressional hearing before the committee  on Metro Manila development, March 18, 2019)
Speaker Gloria Macapagal-Arroyo, Chairman Winston Castelo, honorable Committee members, ladies and gentlemen of the House of Representatives, magandang umaga po.
Nagpapasalamat po ako sa ating Speaker Gloria Macapagal-Arroyo, Committee Chair Winston Castelo at members of the House of Representatives para sa pagkakataong ibinigay ninyo sa akin upang linawin ang mga pangyayari simula noong March 6, 2019, bakit may Supply Deficit, ano ang mga solusyon at kailan maibabalik sa normal ang serbisyo sa nasasakupan ng Manila Water.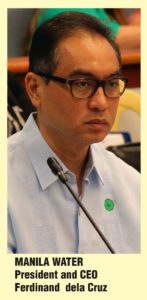 Your honor, sa pamamagitan at tulong po ninyo, ay ipinararating ko bilang Pangulo ng Manila Water, ang paghingi ng kapatawaran sa inyong mga constituents who are also our customers sa aming concession area.
Your honor, sa pamamagitan at tulong po ninyo, ay ipinararating ko sa inyong constituents bilang Pinuno ng Manila Water… I am holding myself fully accountable for the sudden drop in our service levels to your constituents whom we have consistently served over the past 21 years with 24/7 water availability and sufficient water pressure. March 6, 2019 is a date I will not forget as President of Manila Water.
Alam ko po ang hirap na dinaranas ng inyong constituents, may kaya man or mahirap, lalo na po sa mga residente ng Barangay Highway Hills at Barangay Barangka ng Mandaluyong.
Noon pong nagsimulang serbisyuhan ng Manila Water ang publiko, ipinangako po namin na hindi na po kayo magpipila-balde at maghihintay ng nag-rarasyon ng tubig. Ngunit noong nakaraang linggo, binigo ko po kayo.
Naikwento sa akin ni Mary Elizabeth ng Sitio Sunog Baga ng Barangay Sauyo kung paano siya napuyat ng ilang araw sa paghihintay ng patak ng tubig. Namasahe sa tricycle at nag-igib si Lola Daisy ng Samonte, isang mataas ng lugar sa Quezon City, para lang may magamit sa bahay.
Nauunawaan ko po ang galit ng inyong constituents sa amin at sa aming paglalathala ng mga anunsyo ng water service interruption na hindi tumutugma sa aktwal nilang karanasan, lalo na po sa mga matataas na lugar at bandang dulo ng barangay.
Your honor, with your permission, this is what happened last March 6, 2019…
On March 6, the La Mesa Reserve breached the critical level of 69 meters which prevented us from getting 150 million liters per day from the La Mesa Reserve as the level of water went below the lowest opening it could flow into to reach our water treatment plants in Balara. This additional 150 million liters per day is important to augment the 1600 million liters per day contractual allocation we get from the Angat system. Without this additional 150 million liters per day of untreated water from the La Mesa Reserve, we cannot fully serve the peak demand, at sufficient pressure, of your constituents. To visualize the scale of 150 million liters per day, it is equivalent to 15,000 tankers making one trip a day carrying 10 cubic meters. We cannot source any more supply from our system losses which has already been brought down to 12% from a high of 63% when we inherited the East Zone concession of Metro Manila in 1997.
Your honor, on March 6, nawala po ang 150 million liters per day na dati naming inaasahan at nagkaroon kami ng 9% Supply Deficit.
Mayroon po kaming mga contingency plans to plug this Supply Deficit at mayroon din po kaming contingency plan when the La Mesa Critical Level of 69 meters has been breached.
We had programmed plans to reduce the dependence on the La Mesa Reserve like taking water from the Laguna Lake through our Cardona Water Treatment Plant Project, re-activation of decommissioned deepwells and developing new deepwell sources but we were met with technical issues and implementation delays.
We had also planned operational adjustments in case we cannot withdraw anymore from the La Mesa Reserve. With a Supply Deficit of about 150 million liters per day, the main idea was to spread this now more limited supply to the same customer base by reducing the pressure in the system. This was implemented as the level of La Mesa came close to the critical level of 69 meters.
Your honor, eto po ang nangyari ng ipatupad namin ang aming Supply Deficit Contingency…
When the initial service advisories were issued and with the high awareness on the declining La Mesa Reserve water level due to published warnings, your constituents in both initially affected and not yet affected areas began storing water to prepare for the anticipated service degradation. This unpredictable demand profile upset the planned refilling schedules of our 28 network reservoirs and stressed our 20 pumping stations. This snowball made it extremely difficult to be accurate in our subsequent service advisories. To arrest this snowball, we had to take control immediately.
Last March 14, we implemented a more widespread water interruption plan to allow our network reservoirs to refill properly and our pumping stations to stabilize. The results I have seen on the ground beginning March 15 and through this most recent weekend have been encouraging.
Mary Elizabeth of Sitio Sunog Baga felt some relief when we met last Saturday as there is some water flowing in her home for more hours than the past week even if the pressure is still weak. Nakapaglaba na po si Mary Elizabeth. Based on our estimates, more than 80% of our service coverage has experienced better water availability even if it is still at low pressure. Managing the pressure to stay only at the ground floor will allow us to serve more of your constituents. Hard hit Mandaluyong has reported significant improvements in service experience compared to their difficult first week.
Ngunit kailangan pa rin po naming tulungan si Lola Daisy na umaasa pa rin sa aming water tankering dahil nasa mataas na lugar ang kanyang pamilya.
Your honor, we have set two urgent goals to improve the situation of your constituents while we are on a Supply Deficit Situation..
1. Further increase water availability for 8 to 12 hours at the ground floor level to 99% of our service coverage by end of March.
2. Provide more sustainable relief to no water areas beyond tankering by developing localized network solutions to bring water to high or hard to reach areas. Nais po naming maiwasan ang pila-balde hangga't maari. Sinimulan na po namin ito sa Barangay Hulo sa Mandaluyong na isang linggong walang tubig at umaasa lamang sa schedule ng aming water tankering.
Your honor, through you, we seek your constituents' understanding as we continue the discipline of properly refilling our 28 network reservoirs and reliably operating our 20 pump stations. Service interruptions are still necessary to achieve these and our water availability goals.
Last March 14, our Cardona Water Treatment Plant which draws water from Laguna Lake started delivering 24 million liters per day of treated water to the towns of Binangonan, Angono, Baras and Jala Jala. We are working to get our deepwells up which will progressively deliver up to 40 million liters within April, rising to 50 million liters per day in June.
A second Critical Level Plan we are refining given the lessons of the past week is when La Mesa breaches the 65 meter level which will shut down our Rodriguez Water Treatment Plant affecting residents in Rodriguez and San Mateo. Currently, this Plant produces 80 to 100 million liters per day.
Throughout this water shortage situation, we have been updating and working closely with MWSS led by its Chairman, Judge Franklin Demonteverde, Vice Chairman and MWSS Administrator Gen. Reynaldo Velasco and MWSS Chief Regulator Atty. Patrick Ty. Through the actions of Gen. Velasco, he was able to get immediate support from the two other concessionaires under MWSS.
Maynilad has committed to provide 50 million liters per day of cross border flows . 2 million liters per day will be delivered tomorrow, rising to 32 million liters by April 10 and ultimately, 50 million liters per day by June 14.
San Miguel has offered its excess capacity of 140 million liters per day in their Bulacan Water treatment Plant to MWSS for tankering. Manila Water will provide the locations where the new tankers will be dispatched to.
Madam Speaker, your honor, we would like to inform you that we express our deep gratitude to President Rodrigo Roa Duterte for his clear instructions to give top priority for the use of water coming from Angat this summer to serve the needs of your constituents.
Your honor, gusto ko po kayong pasalamatan kasama ang napakaraming nagmamalasakit at dumadamay sa inyong constituents habang ang ating concession ay nasa Supply Deficit situation. Nagpapasalamat din po ako sa mga Cabinet Secretaries, National Agency Heads, Senators, Governors and Mayors, Councilors, Barangay leaders, our Kasanggas and volunteers sa mabilis at walang humpay na pag-ayuda sa inyong mga constituents.
Your honor, bagama't mababawasan ang Supply Deficit sa mga susunod na linggo at buwan, may kakulangan pa rin po sa buong summer at dahil dito, manunumbalik lamang ang dating normal naming serbisyo sa katapusan ng summer.
Hindi po matutulog ang Manila Water. All our employees are doing our best under this limited supply situation.
Madam Speaker, Honorable Chairman, sana na po ay nakapagbigay linaw po ako tungkol sa epekto ng aming Supply Deficit sa inyong mga constituents at ang aming mga programa para mas ayusin ang aming serbisyo hanggang mabura ang aming Supply Deficit.
Madam Speaker, Honorable Chairman, your honor, sa pamamagitan at tulong po ninyo, humihingi po uli ako ng tawad sa inyong constituents dahil sa malaking ibinaba ng antas ng aming serbisyo.
Maraming salamat po at magandang umaga po sa inyong lahat.