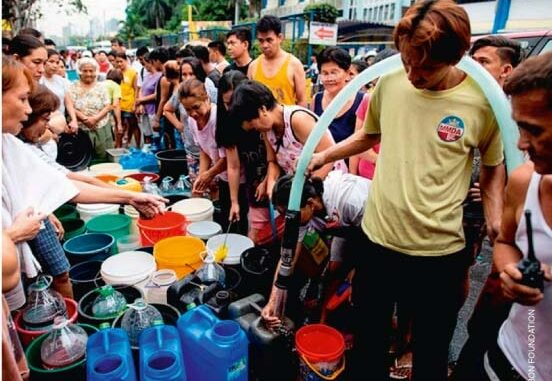 On Monday night, Dec. 2, President Duterte lighted up the palace Christmas Tree. "I hope you will sincerely feel the warmth, abundance and happiness that this blessed season brings," he told the Malacañang people gathered around him. The Christmas tree is probably the tallest and brightest ever erected on the palace's historic grounds. It surely makes Malacañang the shinning beacon of hope and happiness to us all in this merriest of seasons.
Tuesday (Dec. 3) evening, however, at Rizal Hall, in the presence of his cabinet, Senate President Tito Sotto, and a handful of senators and congressmen, Duterte was no longer in Christmas mood.
Sleepless and sullen, he lashed out at three of the country's most venerable oligarchs – the Ayala family headed by Jaime Augusto Zobel de Ayala, Manuel V. Pangilinan of the PLDT and Salim group of Indonesia, and the Lopez family of ABS-CBN.
"I am sad at the recent turn of events," Duterte confided. On Friday Nov. 29, listed Manila Water told the stock exchange it had won a Singapore arbitral award. It is to be paid by the Philippine government P7.39 billion for losses incurred from June 1, 2015 to Nov. 22, 2019 and for refund of other claimed costs. In 2015, Manila Water sued the national government for refund for the alleged losses. The case did not originate under Duterte.
Under a deal offered by the then President Fidel V. Ramos in 1997, Manila Water (of Ayala), won the franchise to distribute water to the East Zone of the state-owned MWSS's water distribution territory, and Maynilad Water (of Pangilinan), for the West Zone. East Zone are homes and businesses along EDSA, from Quezon City to Alabang; West Zone are homes and businesses along Manila Bay, from Valenzuela to Las Piñas and Muntinlupa.
The deal was great: Any losses incurred by the concessionaires, the government would refund, provided the two companies meet certain water supply guarantees, plus sewerage service. Manila and Maynilad provided the water but failed to provide the sewage service but charged for it just the same. As it happened, Manila and Maynilad collected more money than their owners invested in the water distribution business. Of course, they made money. That is what business is all about.
Comes now Duterte warning, "not so fast, gentlemen." "We are being milked by the billions…I'm really adamant about the Filipino being screwed. Kawawa tao," he exclaimed.
It seems the P7.39 billion arbitral bill came at the wrong time. "I want to revive Masagana 99 (Marcos's successful rice surplus program), (but) I have no money. People have nothing to eat. Now comes this (bill)," he related in Pilipino.
What to do then? Well, Duterte asked his justice secretary, Menardo Guevarra, No. 2 in the 1985 bar and an economist, and his solicitor general, Jose Calida (he scored 100 in Criminal Law in the bar). Both are veteran government officials.
Being legal advisers with gravitas and ordered by a fuming boss, of course, they found loopholes in the concession agreements of Manila and Maynilad Water.
So now, Duterte wants to prosecute the owners of Manila and Maynilad Water for economic sabotage. The President vowed to padlock them in jail, with Presidential Legal Counsel Sal Panelo adding, "with free board and lodging".
Not only that, Duterte also vowed that if he sees Ayala (he did not specify who) at the lobby of Makati Shangri-La, he will slap him, "no matter how many bodyguards he has". "Patikim ko sa inyo. Pakita ko sa Pilipino paano mag-sampal ng mga milyonaryo, bilyonaryo," he said.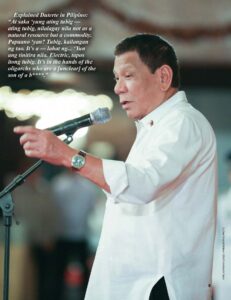 Explained Duterte in Pilipino: "At saka 'yung ating tubig — ating tubig, nilalagay nila not as a natural resource but a commodity. Papaano 'yan? Tubig, kailangan ng tao. It's a — lahat ng… 'Yun ang tinitira nila. Electric, tapos itong tubig. It's in the hands of the oligarch who are a [unclear] of the son of a b****."
At this point, he remembers the Lopezes. "Ang ABS-CBN, 'yung bunganga ng inyong interest. They protect you. ABS- CBN has been a protector of your vested interest na kayo ngayon mag-renew kayo ng contract." He vowed to stop ABS-CBN renewing its franchise which ends on March 30, 2020.
Villar to take over?
The President remembers, happily, Manny Villar. "Villar started his housing at the sweat of his brow. Tumanda si Villar diyan sa trabaho na 'yan, including Mrs. Villar the senator. Hirap 'yang kanila."
Interestingly, Manny Villar lately has gone into the water business. Will he get the Manila and Maynilad water concessions if things deteriorate?
Manila Water is owned 51% by Ayala; 16% by the public, including its employees. Maynilad, taken over by Manny Pangilinan from the Lopez family in 2007, is 64% owned Metro Pacific Group-DMCI, and 20% by Marubeni.
At this point, Manila and Maynilad Water have four options:
One, return the water concessions; it's too much hassle, for often, very little money.
Two, go to court, file an injunction against the government (one caveat: the justices and judges are scared of Duterte and so it will probably cost a hefty sum to convince them to look the other way).
Three, enter into a compromise, meet the government halfway. The brothers Jaime Augusto Zobel de Ayala and Fernando met with Finance Secretary Sonny Dominguez met Wednesday, Dec. 4, "to find a mutually acceptable way to handle the arbitral decision."
Four, fight it out, wait out Duterte's three remaining years. In the meantime, water service in East and West of Metro Manila deteriorates because of the uncertainty.
Meanwhile, at 186, Ayala is the country's oldest commercial house. They are the original foreign and local investors. Ayala has been in worse times, having endured two revolutions (1896 and 1986), two World Wars, eleven coup attempts, and 17 Philippine presidents so far. It helped financed the two revolutions while playing both sides.
Though they look Caucasians, the Ayala-Zobels are genuine Filipinos at heart. They love the country. One has to truly love the Philippines to endure so much adversity—and triumphs, of course—in 186 years, more than six generations. — Tony Lopez