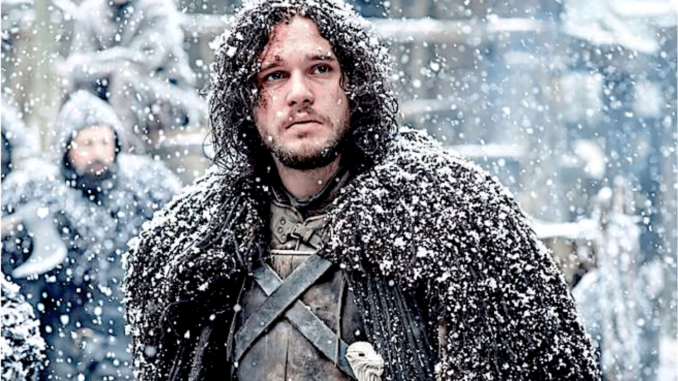 It's the pain of every empire—who will succeed to the throne?
On 2011, HBO's Game of Thrones debuted to 2.22 million viewers. Its cult-like following has climbed steadily over the last seven years. Its season finale this July topped 12 million viewers.
GOT is produced like mini-movies: panoramic locations, impressive sets, realistic effects, elaborate costumes, and a seasoned cast. There are many colorful characters, which varies from fiendish, cunning, earnest, virtuous, loyal, simple-minded, and scornful. Once you start to care about a character, he dies. So far, 1,200 characters have been killed and you never know who's next. While the dialogue is simple and funny, the battle scenes are chaotic and satisfyingly gory. And, yes, there are dragons, sword fights, and zombies.
At the core of GOT's success is the writing. Adapted from the books of American science fiction and fantasy short story writer George R. R. Martin, the plot centers on the fight among nine noble families to ascend the Iron Throne and rule the Seven Kingdoms. It's straightforward and spectacular.
GOT has won the most Emmy Awards for HBO as a fiction show. Fans await the final and eighth season due in 2019. GOT is rumored to have a budget of $15 million per episode, or a total of $90 million for six episodes.
HBO (Home Box Office) is owned by Time Warner, which was acquired for $85.4 billion by AT&T this year. AT&T will infuse HBO with a bigger budget so it can produce another GOT-level hit that can run for many seasons.
HBO used to be the reigning Pay TV premium channel known for its original quality content. It was the first channel where actors could curse, discuss taboo subjects, and show nudity. Its originality allowed it to charge a separate fee from regular cable fees. HBO was a main draw for cable subscribers for its outrageous content and quality original series like Sex and the City, The Sopranos, and First Blood.
For 16 years, HBO reigned the Emmy Awards for primetime TV. No one came close to its bold programming, and Game of Thrones crowned its glory.
The House of HBO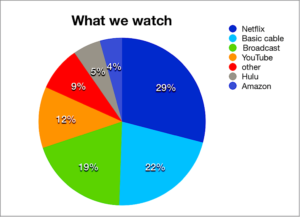 With the influx of online and TV choices, global consumers can watch shows and movies anywhere from any connected device. There is the video-streaming leader Netflix, followed by YouTube, premium cable TV, network TV, and video-on-demand (VOD).
Netflix has upended traditional viewing habits of either going to the movies or watching at home. For a $10 unconditional monthly fee, viewers can watch on their connected phone, devices, computer, or TV. Subscribers can cancel at any time and this puts the pressure on Netflix to come up with guaranteed engaging content. Unlike HBO, which fills hours with B movies and reruns, Netflix only has shows that audiences want to watch and actually watch.
Netflix has nimbly evolved with the video times. It began in 1997 as a $0.50 cent mail-in DVD rental without late fees, which quickly killed video rental giant Blockbuster. Then it quickly became a DVD subscription service. In 2007, Netflix added streaming video and VOD that viewers can watch from their phones and devices, which likely led to more cable cutters. Netflix quickly expanded outside the US and now produces its original movies and shows in 21 countries. It also translates foreign shows for US audiences.
A May survey showed that Netflix is the top choice for US viewers of all ages (27.7%), followed by basic cable (20.4%), broadcast (18.1%), YouTube (11.4%), others (8.3%), Hulu (5.3%), and Amazon (4.7%). (Cowen Research)
For the coveted millennial viewers (ages 18-34), Netflix is the runaway video choice (39.7%), followed far behind by YouTube (17%), and basic cable (12.6%).
Even when non-cable viewers and cable-cutters were excluded, Netflix still came in second with 24%, close behind basic cable at 26%.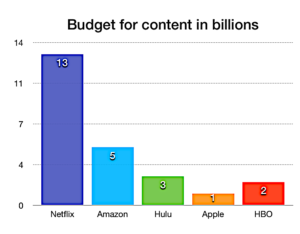 Netflix has 55 million subscribers in the US. That's over half of the 94 million total pay TV subscribers in the US. Globally, Netflix has 137 million subscribers, 2 m more than expected and is one of the best performing stocks this year. It expects to add 9.4 m by the end of 2018 due to its greater control over its content.
HBO has about the same US subscribers as Netflix (54 million) but more global subscribers worldwide (142 million). But the rising popularity of Netflix and cable cutters constrained HBO to now share its fees with cable providers and allow itself to be bundled with other pay TV channels as part of a premium cable subscription.
In 2015, with the growing threat of Netflix's online streaming, HBO launched an online channel for those who cut their cable or don't want one. Its 5 million online subscribers can now watch HBO on their phones and devices like Netflix.
YouTube is the world's most popular video streaming service with 1.57 billion active monthly users, similar to Facebook. It has 300,000 paid subscribers. It serves 88 countries or 95% of the world's internet users. It predicts that by 2025, half of viewers under age 32 will no longer subscribe to pay TV like HBO.
YouTube is now experimenting with paid content. Viewers recently paid a nominal fee to watch two popular YouTube personalities fight in a boxing ring. One had 8 million followers, the other had 9 million.
All these various video choices challenge HBO's reign. Will the King of Content survive after GOT?
My kingdom for a writer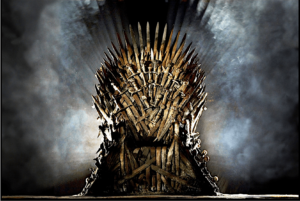 Video providers understand that strong content drives subscription. If viewers can watch a show only on their platform, they will pay to see it. That's the draw of YouTube, which offers original videos made by its own subscribers.
Shows are only as good as the writers who create them. Netflix knows this, that's why it is signing on writers like it's building an Olympic dream team. Aside from upending the entrenched cable system, Netflix is now toppling the creative's wage scale.
For the first time, Hollywood writers are valued as much as actors. Netflix aggressively budgets $13 billion on content, double from 2016. Comedians are excellent writers so it woos established comics like Chris Rock ($40 million for 2 specials), Ricky Gervais ($40 million), Dave Chappelle ($60 million for 3 specials), Amy Schumer, who already has an HBO show ($13 million), and Jerry Seinfeld ($100 million for his online interview series and 2 specials).
Fame also draws viewers, so Netflix also signed on Barack and Michelle Obama, the presidential lawyer-couple who are established authors.
To attract subscribers in densely populated Asian countries, Netflix offers regional content, often adapted from popular Western shows. It hopes to gain 100 million subscribers in Asia, especially in India, Japan, and South Korea. Netflix signs on local established writers from each country to produce shows particularly targeted to their countrymen.
To enter China, Netflix licenses some of its original content with the lead online platform iQIYI.
The next biggest content spender is Amazon Video with $5 billion, but it has the least subscribers. The online retail giant Amazon offers video streaming to its Prime members who pay $119 a year. Founder and CEO Jeff Bezos wants hits as big as GOT and signed on GOT producer/writer Bryan Cogman to produce original content. It also got Oscar screenplay writer Jordan Peele; Michael Bay to produce Jack Ryan; and actors Steve Carell, Bryan Cranston, and Laurence Fishburne. It also paid $250 million for the Lord of the Rings franchise.
Amazon's The Marvelous Mrs Maisel won 6 Emmys this year and was the Best Comedy Series. Its creator/writer Amy Sherman-Palladino won for Best Writer and Director in a Comedy Series. She also wrote for Roseanne and Gilmore Girls. Maisel is a Jewish housewife who wants to be a stand up comic after her husband leaves her. It's made like a 1950s colorful musical with satin costumes, authentic sets, and a charismatic cast. It's witty, elegant, and smart like the old classic movies.
Hulu, 30% owned by Disney, has a $3 billion budget though it has the second lowest US subscribers. It won eight Emmy awards in 2017 for The Handmaid's Tale, including Drama Series when GOT was not a contender. It won three Emmys this year.
Handmaid is adapted from the novel of Canadian multi-awarded author Margaret Atwood of a dystopian post-chemical explosion which renders the world barren and children rare. Thus, fertile women, young and old, are forced to bear children for the powerful ruling class. It's beautiful and awful to watch, but you can't look away, and you can't forget what you see.
HBO has $2.5 billion for original content but so far only has plans to do a GOT prequel with new writers and producers. It still offers movies, both hits and misses, its old series hits, and some current ones like Westworld. HBO phased out its notorious bawdy content and its Cinemax shows due to flaccid viewership.
Apple has a $1 billion for original content and signed on billionaire talk show host Oprah Winfrey to produce a show. Winfrey already owns a network, OWN (Oprah Winfrey Network), which mostly showcases African-American talent.
Is all this spending on talent worth it? This year, HBO and Netflix tied with 26 Emmys each, Hulu got ten, and Amazon won six.
FX, a pay TV channel bundled with cable, won six Emmys, including Best Writing in a Drama Series for The Americans about two Russian spies who pose as a typical American suburban family. But they live across an FBI agent who starts to suspect something.
FX is also owned by Disney when it bought 21st Century Fox. An ad-free version costs $5.99 a month. FX hits are all written by Ryan Murphy: Nip/Tuck, American Horror Story, American Crime Story, People vs OJ Simpson, and The Assassination of Gianni Versace. Murphy also wrote Glee and the Eat Pray Love screenplay. He now works for Netflix.
Disney pulled out its Marvel licensing from Netflix to launch its own still unnamed niche streaming service for second-tier Marvel characters and Star Wars. It includes beloved Disney movies and characters. Likewise, DC Comics offers its own streaming service for $74.99 a year.
Among the big spenders, Amazon and Apple can afford to experiment on new shows and lose money since they both earn from technology products. Similarly, Disney earns from its movies, licensing, parks, and merchandise. The rest rely mainly on viewership to grow and gain revenue.
As networks, cable, streaming, pay TV, video on demand, and the internet compete for our attention, we become more selective. The quality of shows must continue to improve as each platform seeks to outdo competition, attract viewers, and maintain subscribers. Fickle viewers will not sit through a boring show when there are so many screens screaming to be swiped. Thus the plot should be intriguing, the writing engaging, the actors relatable, and the production professional. Viewers will pay for outstanding shows. And platforms will pay to produce them.
The king lives!
Despite the ability to stream shows anytime on our phones and devices, we still prefer the big screen for maximum enjoyment. Viewers are increasingly returning to their homes to watch on their gigantic high-tech panels or ultra high definition TV screens. It's a visual medium, so it's unsatisfying to watch on a small screen. We want to sense the dragon's prickly scales and cringe when crimson blood splatters.
We want to get lost in our immersive sound system; to hear swords clash and horse hooves pulsate. While we may be able to watch anything on our portable devices, when it comes to the full escapist thrill, TV is still king.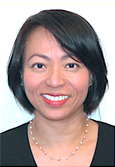 Ivy Lopez is a lawyer and journalist who studied in the Jesuit-run Ateneo de Manila University and the University of Pennsylvania's Wharton School.
Ivy Digest serves the busy reader by reviewing worthwhile publications and covering relevant issues in business, law, education, leadership, psychology, parenting, technology, and career advancement.