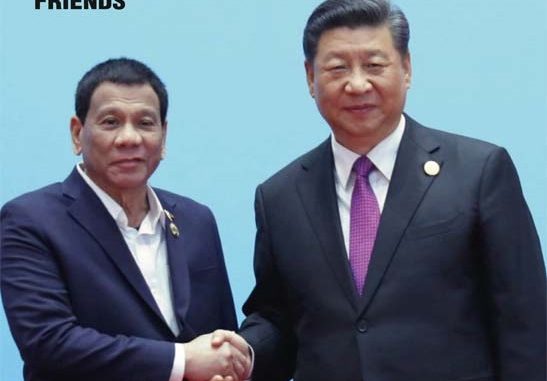 Thirty-seven world leaders and 5,000 delegates descended in Beijing on April 26 -27 for the Second Belt and Road Initiative forum for international cooperation. Nine of the ten leaders of ASEAN came, Philippine President Rodrigo Duterte among them. Indonesia was represented by its vice president, Jusuf Kalla.
Also in attendance were Russia, Italy, Portugal, Austria, and Turkey (12 of the 36 visiting heads of state were from Europe), the United Nations Secretary-General Antonio Guterres and IMF Managing Director Christine Legarde.
Notably absent were the leaders of the United States, Germany, France, UK, Japan, India, South Korea, Saudi Arabia, and Iran.
After its launching in 2013, the BRI has become the most important alliance in the world, better perhaps than the United Nations itself, the World Bank and the IMF, NATO, and the EU.
Clearly, China has stolen the thunder from the United States and the western world powers in terms of visionary and development-oriented leadership, globalization and innovation, and strangely, peaceful cooperation and an emerging security umbrella despite Beijing's island-grabbing spree in the South China Sea.
China leads Asia. "Asia has been an engine house in ensuring global economic recovery and development in the past several decades. Asia now contributes more than 60 percent of the annual global economic growth. Twenty-one of the world's 30 largest cities are in Asia. And Asia is widely expected to be home to half of the world's middle class population very soon," said Chinese Charge d' Affaires a. i. Tan Qingsheng, in a speech April 23 at the Boao Forum for Asia Manila Conference. He reported:
"In four decades, China has maintained an average annual growth rate of 9.5 percent. China's GDP is $12 trillion, up 33.5 times in real terms and accounting for 15 percent of the world's total. It is the world's second largest economy and has the biggest foreign exchange reserves. In 40 years, China lifted over 700-million people out of poverty, more than 70 percent of the world's total poverty reduction."
The Chinese Embassy official made two very important points:
One, China is committed to peace and stability. A peaceful and stable environment is the precondition for economic and social development; in the past four decades, China has never waged any war against any other country, we have never toppled any government or bombarded any other country. The other big power has engaged in at least 19 military campaigns and spent hundreds of billions of dollars on warfare.
Two, China is committed to common development. Development can never be achieved through unilateralism and isolation. China has benefited greatly from opening its economy to foreign technology, investment and trade. The Belt and Road Initiative has become one of the most important regional platforms for cooperation.
In the past six years, the total trade volume between China and countries participating in the BRI exceeded $6 trillion. China's investment has grown to over $80 billion and around 300,000 jobs have been created in the countries involved. The BRI cooperation will cut the costs of global trade by 1.1 to 2.2 percent and contribute at least 0.1 percent of global growth in 2019.
According to China President Xi Jinping, more than 150 countries and international organizations have signed agreement on BRI cooperation with China. That's two-thirds of the world. From Asia, Europe and Africa, BRI has been extended to the Americas and Oceania, opening up an unprecedented sphere of influence for China.
BRI began as an infrastructure program on a scale grander than the Marshall Plan after World War II. Infra spending was supposed to be $1 trillion.
The world needs $3.7 trillion of infra money; Asia alone needs immediately $800 billion. According to a Beijing think tank, China over the last five years has undertaken or funded 3,116 projects in BRI countries, with total project cost of $500 million and assets of $1 trillion.
The spending spree has prompted critics to accuse China of putting borrower countries in "a debt trap."
In 2017, Sri Lanka was forced to hand over the 99-year lease on Hambantota Port being developed by the China Harbor Engineering, plus 15,000 acres around it, to erase $1 billion in unpaid debts. The Sri Lankan president who negotiated the port project, Mahinda Rajapaksa, was voted out of office in 2015, despite being funded by money from port construction. Curiously, the Hambantota port has strategic military value—for China. India is not amused.
Malaysian PM Mahathir Mohammad complained of overpricing and corruption in an ambitious China-funded East Coast cross-country railway. The Chinese contractor for the railway had been blacklisted by the World Bank from the Philippines. Beijing quickly cut the funding cost by a third to just $10.7 billion from $27.3 billion.
Under President Duterte, the pivot to China is the Philippines' most strategic and significant foreign policy shift, in more than a century, away from the apron strings of America. The move is just right. It's all about money, influence, and survival.
According to Chinese Charge d' Affaires a. i. Tan Qingsheng, Philippines-China 2018 trade reached US$55.7 billion, up 8.5 percent, making China the Philippines' top trading partner, the largest source of imports and the fourth largest export market. China has imported more than US$ 2-billion tropical fruits from the Philippines over the past two years. In 2018, China imported more than one million metric tons of bananas to become the No. 1 market for Philippine bananas, claiming the spot that Japan held for over 30 years.
Among China-funded projects in the Philippines are: two drug-rehab centers in Mindanao which provided about 800 jobs for locals and will cater to at least 300 patients. China is building 13 schools in Davao city, two bridges across the Pasig.
The Chico River Pump Irrigation Project will irrigate 8,700 hectares of rice lands and benefit 4250 farmers of 22 barangays.
The proposed Kaliwa Dam could provide at least 600 million liters of water per day for the Metro Manila over the next 10 years. PNR's South Long Haul will span more than 10 cities and towns from Manila to Legazpi.
Last year, 1.2-million Chinese tourists visited the Philippines. At a 29.6 percent yearly increase, China is now the Philippines' second largest source of tourists. More than 1.5-million Chinese tourists will come this year, creating P32 billion in revenues. Weekly, more than 300 flights shuttle between Philippines and China cities.
"The so-called 'China debt trap' accusation is completely groundless," says Charge Tan Qingsheng.
China loans are 0.65 percent of the Philippines' total debt, and only 4.5 percent by 2022.
He says in dollar terms, the interest rate of Chinese loans is actually very similar or even lower than that of other countries. It's more cost effective for Chinese companies to hire local workers than Chinese workers. About 50 large Chinese companies based in the Philippines employ more than 16,000 Filipinos.
biznewsasia@gmail.com