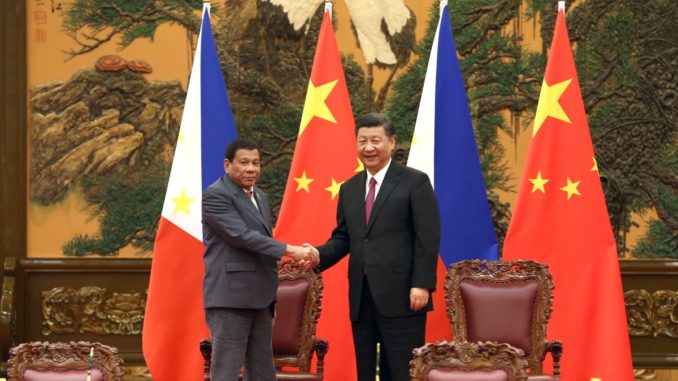 As the Philippines' key geopolitical strategy, President Duterte has gravitated towards China's sphere of influence.
There are three reasons for this shift, away from the United States.
One, China has plenty of money—for development assistance, for loans, for investments. The Philippines needs plenty of that money. Also, China provides the most tourists to the world. In 2016, China sent out 55 million tourists to Asia. Barely one million of that 55 million went to the Philippines. In the tourism game, the Philippines has been badly overtaken by Vietnam, and by this year, even by Cambodia.
The Philippines is embarking on its most ambitious growth program ever, backstopped by the largest infrastructure spending, P8.4 trillion in the next six years, 2017-2022. It is the biggest any six-year spending by any government in the country's history. Infra spending will reach 8.4% or P1.898 trillion of economic output (GDP) by 2022, beginning with 5.3% (P847.2 billion) in the first year, 2017. The average infra spending of the past 50 years (six presidents): 2.6% of GDP.
South China Sea claims
Two, Duterte has realized there is no point arguing with or battling with China over claims in the South China Sea, claims validated by an Arbitral Court in favor of the Philippines, in July 2016.
For three reasons: One, Manila cannot guard these reefs, islets, and islands 24/7. In ASEAN, the Philippines has the most primitive armed forces. Its naval boats are older than their captains. Two, Manila cannot develop these reefs, islets and islands. It cannot even develop the Kalayaan island, the biggest of the land claims, which it has occupied since 1978, nearly 40 years ago. Three, it is better to cut a deal with China and develop the islands and share jointly in the profits of that development.
As long as it is not unfairly treated in this sharing, the Philippines will stop thinking, temporarily, it owns the islands as part of its Exclusive Economic Zone. Joe de Venecia has a term for that kind of deal—condominium-type development. The Philippines provides the land, China the infra.
Three, Duterte seems to see in China a model of development that is hugely successful.
Problems: Poverty and corruption
Aside from drugs and criminality, President Duterte is bothered, to the point of wanting to kill people, by two problems— massive poverty (25 million Filipinos are dirt poor) and massive corruption in government. The country's oligarchy has in turn exploited these problems to further enrich itself and entrench itself. Duterte wants to grapple with this bullshit.
In 30 years, China transformed itself —from rural and agricultural to urban and industrial, from a command economy to market economy, from a closed economy to the biggest advocate and beneficiary of globalization. In the future, according to the World Bank, China will create an urban population equivalent to a Tokyo or Buenos Aires, every year.
In 2015, China surpassed the United States as the largest economy in terms of GDP, purchasing power parity. By 2030, if not earlier, China will be the world's largest economy at current prices, displacing the US, recapturing its primacy as the No. 1 economy during the 1500s to the early 1800s.
The Belt and Road Initiative spearheaded by Chinese President Xi Jinping as a platform of international cooperation and development among nations complements the Duterte administration's Build-Build-Build-Infrastructure Plan, say Duterte's cabinet men.
Trade and Industry Secretary Ramon Lopez says the One Belt, One Road can be maximized in the context of Philippine development goals, including the Build-Build-Build Infrastructure Plan to attract more investments.
Defense Secretary Delfin Lorenzana thinks OBOR will help solve the insurgency and criminality in the South which are driven by lack of economic opportunities.
"If we can bring in the infrastructure development in the South, it will be included in this One Belt One Road, the investment will come, then maybe we can address some of the problems, economic problems in the South and improve the security situation in the country, " Lorenzana explains.
China's Belt, One Road Initiative
The most obvious symbolism of China's ascendancy is the One Belt, One Road project where China will spend up to $900 billion at the rate of $150 billion a year to benefit 65% of the world's population, one-third of world GDP, and a third of all goods and services. The road is not a road but a sea route connecting southern China to East Africa and the Mediterranean. The belt is a series of highways, railways, pipelines, and bridges connecting China with Europe, thru Central Asia, Southeast Asia, and the Middle East.
President Duterte says "the One Belt and One Road or OBOR as a great opportunity for the country's progress and prosperity, including peace and stability."
OBOR, he says, improves connectivity and cooperation among Asian countries, Africa, China, and Europe specifically in enhancing land and maritime routes.
"OBOR can be a parallel platform for the growth in the region. We can use it to stimulate growth and improve market access as it facilitates connectivity and provides much-needed funding," Duterte says.
Finance Secretary Carlos Dominguez blames poor infrastructure why the Philippines has been left behind by its neighbors in the region.
"For an archipelagic country, poor infrastructure is debilitating. It raises the costs of transporting good between islands. That is the reason our food price regime is high. Our congested roads and ports discouraged investors who need to operate on just-in-time deliveries. Our high power costs and unstable supply discouraged investments in manufacturing," Dominguez underscored, adding that it is in the area of poor infrastructure where the Philippine should begin rebuilding its competitiveness.
Where China is No. 1
Since 2008, China has been the biggest contributor to the growth of the world economy. It is the world's biggest manufacturer, exporter, creditor, and provider of capital (it has $3 trillion foreign reserves and its savings rate is more than 50% of GDP). Of course, it is also the world's biggest polluter (No. 8 in per capita pollution).
Adds the World Bank: "Such rapid growth has been accompanied by many other achievements: for example, two of the world's top 10 banks are now Chinese; 61 Chinese companies are on the Global Fortune 500 list and China is home to the world's second-largest highway network, the world's three longest sea bridges, and six of the world's 10 largest container ports. In 2010, China became the world's largest energy user. In 2015, China registered one million patents. (Only 400 for the Philippines). In 20 years, China will produce 200 million college graduates—more than the entire labor force of the US.
Throughout human history, China has been the world's most successful in solving poverty. For 30 years, its economy grew consistently at 10% (9.9% to be exact), per year. Its poverty rate fell from more than 65% of the population, to less than 10%, lifting 600 million people out of poverty. This is the greatest social mobility revolution in the history of man—more than 600 million people crossing the poverty line.
I once visited a poor man's village in China. The poor there had a two-story house, a car, appliances, and livelihood. There are 55 million such "poor" people in China. Still, China suffers from high income-inequality.
China achieved all the eight Millennium Development Goals (MDG) by 2015. The Philippines failed in meeting all the MDG targets, except in one. Why? Incompetence and corruption of the Philippine presidents before Duterte.
Xi Jinping has launched a vicious anti-corruption campaign. It has cracked down on gambling, golfing (China's 88 million Communist Party members are banned from playing golf), and commercial bribery (like sales incentives) in the private sector. It will set up in 2018 a state inspection commission to run after corrupt government men at all levels.
The anti-corruption campaigns have been undertaken mainly by the party's Central Commission for Discipline Inspection, focusing on high-ranking party officials. The corruption campaign was so effective tourism in Hong Kong and Macau went down and sales of Hermes bags in Paris slowed.
Back in the Philipines
"The future of the Philippines is in ASEAN and in Asia," President Duterte said in Davao, May 16 reporting on visits to the three Asian countries—Cambodia, Hong Kong, and China.
"At Phnom Penh, I attended the World Economic Forum on ASEAN… I spoke of the opportunities for mutually beneficial partnership, especially in the Philippines' infrastructure development program. I invited stakeholders to take part in what is the largest effort to date to modernize and integrate Philippine infrastructure," President Duterte shared.
Meeting President Xi Jinping and Premier Li Keqiang was also highlighted in President Duterte's speech. "We renewed our resolve to strengthen our friendship and mutually beneficial partnership on a broad range and areas. We resolved to fully use the mechanisms we have established to dialogue openly, monitor progress and ensure implementation of projects," the President said.
The South China Sea maritime dispute was also brought up by the President. He said, "We look forward to the inaugural meeting of the Bilateral Consultation Mechanism on the South China Sea later this month. This is a one step forward in peacefully managing disputes."
In the President's working visit to Hong Kong, he connected with the Filipino community. "I updated our kababayan on developments in the country as I thanked them for their important contributions. Our people's welfare will always be at the center of your government's agenda," he said.
"As your President, my mandate is not only to build infrastructure but it is to build a strong and progressive nation. I will remain faithful and committed to this solemn vow," President Duterte ended.
Dutertenomics
In China, on May 15, members of President Duterte's cabinet presented before the international media, including the local Chinese media, and businessmen the economic and social development blueprint of the Philippines, aptly called "DuterteNomics," on the sidelines of the One Belt One Road Forum for International Cooperation at the Grand Hyatt in China's capital, Beijing.
"DuterteNomics is the brand we've given to the President's philosophy and strategy for economic governance. It's a strategy that's driven by our dream of building a nationwide infrastructure network that will connect all of our 7,000 islands into one cohesive and dynamic whole, into Asia's tiger economy," Presidential Spokesperson Ernesto Abella said in his welcome remarks.
National Economic and Development Authority (NEDA) Director-General Ernesto Pernia said, "Regional and rural development is the hallmark of DuterteNomics," adding that infrastructure will create employment, vitalize the regions and reduce inequality and poverty.
Budget Secretary Benjamin Diokno explained that "government is responsible for the planning, financing and building projects through competitive public bidding."
"By taking the start-up responsibilities, government will effectively de-risk projects upfront. This allows the private sector subsequently to provide operations and maintenance, or to acquire the projects after they have been seasoned," the budget chief said.
Joining the three cabinet members of the President's economic team in the panel were Secretary Ramon Lopez of the Department of Trade and Industry (DTI), which supervises the Philippine construction industry, a sector that plays a vital role in the Build-Build-Build campaign; Secretary Arthur Tugade of the Department of Transportation (DOTr) who discussed airports, seaports and urban mass transport; Secretary Mark Villar of the Department of Public Works and Highways (DPWH) who talked about a network of roads, highways and bridges; and Bases Conversion and Development Authority (BCDA) President and CEO Vivencio Dizon who mentioned the creation of new and better cities.
Presidential Spokesman Abella, called on the public, the media and the business community to keep watch in these projects via the Build-Build-Build portal that was set up to promote transparency.
Also in attendance was Secretary Silvestre Bello III of the Department of Labor and Employment (DOLE).
Presidential Communications Secretary Martin Andanar moderated the forum.
The DuterteNomics Forum in China was the second international DuterteNomics Forum. The international launch of DuterteNomics took place during President Duterte's official visit in Phnom Penh, Cambodia, where he attended the World Economic Forum on ASEAN 2017.
Bilateral with China
President Rodrigo Roa Duterte and members of his delegation engaged in an expanded bilateral meeting with People's Republic of China President Xi Jinping and other Chinese government officials at the Great Hall of the People in Beijing on May 15, 2017.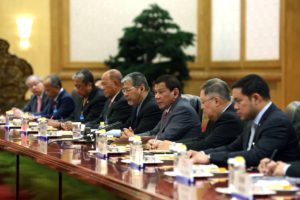 The meeting came on the heels of the successful Belt and Road Forum for International Cooperation hosted by China.
The President, in his opening remarks at the start of the bilateral meeting, thanked President Xi for the invitation to return to China. President Duterte then expressed his intent to continue in strengthening the bilateral relations between the two countries.
Duterte and Xi witnessed the signing of various agreements between the members of their respective administrations.
Finance Secretary Carlos Dominguez III and People's Republic of China Minister of Commerce Zhong Shan signed the agreement on Economic and Technical Cooperation between the two countries. Leading to a RMB 500 million to conduct feasibility studies for major projects, construction of the drug abuse treatment and rehabilitation centre and bridges crossing the Pasig River, and other projects agreed by both sides.
National Economic and Development Authority and Socioeconomic Planning Secretary Ernesto Pernia and People's Republic of China Minister of Commerce Zhong Shan, signed the memorandum of understanding (MOU) on Cooperation in Human Resource Development.
Energy Secretary Alfonso Cusi and National Energy Administration of the People's Republic of China Director Nur Bekri, signed an MOU on Energy Cooperation.
Presidential Communications Secretary Martin Andanar and State Council Information Office, signed the MOU on News and Publishing. The MOU reiterates an MOU signed in Beijing on Oct. 20, 2016 during Duterte's state visit to China. Both parties will enhance their capabilities in the field of international communication and publishing, to undertake joint or individual activities and programs that help strengthen cooperation between news organizations under the parties.
Talking to Xi at their bilateral Duterte urged, "We must certainly continue to strengthen our bilateral relations."
Since his state visit October last year, Duterte said the Philippines and China have seen the valued friendships become stronger.
Manila and Beijing have their regular dialogue mechanism. The Foreign Ministry consultations was finally reconvened in Manila this year to strengthen ties and to make use of that mechanism.
"It is important to keep our communication lines open," Duterte stressed.
"I am pleased that we have established a bilateral consultation mechanism on the South China Sea," he added.
"This is one step towards peacefully engaging disputes," he pointed out.
At a separate meeting with Premier Li Keqiang on May 15 in Beijing, China, Duterte gushed that "the Philippines and China are writing a new chapter of collaboration in these modern times."
On strengthening bilateral relations, Duterte's visit last year affirmed our mutual interest in furthering our partnership," the Philippine leader said.
"We have signed many agreements and resumed formal bilateral dialogue mechanisms such as the foreign ministry consultations," he noted.
"These steps are just in the right direction," Duterte said.
"We should use this mechanism fully to dialogue openly, monitor progress made, and to ensure that projects are implemented," Duterte concluded.
The diplomatic relations between the Philippines and China were established on June 9, 1975. Since then, the bilateral partnership between the two countries has reached unprecedented levels in terms of politico/security and regional cooperation, trade, investment, agriculture, tourism, cultural and people-to-people exchanges, which have benefited the two countries and peoples.
As stakeholders in the peace and prosperity of the Asia-Pacific region, the two countries have also cooperated closely in various regional and international issues that have profound effects to the stability and economic development of the region.
Over the past 40 years, Philippines-China bilateral relations have to strengthened the relations are multi-faceted and involve the three branches of government—executive, legislative and judiciary, and the various sectors of society.
Since 1975, the two countries have concluded 100 bilateral agreements that cover a wide spectrum—political, defense, trade and investments, judicial cooperation, infrastructure development, energy cooperation, air services, cooperation in combating transnational crimes, consular cooperation, tourism, culture, sports, media exchange, agriculture, science and technology, sister cities, and people to people exchanges—reflecting the breadth and depth and the growing cooperation between the Philippines and China.
Strategic cooperation
In April 2005, during the state visit of President Hu Jintao to the Philippines, he and then President Gloria Macapagal-Arroyo agreed to establish a strategic and cooperative relationship for peace and development between the Philippines and China.
Since then, bilateral relations have been surging ahead in a comprehensive manner, with economic ties serving as the locomotive for cooperation.
To underscore the importance of China to the Philippines, there are now seven Philippine foreign service posts in China— five in the mainland (Beijing, Guangzhou, Shanghai, Xiamen and Chongqing) and two in the Special Administrative Regions (Hong Kong SAR and Macau SAR).
On Oct. 29, 2009, during the official visit to the Philippines of Chinese Foreign Affairs Minister Yang Jiechi, the two countries signed the Joint Action Plan for Strategic Cooperation between the Philippines and China, an action-oriented roadmap that further deepened cooperation in all fields and provided strategic direction for long-term growth of Philippines-China relations for the benefit of the Filipino and Chinese peoples.
The Joint Action Plan was a five-year agreement that covered almost all areas of cooperation, from political, economic and trade, to cultural and people-to-people relations.
During the state visit to China of President Benigno S. Aquino III from Aug. 30 to Sept. 2, 2011, the two governments reiterated their commitment to jointly pursue a long-term and stable relationship of strategic cooperation on the basis of mutual respect, equality, and mutual benefit.
Milestone visit
President Duterte undertook a state visit to China on Oct. 18-21, 2016.
During the visit, President Duterte met with President Xi Jinping, Premier Li Keqiang, National People's Congress Standing Committee Chair Zhang Dejiang, and Vice Premier Zhang Gaoli.
In the joint statement issued during this "milestone visit", both sides acknowledged the centuries-old bonds of friendship of the Filipinos and Chinese people and agreed to continue to make concerted efforts to cement the traditional friendship between the two countries.
The Philippines and China also reaffirmed their partnership and their common aspiration to achieve development and inclusive growth for their peoples.